The Brennan Center for Justice think tank and two other groups asked the Department of Justice this week to send monitors to observe the 2020 election audit taking place in Arizona.
"We are very concerned that the auditors are engaged in ongoing and imminent violations of federal voting and election laws. Specifically, we believe that the senate and its agents, including Cyber Ninjas, are 1) violating their duty under federal law to retain and preserve ballots cast in a federal election, which are and have been in danger of being stolen, defaced, or irretrievably damaged, and 2) preparing to engage in conduct which will constitute unlawful voter intimidation in violation of the Voting Rights Act and other federal laws," Wendy Weiser, Elizabeth Howard, and Hannah Klain from the center at the New York University School of Law said.
They and officials from the Leadership Conference on Civil and Human Rights and Protect Democracy penned a letter to Chris Herren, who heads the Civil Rights Division at the Department of Justice.
The division did not immediately respond to a request for comment, nor did Ken Bennett, the former Arizona secretary of state who is the state Senate's liaison for the audit.
Arizona Secretary of State Katie Hobbs, a Democrat, said she supports the call for federal monitors.
"Arizonans deserve to know their ballots are secure and those assurances need to come from independent observers. I support this request," Hobbs wrote in a tweet.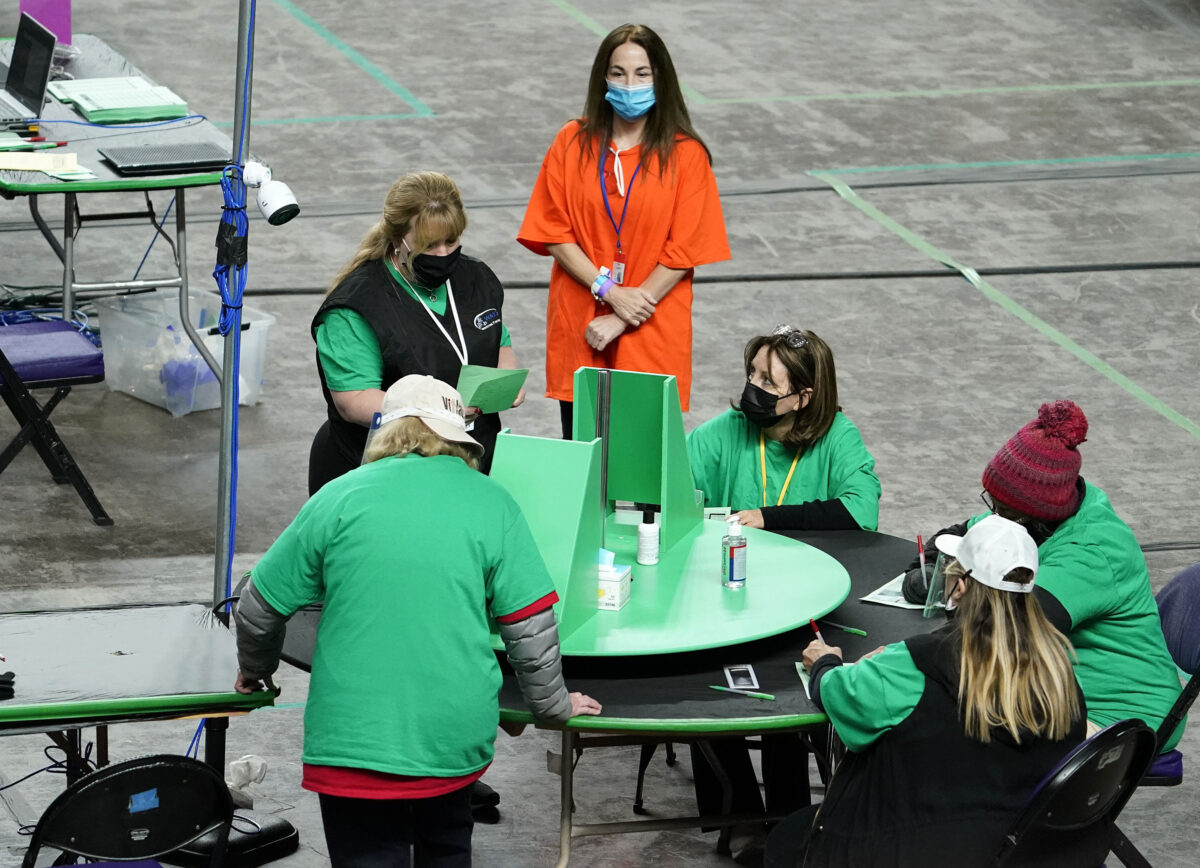 Auditors are reviewing 2.1 million ballots, 385 tabulators, and other materials and machines used in last year's presidential election.
The state Senate ordered the review "to ensure the integrity of the vote."
The process started last week at Arizona Veterans Memorial Coliseum in Phoenix. It is expected to wrap up in mid-May after Democrats failed to stop it over alleged security breaches.
The Brennan Center for Justice generally supports post-election audits, including risk-limiting audits, which see workers count a small percentage of paper ballots cast in an election. Bennett has said the current audit is different because it is reviewing all ballots and the machines used last year.
In the new letter, the center said it is concerned that Cyber Ninjas, which the Arizona Senate hired to lead the audit, is not qualified to do so. The letter also claimed that ballots "are in imminent danger of being stolen, defaced, or irretrievably damaged, and Arizona citizens are in imminent danger of being subject to unlawful voter intimidation as a result of flawed audit procedures."
Like a recent lawsuit filed to try to halt the audit, the letter relied primarily on local news reports about alleged security concerns at the audit site.
Maricopa County Superior Court Judge Daniel Martin ruled this week that plaintiffs in the suit did not provide "substantive evidence of any breaches or threatened breaches of voter privacy."
Three observers were sent by Hobbs on Thursday, including Ryan Macias, a former acting director for the U.S. Election Assistance Commission, ABC15 reported.
Hobbs had been denied access to monitor the proceedings but struck a deal with Karen Fann, the Republican Senate president, after a directive from the judge.
Macias and Jennifer Morell, a Protect Democracy election consultant, were joined by Liz Howard, a Brennan Center attorney.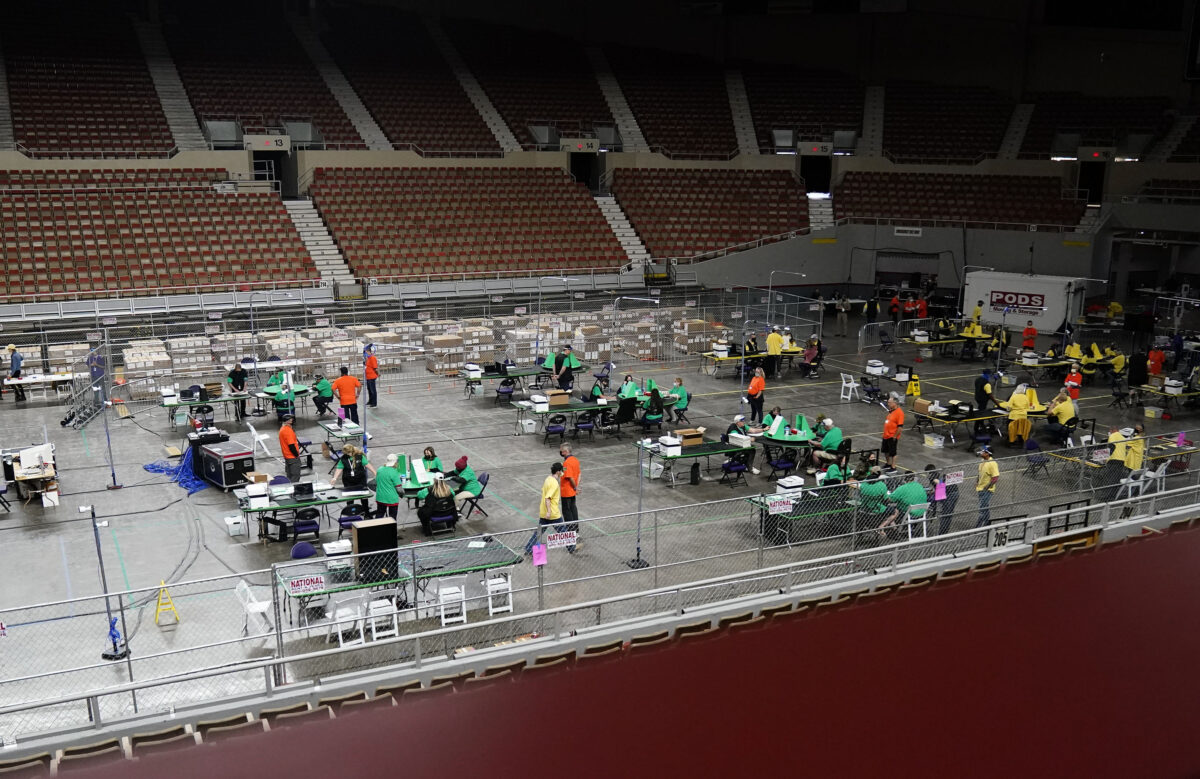 According to court papers, Macias and Morell have been watching the audit via livestream.
In a declaration dated April 26, Macias said what he saw "only increases my concerns regarding the integrity and preservation of the ballots now in the custody of Cyber Ninjas," citing how the company has been exposing ballots to ultraviolet light.
"Based on my experience in election administration, including my 10 years of auditing and certifying ballot printers for the California Secretary of State, ballots should not be exposed to UV light, which deteriorates ink on paper as well as the paper itself. Therefore, this process could impede Maricopa County's ability to preserve and maintain the ballots for the applicable federal and state retention period," he wrote.
Also on Thursday, Cyber Ninjas released several sets of documents after the judge rejected their attempt to file papers outlining security procedures under seal.
Procedures for testing and handling during audits were included, as well as a security plan for the Arizona audit.
Security for the audit includes six Andersen Security guards as well as Arizona Rangers and two other guards, according to one document.
In one extreme threat scenario envisioned, a group of members from the far-left Antifa network would use backed-up traffic along the railyard near the audit site to launch an "ad-hoc or opportunistic incendiary attack."
In another area, there is a greater threat of militia activity, the document states.
"In Cyber Ninjas' ongoing efforts to be transparent and ensure this information gets out to the public, we are providing convenient links to all of the documents that are being made available today," Bennett, the Senate liaison, said in a statement.