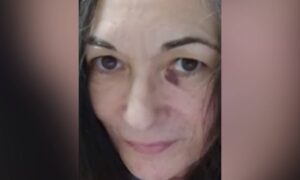 The first photo of Ghislaine Maxwell in jail has been released in court papers and shows the British socialite with an unexplained black eye.
Maxwell, 59, is in custody ahead of her trial in New York City for accusations that she helped the late financier Jeffrey Epstein recruit and sexually abuse girls.
The photo was attached to a letter from Maxwell's lawyer Bobbi Sternheim to U.S. District Judge Alison Nathan in Manhattan, who oversees Maxwell's criminal case.
In his letter, Sternheim wrote that Maxwell noticed she had a black eye on the evening of April 28 and was then confronted by Metropolitan Detention Center officers who demanded to know how she got it.
Guards threatened to put her in a separate housing unit if she didn't explain its origin, the lawyer added.
Sternheim said Maxwell did not know where the bruise came from, but that it may be caused by her shielding her eyes with a sock or towel when corrections officers shine light into her cell every 15 minutes during wellness checks.
She was unaware of the bruise until she saw her reflection in nail clippers, according to the filing.
However, Sternheim stated that Maxwell "has grown increasingly reluctant to report information to the guards for fear of retaliation, discipline, and punitive chores."
Sternheim has asked the court to direct the Metropolitan Detention Center to stop the wellness checks and argued that his client is being deprived of sleep.
He noted that Maxwell is classified as "an inmate with no significant mental health care."
"Ms. Maxwell continues to be disrupted throughout the night by guards shining a flash/strobe light into her cell, claiming that her breathing must be checked," Sternheim added. "The myth that Ms. Maxwell's conditions of confinement are related to her being a suicide risk was laid to rest during the oral argument: There is nothing to support that contrived claim."
Judge Alison J Nathan said prosecutors must explain within a week whether and why jail officials might be subjecting Maxwell to "flashlight surveillance" and whether she could be given an "appropriate eye covering."
Maxwell has remained in federal custody since she was arrested in July 2020 in New Hampshire.
Prosecutors have accused the former socialite of grooming and paying a girl who, starting at age 14, gave Epstein nude massages and engaged in sex acts with him from 2001 to 2004, and said the girl recruited others to offer erotic massages.
Maxwell previously pleaded not guilty to charges she helped Epstein recruit and groom three other girls for him to sexually abuse from 1994 to 1997, and committed perjury.
Last week she pleaded not guilty to all charges in her first appearance before a judge. She was denied bail for a fourth time after lawyers complained that she has suffered from weight and hair loss in jail, which prosecutors have denied.
Nathan previously denied bail three times, calling Maxwell a substantial flight risk despite a proposed $28.5 million bail package.
She faces up to 80 years in prison if convicted on all charges.
Epstein, 66, killed himself in a Manhattan jail in August 2019, while awaiting trial on sex trafficking charges.
Reuters contributed to this report.