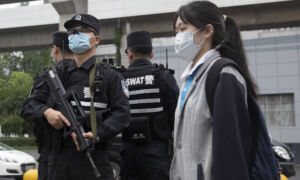 Beijing's top intelligence agency has rolled out a new anti-espionage regulation, subjecting institutions and companies to tighter surveillance, including on students and scholars going abroad from China.
This announcement was made on the same day that the United States announced that in the national interest it will allow entry for students and scholars from certain countries, including China, Iran, Brazil, and South Africa. They will be exempt from existing travel bans.
The Chinese regime's first anti-spy regulations, which were announced and took effect on April 26, allow the Ministry of State Security, the intelligence agency, to compose a list identifying key institutions and companies that are "susceptible to foreign infiltration."
Once included on the list, social groups, institutions, and enterprises are required to educate staff with access to sensitive information or those working overseas. The premise for those staff to take on their jobs is to sign a letter of obedience.
According to the new rules, special types of anti-spy equipment and infrastructure will be deployed for the listed key entities. The intelligence agency will have the right to examine their technological equipment, including electronic communications tools, devices, facilities, or networks.
While scant on details about names on the list, the new regulation makes specific mention of requirements for schools and research institutions.
Further, students, scholars, and teachers participating in overseas study, exchanges, or visiting programs are required to carry out "pre-travel education" before they leave China and must undertake a "debriefing on return."
Chinese Communist Party (CCP) mouthpiece Global Times, reported that a staff member in charge of foreign affairs at the headquarters of a state-owned enterprise said that pre-departure training methods for students or personnel working abroad might include seminars or watching movies about cases of foreign intelligence work.
According to the report, Chinese authorities ask organizations and staff in critical areas to leave electrical devices, including mobile phones, laptops, and USB drives, which usually contain sensitive information, at home and bring new ones when they go abroad.
The regulation claimed this was in response to "intensified" infiltration by "foreign spies and intelligence agencies and other hostile forces," the report quoted an intelligence official who was not identified.
But in recent years, several Chinese students and scholars have appeared as defendants in a string of cases involving U.S. universities and their connections to the CCP.
In June 2020, a Chinese scholar at the University of California, Los Angeles, was convicted of shipping semiconductor chips used in missile and fighter jets to his homeland.
In late January 2020, a former Boston University student was accused of visa fraud after allegedly failing to disclose her status as a lieutenant in the People's Liberation Army.
In 2019, a Chinese student at Chicago's Illinois Institute of Technology was charged with helping to recruit spies for his country's spy agency to steal trade secrets from U.S. aerospace companies.
The 2019 "Open Doors Report" showed that Chinese students accounted for 34 percent of all international students enrolled at U.S. schools.