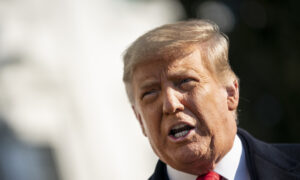 Former Secretary of State John Kerry is accused of leaking information about a U.S. ally to Iran. Kerry is now facing increasing pressure to step down. As to the border, four counties in Texas make disaster declarations due to the immigration crisis. They say their residents are at imminent risk, and they don't have the resources to contain the threat.
The National Portrait Gallery in Washington, D.C., reopens in May. For the first time, visitors will see a portrait of former President Donald Trump in the museum's signature exhibition. Starting May 14, the gallery will be open to the public with timed-entry free passes for all visitors. The temporary portrait will not have an unveiling event. That is reserved for the actual commission, which will include a ceremony for the Trumps and invited guests to witness the unveiling.
President Joe Biden's first big speech to Congress is coming up Wednesday night, on the eve of his 100th day in office. What are some topics likely to be covered? Biden is expected to unveil the American Families Plan. And according to White House Press Secretary Jen Psaki, other topics include police reform, immigration, gun safety, continuing work on the pandemic, and getting Americans back to work.
Tune into Deep Dive as we explore these topics and more.
Subscribe to our YouTube channel for more in-depth coverage. For more news and videos, please visit our website and Twitter.