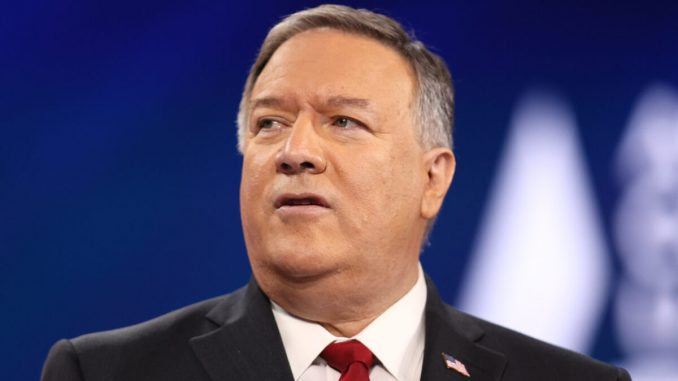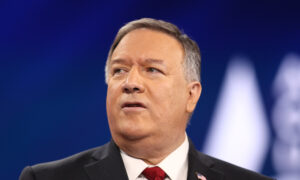 Former Secretary of State Mike Pompeo weighed in on President Joe Biden's address to the joint session of Congress on Wednesday evening, characterizing the president's vision for America as "radical" and "socialist."
Pompeo made his comments following Biden's hour-long speech to Congress where he touted his accomplishments and called on lawmakers to pass a long list of measures to advance the Democrat's agenda including on guns, infrastructure, H.R. 1, police reform, and childcare.
The president's address comes on the same day he unveiled the American Families Plan, which is expected to cost $1.8 trillion and raise the top individual tax rate from 37 percent to 39.6 percent for taxpayers in the top 1 percent of income. The proposal is the third major legislative package Democrats are seeking to ram through Congress in just three months, which would bring the total cost of Biden's agenda to $6 trillion.
"So far, President Biden has successfully outlined a radical, socialist agenda for the next 4 years. That should trouble every freedom-loving American," Pompeo wrote on Twitter. The former secretary of state previously fueled speculation that he may make a 2024 presidential bid if former President Donald Trump decides against a second term.
"Nearly every policy President Biden has proposed tonight involves bigger government and higher taxes. This does nothing but HURT the American worker."
Pompeo commented on the administration's policy stance against the Chinese Communist Party, urging Biden to take a tough stance to ensure that the United States has a competitive edge over Beijing.
"President Biden says that he wants to 'position us to win the competition of the 21st century.' Let me tell you—kowtowing to China will ensure we lose that competition. We must be tough, not weak," he said.
Biden outlined his case on dealing with China during his address, arguing that he intends to make Beijing play by "the same rules in the global economy."
"In my discussion with President Xi, I told him that we welcome the competition—and that we are not looking for conflict," Biden said. "But I made absolutely clear that I will defend American interests across the board."
"America will stand up to unfair trade practices that undercut American workers and industries, like subsidies for state-owned enterprises and the theft of American technologies and intellectual property."
The White House did not immediately respond to The Epoch Times' request to comment on Pompeo's remarks.
Biden also promoted his two latest signature proposals—American Jobs Plan and American Families Plan—in which he laid out arguments for passing the measures.
"These are good-paying jobs that can't be outsourced. Nearly 90 percent of the infrastructure jobs created in the American Jobs Plan don't require a college degree. Seventy-five percent don't require an associate's degree," Biden argued in support of his American Jobs Plan.
In the Republican rebuttal, Sen. Tim Scott (R-S.C.) argued that the American Jobs Plan was a "liberal wish list, a big government waste" that features "the biggest job-killing tax hikes in a generation." Meanwhile, the American Families Plan, he said, would usher in "even more taxing, even more spending to put Washington even more in the middle of your life, from the cradle to college."
Several lawmakers including Sens. Mitt Romney (R-Utah) and Joe Manchin (D-W.V.) have expressed concerns about the proposed large spending measures.
Scott also accused the commander-in-chief of taking actions that are further dividing the nation despite Biden's promises to unify America.
"Our president seems like a good man. His speech was full of good words. But President Biden promised you a specific kind of leadership. He promised to unite our nation, to lower the temperature, to govern for all Americans no matter how we voted. This was the pitch. You just heard it again. But our nation is starving for more than empty platitudes," he said.