Republicans and Democratic lawmakers issued starkly different commentary on President Joe Biden's first 100 days in office as the president delivered his first address to the joint session of Congress, with the former side full of criticism and the latter full of praise.
Biden, a Democrat, delivered his hour-long, nationally televised address at 9 p.m. ET on Wednesday night, a day before his 100th day in office, to a thin crowd at the Capitol due to COVID-19 pandemic restrictions. He painted the current state of America as one of progress in multiple arenas and declared that "America is rising anew," while calling on Congress to cooperate with his radical proposals on a range of issues, including a number of federal programs to drive the economy past the pandemic and broadly extend the social safety net.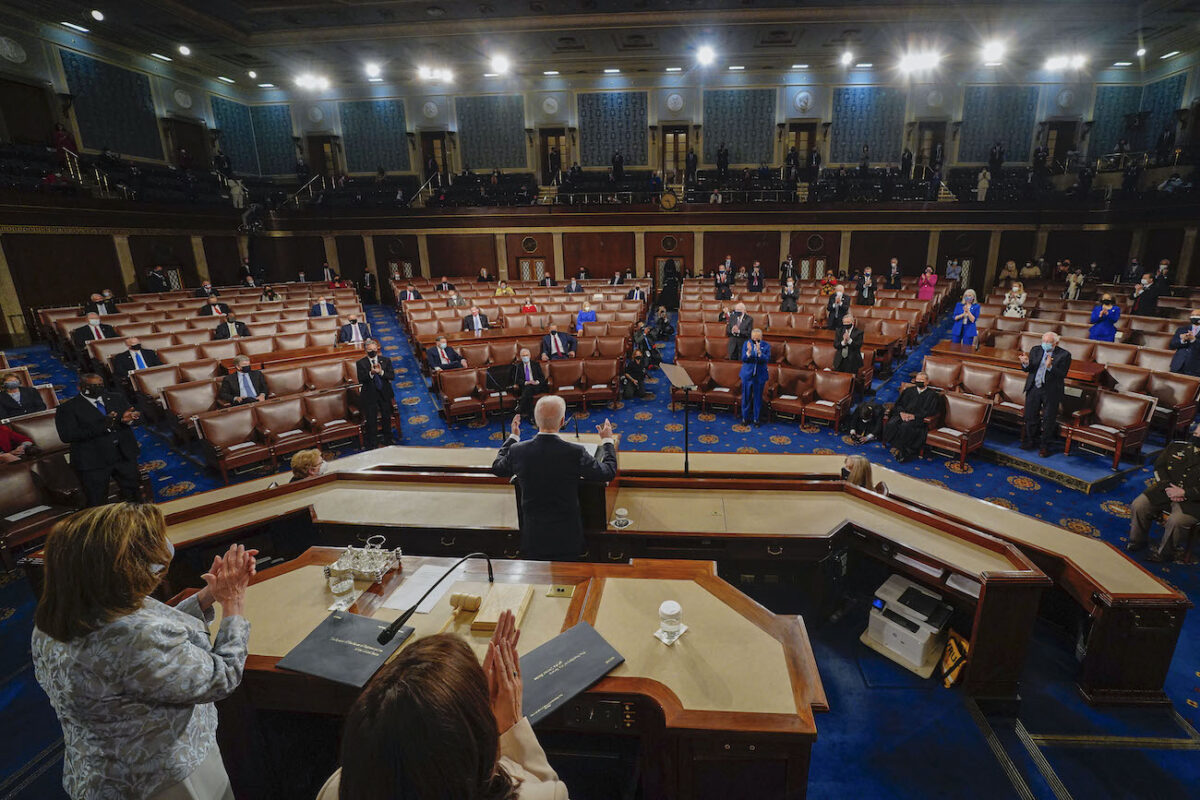 Democratic lawmakers at large praised Biden for his portrayal of a unifying and optimistic future for America, as well as the promises of increased prosperity and jobs, as well as Biden's actions so far in addressing the COVID-19 pandemic. Republican lawmakers, meanwhile, maintained that Biden's performance over the past months have done anything but unify the nation, and also warned that his legislative proposals, despite lofty claims, would risk destroying the economy and would, if enacted, threaten jobs and hurt families.
House Speaker Nancy Pelosi (D-Calif.) was full of praise for the president. In a statement, she praised Biden for having delivered what she called a "unifying message of resilience, resolve, and hope."
"President Biden's address laid out an ambitious, transformative vision for seizing this once-in-a-century opportunity for our economy to Build Back Better. It does so by investing in the foundation of our nation's strength: our workers and the middle class, which built America," Pelosi said in a statement. "The bold investments of the American Jobs Plan and American Families Plan will Build Back Better by putting children, women, workers, and families first and by ensuring that every person in every zip code has the opportunity to succeed in the 21st century.
"The Democratic Congress looks forward to working with the Biden-Harris Administration to enact this historic vision for lower health care costs, for bigger paychecks, for cleaner government, For The People," Pelosi added.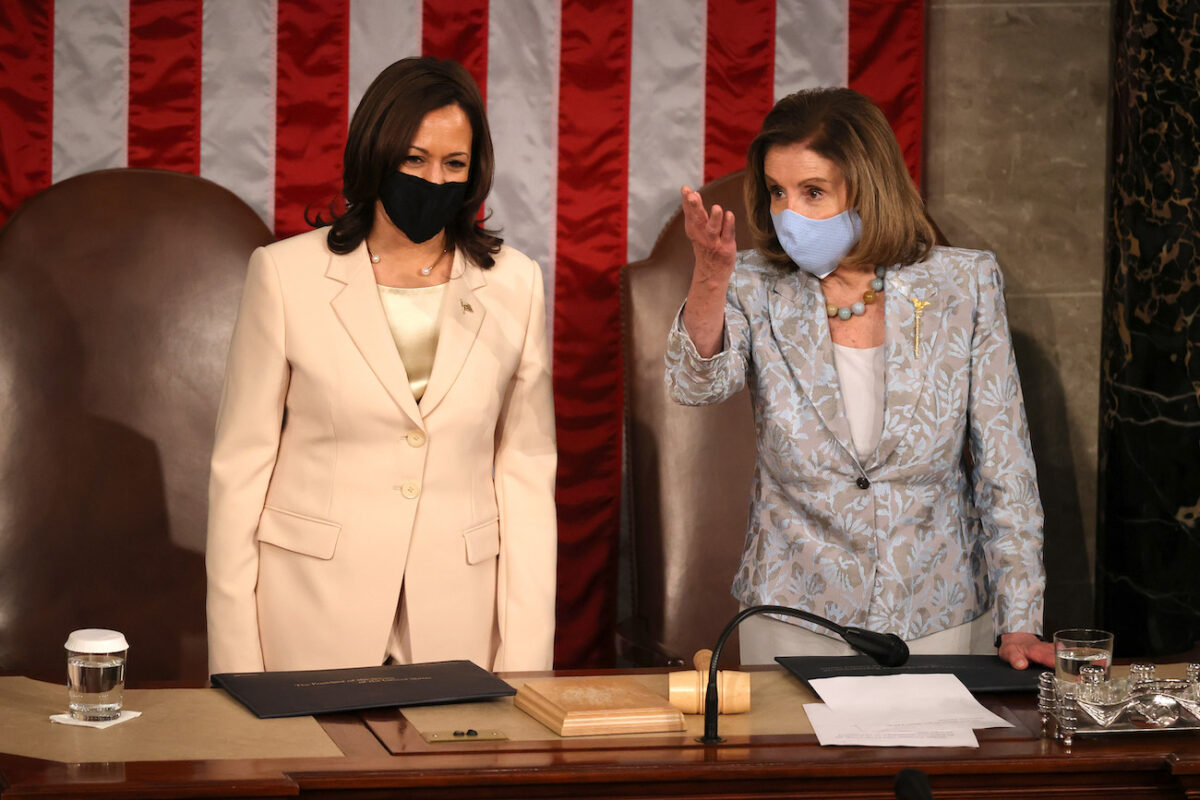 The ambitious $2.3 trillion infrastructure proposal dubbed the "American Jobs Plan," which Biden unveiled in late March, has already drawn the scrutiny of Republicans, who are wary of its price tag and argue that it goes well beyond what people normally think of as infrastructure. Pelosi previously said that Democrats may resort to the reconciliation process to push through the measure if it doesn't garner enough Republican support.
Read More
Biden on the night touted his American Families Plan, which is expected to cost $1.8 trillion and raise the top individual tax rate from 37 percent to 39.6 percent for taxpayers in the top 1 percent of income.
Senate Majority Leader Chuck Schumer (D-N.Y.) posted multiple messages on Twitter in praise of Biden and said that Democrats in the Senate have been working with the president to "Restore effective, truthful, responsive government."
"President Biden laid out a comprehensive, thoughtful vision that provides a pathway to success for people across this country," Schumer wrote. "His plan will help restore the American optimism that has been shaken for the last four years. We will do all we can to make [the president's] vision a reality."
Schumer praised the American Rescue Plan, the $1.9 trillion COVID-19 relief bill that the president signed in early March, writing on Twitter, "Vaccinations are up. Unemployment is down. Schools, small businesses, restaurants, bars are finally starting to re-open. Thanks to the #AmericanRescuePlan: Our economy has gotten its own shot in the arm. #HelpIsHere"
The Democratic Senate leader on the night also accused Republican lawmakers across the nation of trying to "restrict the right of American citizens to vote—especially Americans of color." Schumer wrote that Senate Democrats are working to pass H.R. 1, the election reform bill and the "John Lewis Voting Rights Advancement Act" that Democrats say would protect voters from racial discrimination and vote suppression. Biden said late Wednesday that Congress should send the two measures to his desk "right away."
Sen. Tim Scott (R-S.C.), who delivered a nationally televised rebuttal of Biden's address, criticized Biden's American Jobs Plan and the American Families Plan. In his speech, Scott characterized the American Jobs plan as a "liberal wish list of big government waste" that features "the biggest job-killing tax hikes in a generation," and said that the American Families Plan would mean "even more taxing, even more spending to put Washington even more in the middle of your life, from the cradle to college."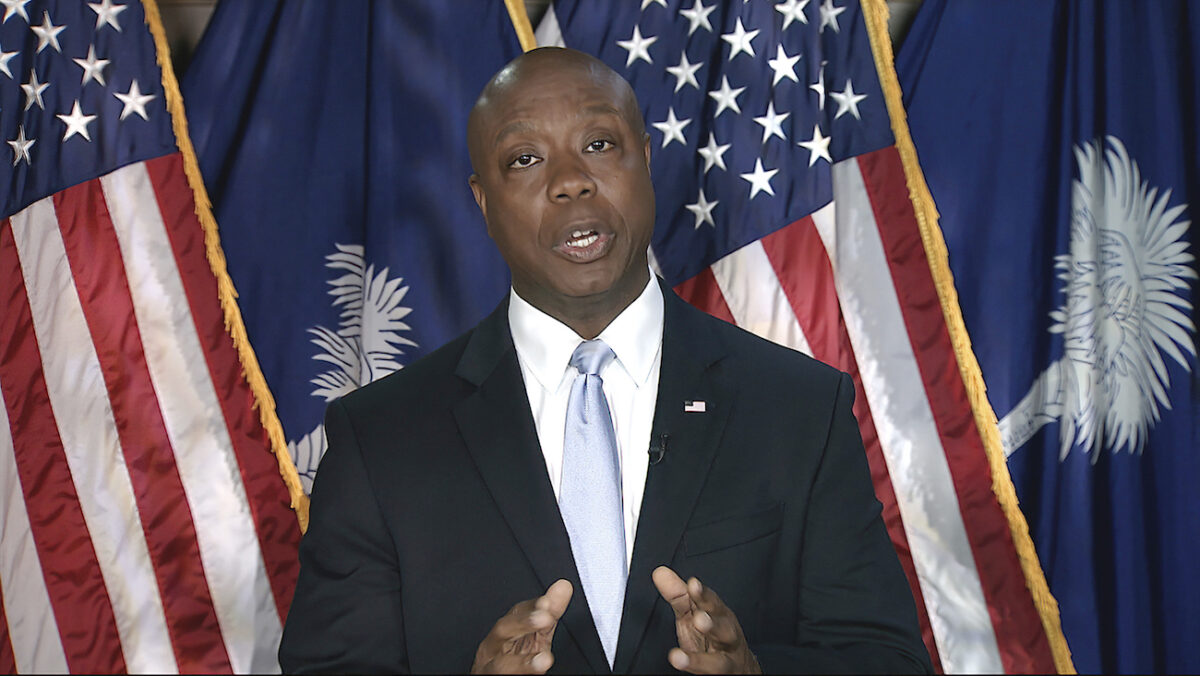 On Twitter, Scott wrote, "The beauty of the American Dream is that families get to define it for themselves. We should be expanding options and opportunities for all families—not throwing money at certain issues because Democrats think they know best."
Scott, who is the only black Republican in the Senate, also countered Biden's assertion that there exists "systemic racism that plagues American life" in many ways, a view commonly held among Democrats.
"Hear me clearly: America is not a racist country," Scott said. While acknowledging that "our healing is not finished," Scott suggested that Democrats and liberals have turned the race issue upside down.
"It's backwards to fight discrimination with different discrimination," he said. "And it's wrong to try to use our painful past to dishonestly shut down debates in the present." He added, "Race is not a political weapon to settle every issue the way one side wants."
Senate Minority Leader Mitch McConnell (R-Ky.) praised Scott's response to Biden's address, writing on Twitter, "Republicans stand for the principles and policies that unite Americans and expand opportunity for working families. Not radical agendas designed to push us apart."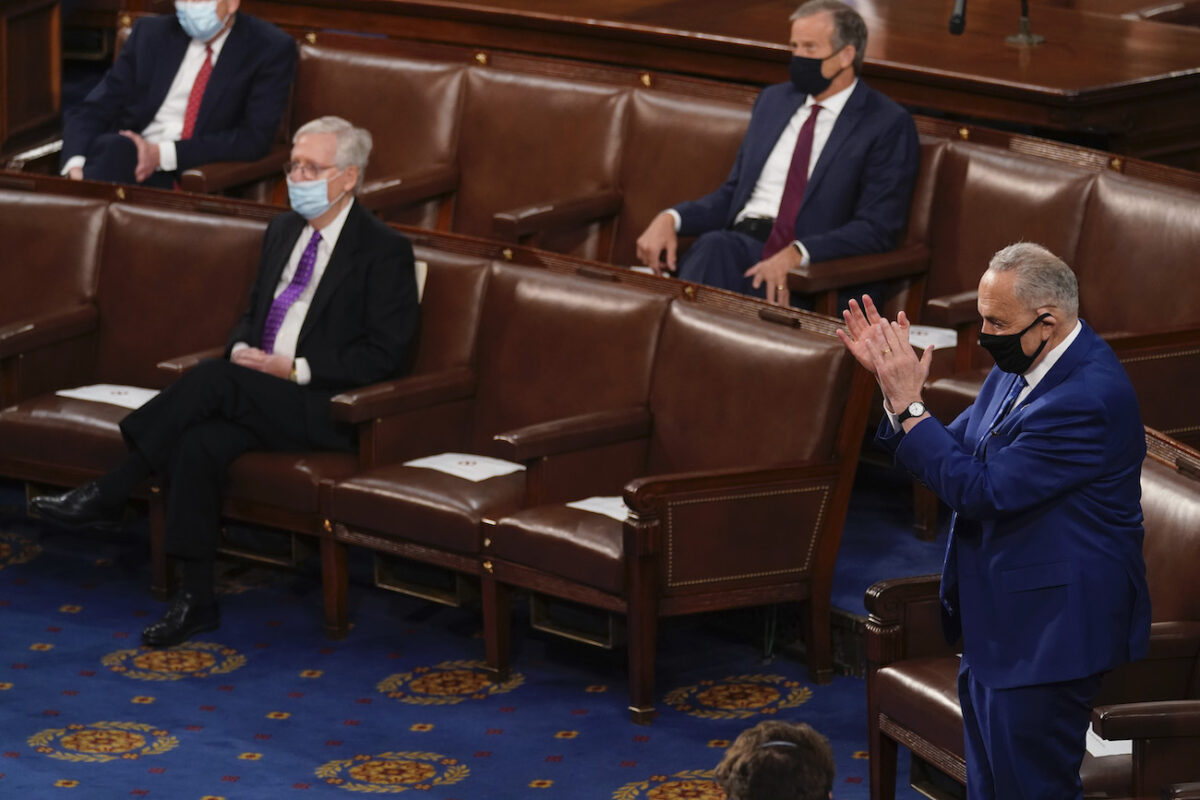 McConnell called Biden's performance over his first 100 days one that represented "Centrist Words, Liberal Actions." A statement from his office reads, "Though Joe Biden ran as a unifying figure, the record of his first 100 days is one of partisan ideological left-wing governance."
The Republican Senate leader said in another statement that the Biden administration "seems to have given up on selling actual 'unity' in favor of catnip for their liberal base, covered with a hefty coat of false advertising."
"That's how the so-called 'American Rescue Plan,' a grab-bag spending bill that directed less than 10 percent to vaccines and pandemic healthcare, was marketed as a COVID-19 relief measure," he added. "In actuality, it sent huge sums of money to state governments whose revenues had already rebounded and declared war on the formerly bipartisan consensus that welfare spending should be linked to work."
McConnell criticized the America Jobs plan as "another multi-trillion-dollar smorgasbord of liberal social engineering that would decimate entire industries and spend only a small fraction on roads and bridges."
Meanwhile, House Minority Leader Kevin McCarthy (R-Calif.) throughout the night on Twitter posted a series of "Fail" messages that alleged the president of having flopped in performance with regard to the COVID-19 relief measure, the infrastructure plan, energy policies, tax hikes, and the border crisis.
"This whole thing could have just been an email," McCarthy wrote, commenting on Biden's evening address.
The Republican leader late Wednesday encouraged others to retweet his message on Twitter, quoting Scott's speech: "Our best future will not come from Washington dreams or socialist schemes. It will come from YOU—the American people."
The Associated Press, Janita Kan, and Tom Ozimek contributed to this report.