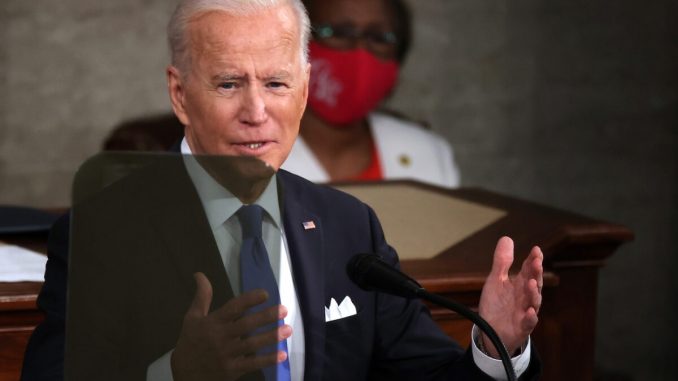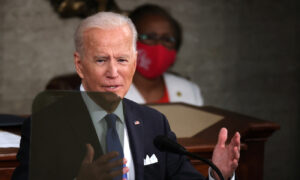 President Joe Biden, during his speech to Congress on Wednesday, called for a ban on "high-capacity magazines" that hold up to 100 rounds.
"We need a ban on assault weapons and high-capacity magazines again. Don't tell me it can't be done," Biden said. "We've done it before … and it worked. Talk to most responsible gun owners, most hunters—they'll tell you there's no possible justification for having 100 rounds—100 bullets—in a weapon."
It's not clear why Biden specifically made the proposal to ban the 100-round magazines, as Democratic lawmakers and gun-control groups have tried to push for a ban on magazines that hold more than 10 rounds. Some states have also attempted to pass legislation that bans magazines holding over 17 rounds in recent days.
Connor Betts, a gunman who opened fire on a street in Dayton, Ohio, used a 100-round "drum" magazine in 2019. The shooter at the Gilroy Garlic Festival in California also had one but did not use it.
The president also called for a ban on so-called "assault weapons," universal background checks for firearms purchases, and regulations on do-it-yourself guns made from parts kits.
"We need more Senate Republicans to join with the overwhelming majority of their Democratic colleagues, and close loopholes and require background checks to purchase a gun," he added. In his speech, he referenced the mass shooting in Boulder, Colorado, where universal background checks are used, which left 10 people dead at a supermarket.
The House last month passed two bills that would expand background checks on individuals who are seeking to purchase or transfer firearms and would give authorities 10 business days for federal background checks to be completed before a gun sale can be licensed.
Separately, several top Senate Democrats introduced a bill that would federally ban gun magazines that hold more than 10 rounds, echoing provisions currently being implemented in states like California and New York.
The Department of Justice has previously said that the 1994 federal ban on so-called high-capacity magazines—which was promoted by Biden when he was a Delaware senator—didn't lead to a significant drop in shootings and murders. That study has been often cited by gun-rights groups including the National Rifle Association (NRA) and Gun Owners of America for why such legislation would be ineffective.
"We cannot clearly credit the ban with any of the nation's recent drop in gun violence," the DOJ stated in 2004. "Should it be renewed, the ban's effects on gun violence are likely to be small at best and perhaps too small for reliable measurement."
The NRA, meanwhile, reacted to Biden's speech where he touted the 1994 Assault Weapons Ban.
"In '94, Americans owned 850,000 AR-15s. Even the Clinton DOJ proved this ban to be a failure. Today, the ban is long gone & law-abiding Americans own 20 million AR-15s. Who beat who, Mr. President?" the group wrote.