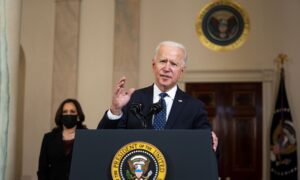 The U.S. Food and Drug Administration (FDA) announced Thursday that it would move to ban menthol cigarettes and flavored tobacco products.
The FDA faced a deadline on Thursday to answer a 2013 citizen petition to ban or curb menthol products. The petition turned into a court filing in 2020.
"The FDA is working toward issuing proposed product standards within the next year to ban menthol as a characterizing flavor in cigarettes and ban all characterizing flavors (including menthol) in cigars; the authority to adopt product standards is one of the most powerful tobacco regulatory tools Congress gave the agency," the FDA said in a news release Thursday.
According to the U.S. Centers for Disease Control and Prevention (CDC), more than 7 out of 10 black youths between the ages of 12 and 17 reported smoking menthol cigarettes, while black adults have the highest percentage of menthol usage compared to other demographics. Tobacco companies, meanwhile, have been accused of marketing menthols specifically to black communities and young people.
"This decision is based on clear science and evidence establishing the addictiveness and harm of these products and builds on important, previous actions that banned other flavored cigarettes in 2009," said the FDA in explaining its proposal to ban menthols.
FDA officials said that "these flavor standards would reduce cigarette and cigar initiation and use, reduce health disparities, and promote health equity by addressing a significant and disparate source of harm."
However, the American Civil Liberties Union (ACLU) and other critics have said that banning menthols could lead to an underground market for such products, leading to more criminal activity.
"Such a ban will trigger criminal penalities, which will disproportionately impact people of color, as well as prioritize criminalization over public health and harm reduction," said a recent ACLU letter to the Biden administration. "A ban will also lead to unconstitutional policing and other negative interactions with law enforcement."
The group noted that George Floyd, whose officer-involved death sparked nationwide protests, was using a counterfeit $20 bill to purchase cigarettes, while "Eric Garner, killed by a police chokehold, was illegally selling 'loosie' cigarettes."
Rev. Al Sharpton, meanwhile, has long been a critic of proposed bans on menthols, saying such a move would create a black market.
Any menthol ban would likely take years to implement and would face legal challenges from tobacco firms.
An Altria spokesman told The Associated Press in a statement ahead of the announcement that "criminalizing menthol" would have "serious unintended consequences." Altria is one of the world's largest producers of tobacco.
The Epoch Times has contacted Reynolds American, another tobacco producer, for comment.
FDA officials said they are planning to hold a call on the proposed ban later Thursday.