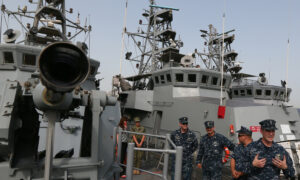 The U.S. Navy on Tuesday fired warning shots toward three patrol boats with the Islamic Revolutionary Guard Corps Navy (IRGCN) in the north Persian Gulf after a close encounter with American vessels.
The United States military said in a statement that the three IRGCN speed boats moved within 68 yards of the U.S. Coast Guard vessel Baranoff and the USS Firebolt, a U.S. Navy patrol ship, while in international water in the northern Gulf.
Naval officials said the Iranian Revolutionary Guard vessels approached the American vessels at "an unnecessarily close range with unknown intent."
"The U.S. crews issued multiple warnings via bridge-to-bridge radio and loud-hailer devices, but the IRGCN vessels continued their close range maneuvers," the statement said. "The crew of Firebolt then fired warning shots, and the IRGCN vessels moved away to a safe distance from the U.S. vessels."
The U.S. Navy said "pre-planned responses" were used to de-escalate the situation, avoid collision, and reduce risk of miscalculation.
"The IRGCN's actions increased the risk of miscalculation and/or collision, were not in accordance with the internationally recognized Convention on the International Regulations for Preventing Collisions at Sea (COLREGS) 'rules of the road," a spokesman for the U.S. Navy said.
"U.S. naval forces continue to remain vigilant and are trained to act in a professional manner, while our commanding officers retain the inherent right to act in self-defense," the spokesman added.
Such incidents have occurred occasionally over the past five years, though there has been a relative lull over the past year.
On April 2, four Iranian Revolutionary Guard vessels came close to two U.S. Coast Guard patrol vessels in the Persian Gulf. That marked the first such confrontation in a year, the Wall Street Journal reported.
While officials said it was too early to discern the exact motivation of the Iranian forces, they have said that generally in the past such incidents are carried out by local commanders rather than directed by senior Iranian leaders.
The incident comes as world powers and Iran seek to speed up efforts to bring Washington and Tehran back into compliance with the the 2015 Joint Comprehensive Plan of Action—known commonly as the Iran nuclear deal—which former President Donald Trump withdrew from in 2018. The United States has reassured its Gulf Arab allies on the status of the talks.
Reuters contributed to this report.