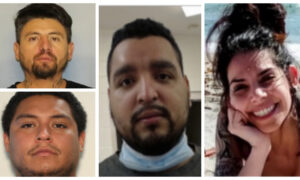 A national manhunt is underway for five alleged killers starting Monday after a mother of two, who is also a taxi driver, was found dead in Georgia.
The Georgia Bureau of Investigation issued arrest warrants for four of the five suspects on April 24 after the murder of 37-year-old Rossana Delgado. The GBI on April 27 also announced it is seeking the public's help in identifying an associate of Delgado.
Delgado was last seen on April 16 in DeKalb County. Her husband had told a local Telemundo station that she'd told him she was taking a passenger to a mall in the Atlanta metro area, and would then return home.
But she didn't return home, in Barrow County, that night. Later, her body was found nearly 100 miles away on April 20 in northern Gilmer County, at a residence in Cherry Log, according to authorities.
Autopsy results are pending as of April 24.
The suspects are 30-year-old Megan Alyssa Colone, 35-year-old Juan Ayala-Rodriguez, 26-year-old Oscar Manuel Garcia, and 29-year-old Mario Alberto Barbosa-Juarez. Colone, Ayala-Rodriguez, and Garcia are from Georgia, while Barbosa-Juarez is from Oklahoma.
The law enforcement agency is seeking public help in identifying the fifth suspect in the murder.
The GBI is requesting the public's assistance with identifying the fifth suspect in the Gilmer County murder investigation.

Anyone with information is asked to call the GBI Tipline at 1-800-597-TIPS(8477). pic.twitter.com/KbQacQNz0n

— GA Bureau of Investigation (@GBI_GA) April 25, 2021
The GBI announced that it is believed the five people may no longer be in Georgia and that Colone may be traveling using the alias "Grace Beda." She is also believed to be traveling with her minor children.
A possible motive in the suspected murder remains unclear.
Anyone with information about the whereabouts of the four named suspects is asked to call the GBI Tipline at 1-800-597-TIPS(8477), report the information online or via the mobile app, See Something Send Something. People are also asked to not approach the individuals if they happen to see them, and instead to call 911 immediately.
On April 27, the GBI announced it is also seeking help in identifying a woman who is one of the last people to interact with Delgado. They released a video on April 16 of the unnamed woman.
The GBI is requesting the public's assistance in identifying & locating the woman in this video. The woman is one of the last people to interact with the victim, Rossana Delgado. This video is from April 16, 2021. pic.twitter.com/vHfuNHlIvx

— GA Bureau of Investigation (@GBI_GA) April 27, 2021