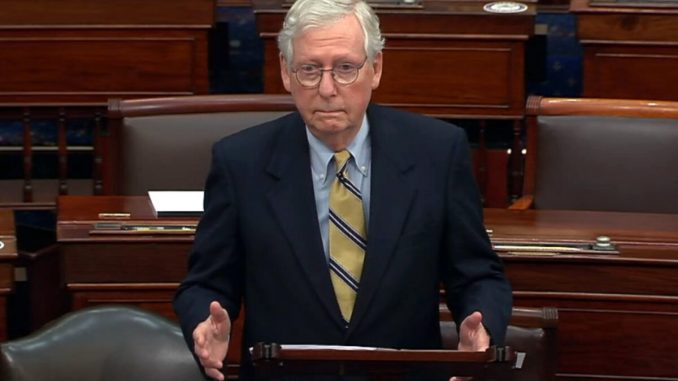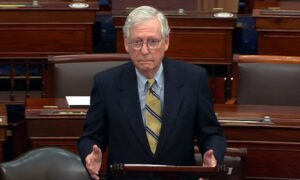 President Joe Biden has failed to deliver his campaign promise to unify the country following a tumultuous 2020 and instead has focused on a radical agenda, Senate Republican Leader Mitch McConnell (R-Ky.) told the Senate floor on Wednesday.
McConnell made the speech ahead of Biden's maiden address to a joint session of Congress, in which he detailed a laundry list of Republican grievances over the administration's performance in its first 100 days.
"President Biden pledged he would be 'A president for all Americans' with plans to repair, restore, and heal," McConnell said on Wednesday morning. "He promised that his whole soul was committed to uniting our people. Many hoped his administration would reflect that promise."
"But the first 100 days have left much to be desired. Over a few short months, the Biden administration seems to have given up on selling actual unity in favor of catnip for their liberal base, covered with a hefty coat of false advertising," he added.
The top Republican's comments also came the same day Biden announced another major legislative package that is set to cost $1.8 trillion, dubbed the American Families Plan. The measure is slated to expand access to community college and preschool, as well as child care and healthcare for families, and would be funded mainly by tax increases on wealthy Americans.
Republicans have long taken issue with Democrat spending, accusing their colleagues of ramming through Congress many progressive measures without bipartisan support while they hold a slight majority in the House and equal power in the Senate. Congress in March passed Biden's $1.9 trillion COVID-19 relief package and is currently weighing his $2.3 trillion American Jobs Plan.
"Behind President Biden's familiar face, it's like the most radical Washington Democrats have been handed the keys, and they're trying to speed as far left as they can possibly go before American voters ask for their car back," McConnell said.
He characterized the American Jobs Plan as "another multi-trillion dollar smorgasbord of liberal social engineering that would decimate entire industries, and spend only a small fraction on roads and bridges" being sold as a serious effort to rebuild the nation's infrastructure.
Republicans have since unveiled a counter infrastructure proposal with a significantly lower price tag, which focuses on the traditional concept of "infrastructure."
McConnell also criticized Biden for his handling of the border crisis, for ordering a "hasty, total withdrawal from Afghanistan," and ignoring threats of competition from Russia and China. He also criticized the decision to shut down the Keystone XL pipeline, and the push to pass H.R. 1, known as the For the People Act, a Democrat effort to overhaul voting in America.
During his speech to Congress, Biden touted his accomplishments, the current condition of the nation, the economy, and celebrated the passage of the $1.9 trillion COVID-19 relief package. He also painted his vision for the country vowing to mend the economy as he reiterated the need for his American Jobs Plan and American Families Plan.