India's CCP virus surge has, as of Wednesday, claimed over 200,000 lives, a grim milestone in a pandemic-ravaged country whose health system is strained to the breaking point.
The health ministry reported a single-day record of 3,293 COVID-19 deaths in the last 24 hours, bringing India's total fatalities to 201,187, as the world's second-most populous country endures its darkest chapter of the outbreak yet. Indian authorities also reported 362,757 new infections, a new global record.
Hospitalizations have also hit record highs, overwhelming health care workers.  Unavailability of beds, shortage of oxygen, and hours of waiting at crematoriums have combined with the staggering death and infection numbers, fueling an atmosphere of fear.
"Whole system is messed up at hospitals, there is no oxygen at hospitals and no beds, people are dying in ambulances before reaching hospitals, what else will we feel [if not afraid]?" said Delhi resident Amit Sharma, in an interview with Reuters.
Desperate family members are pleading for assistance on social media, asking for assistance finding oxygen cylinders, empty hospital beds, and critical drugs for their loved ones.
"People are afraid that if I am talking to a person, maybe I won't get to talk to them tomorrow or soon. This [death toll] is 200,000 today, it can go up to 400,000 or even a million," said Delhi resident Manoj Garg, in an interview with Reuters.
Crematoriums have spilled over into parking lots, lighting up night skies in some cities.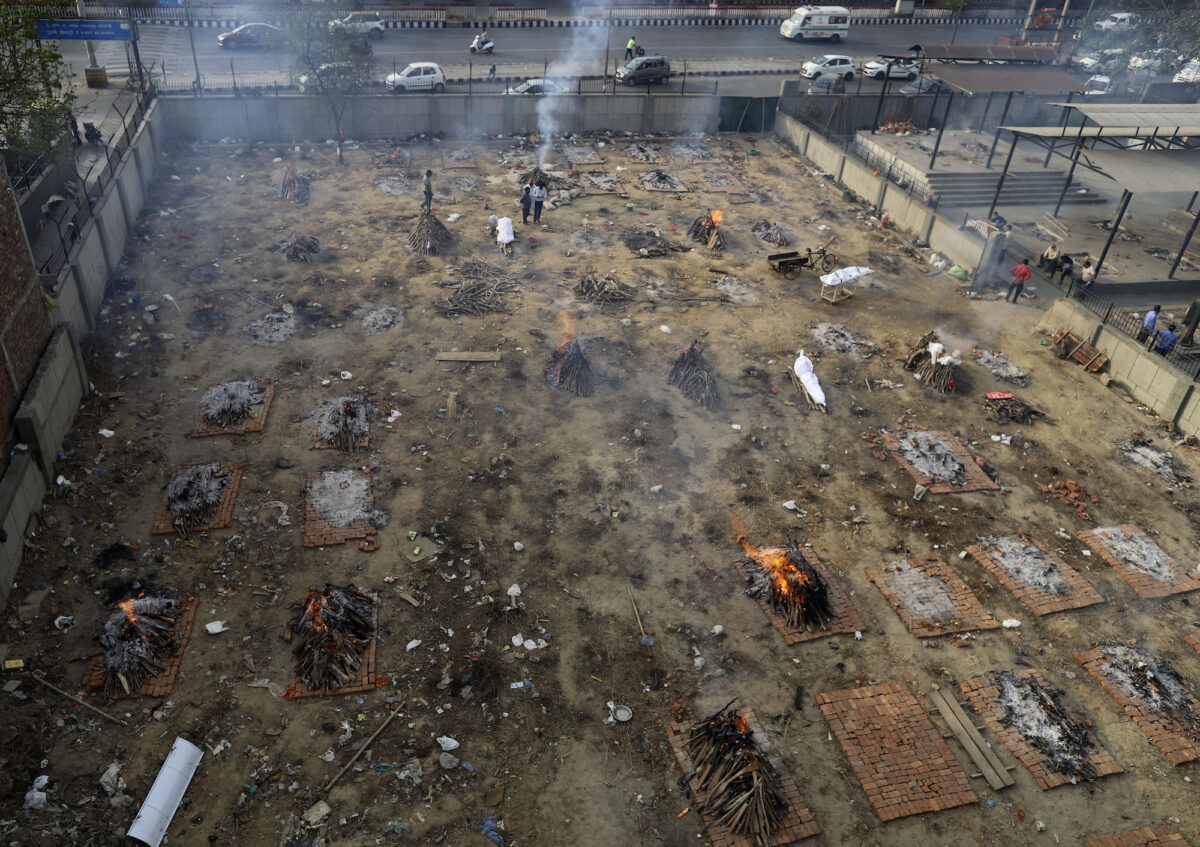 With its health care system overwhelmed, India is now looking to other nations for help. Many countries have offered assistance, including the United States, which has promised to help with personal protective equipment, tests, and oxygen supplies.
"India is facing a huge surge right now, and there's a lot of support that we're currently exploring and what we're providing that will be helpful on the ground immediately," White House senior administration officials said on a press call on April 26.
"At India's request, we're exploring options to provide oxygen and related supplies.  These are resources that India has specifically requested and are very high on their priority list."
On the same day as the press call, President Joe Biden spoke with Indian Prime Minister Narendra Modi, and the leaders agreed to work closely together to fight the pandemic. The United Kingdom and the European Union have also reached out to India to provide urgent assistance.
Following their lead, China's communist regime also pledged support, but Chinese state-run Sichuan Airlines suspended all cargo flights to India on April 26 for 15 days, seriously affecting the ability of locals to obtain oxygen concentrators and other urgently needed medical equipment. Chinese manufacturers of medical supplies have also raised prices of medical supplies by 35–40 percent, and the freight charges have also increased by more than 20 percent.
Reuters and The Associated Press contributed to this report.