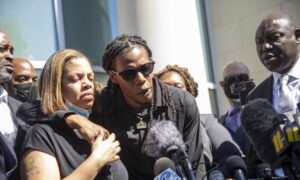 A North Carolina district attorney said Wednesday that Andrew Brown Jr.'s car hit deputies before they fired shots at him, killing him, in the latest officer-involved shooting that is drawing the ire of Black Lives Matter activists.
District Attorney Andrew Womble told a judge at a hearing that he viewed body camera footage of the incident and disagreed with how lawyers for Brown's family described his death. The lawyers had claimed that Brown's car was stationary when officers fired.
Brown's car, however, struck deputies twice before shots were heard, Womble added.
"As it backs up, it does make contact with law enforcement officers," he said, noting that in the video, the car stops again. "The next movement of the car is forward. It is in the direction of law enforcement and makes contact with law enforcement. It is then and only then that you hear shots."
It came days after Chanel Cherry-Lassiter, the attorney representing Brown's family, said that she and some family members were shown about 20 seconds of the footage, claiming Brown posed no threat to officers. They said Brown was in his driveway when a sheriff's truck blocked him and alleged that deputies ran up to his vehicle while shooting.
Deputies were serving a drug-related arrest and search warrant when the incident unfolded.
"They're shooting and saying, 'Let me see your hands' at the same time," Cherry-Lassiter told reporters Monday, adding that Brown had his hands on the steering wheel and was stationary.
"This was, in fact, an extrajudicial killing, an execution if you will," Brown family attorney Wayne Kendall told CNN. "Mr. Brown's car never moved toward those deputies."
A judge is slated to decide whether or not to release the footage of the shooting on Wednesday, while the Pasquotank County Sheriff's Department is facing increased pressure from the family and Black Lives Matter-related groups and demonstrators to release it.
Pasquotank County Sheriff Tommy Wooten stated that he wants the body camera footage released to the public.
"I in fact requested that the petition be filed to have this video be released to the public," Wooten told Fox News on Wednesday morning. "You know, transparency is paramount, not only for an agency but for the community as well because it helps us keep that trust."
Wooten said that attorneys' statements claiming Brown was "executed" are "inflammatory to the community."
The FBI and North Carolina State Bureau of Investigation both said they are investigating the shooting.
Earlier this week, the mayor of Elizabeth City, where the shooting occurred, declared a state of emergency over possible unrest related to the release of the body camera footage.
The order goes into effect at 8 a.m. on April 26, directing all Elizabeth City agencies to "take whatever steps necessary to protect life and property, public infrastructure, and provide such emergency assistance deemed necessary to preserve public safety." City offices are also closed Monday.