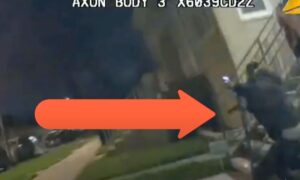 Authorities in Chicago released body camera footage showing an officer fatally shooting a 22-year-old man who allegedly had a gun while running away from officers in late March.
Chicago's Civilian Office of Police Accountability (COPA) on Wednesday released numerous police and third-party videos, along with 911 audio in the shooting death of Anthony Alvarez on March 31.
One of the videos shows an officer telling Alvarez to drop the gun twice as he chases him before the officer is seen firing several rounds. Alvarez also appears to be running away, and later footage shows a firearm found several feet away from where Alvarez fell.
"Why are you shooting me?" Alvarez can be heard asking the officer. "You had a gun," the officer says in response.
The video footage does not appear to show Alvarez firing at or pointing a gun at officers.
The Chicago Police Department and COPA said Alvarez attempted to evade police capture as officers approached him at a gas station. It's not clear why he was wanted.
Mayor Lori Lightfoot, a Democrat, said it was a "minor traffic offense" that triggered the foot pursuit.
"I understand, having investigated many of these shootings, that officers are in many instances called upon to make split second decisions, particularly in instances like this one where there's a gun," Lightfoot told media outlets. "Nonetheless, a traffic accident, a traffic incident should not result in the death of anyone. So, we have more work to do to be sure."
Lightfoot and attorneys representing Alvarez's family issued a statement calling for peace.
"Both parties are acutely aware of the range of emotions that will accompany the release of these materials, and we collectively issue this statement and ask that those who wish to express themselves do so peacefully and with respect for our communities and the residents of Chicago," their statement said.
They added: "COPA's investigation is ongoing, and both parties expect and have the utmost confidence that officials will determine the complete and unbiased set of facts in this case. … We ask that all continue to respect the Alvarez family's right to privacy as they grieve during this incredibly painful time."
The release of the footage comes as Chicago is on pace to have one of its worst years on record in terms of homicides and shootings, according to data compiled from media reports. So far, nearly 200 homicides have been recorded in 2021, along with more than 1,000 shootings. That includes the broad-daylight shooting death of a 7-year-old girl at a McDonald's drive-thru earlier this month.