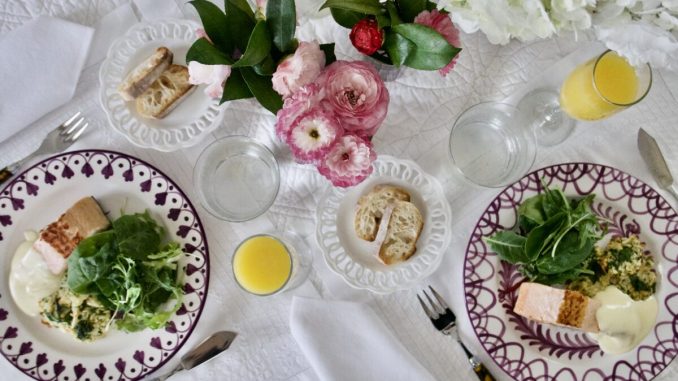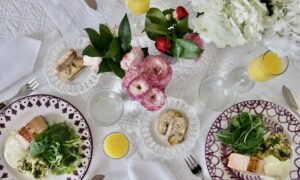 A special Mother's Day lunch is a wonderful way to thank the mothers in your life and show them how much you care for and appreciate them.
I've specifically designed this menu to be easy enough for even an eager teenager or non-cooking spouse to make—just the basics, no complicated techniques involved. Still, the dishes are elegant, with a touch of glamour.
The Menu
Fresh, simply pan-seared salmon is always a treat, especially served with a faux hollandaise (because everything sounds better in French, doesn't it?). The classic sauce, an emulsion of egg yolks, melted butter, and lemon juice, can be tricky to pull off, but my "faux" version has a secret that makes it foolproof.
For the perfect accompaniment to the tender, succulent salmon, make herbed potato pancakes in the oven, a crisp, golden step up from your everyday potatoes. Using frozen shredded potatoes cuts back on prep time, and young cooks can help form the potato-egg-cheese mixture into patties.
Serve these together with a green salad to make this a complete menu, and chilled glasses of mimosa or a pitcher of bellini, for a simply glamorous lunch that will please all.
For dessert, fried cookies may sound like overkill—after all, cookies don't need a lot of help to be delicious—but I used to make these with my mother and I have often made them with my children, so this is in their honor. I take store-bought Maria cookies, sandwich them with strawberry jam, and fry them in light olive oil until golden brown.
My mother and I made these for teatime, and they are delicious served piping hot with a dusting of powdered sugar—or dipped in hot chocolate, like churros. For this lunch, I am plating them with fresh berries and vanilla ice cream for a wonderful no-fuss dessert.
The Prep
Having all your ingredients and equipment prepared ahead of time, before you start cooking, will let you take this menu from kitchen to table in about 20 minutes. This is called "mise en place," a French culinary term that means "everything in its place."
Except for the salmon, herbs, and lemon, which should be fresh, all other ingredients are pantry staples or come straight from the freezer. You will need a mixing bowl and sheet pan for the herbed potato pancakes, a non-stick sauté pan for the salmon and the cookies, and a small saucepan for the faux hollandaise. That's it.
Start by making the potato pancakes, and while they are in the oven, make the faux hollandaise and the salmon. Then fry the cookies and keep them in the warm oven (turned off) until they're ready to dust with powdered sugar and eat.
Take the time to set the table, arranging some flowers and fluffing up the pillows, to set the scene for a wonderful meal that shows your care and thoughtfulness. That is what it's all about.
Mother's Day comes but once a year, but really, celebrating mothers should be an everyday occurrence. I wish I had more time with my mother; I miss her every day. And now, I wish I had more time with my children; I miss them, too.
If you're unable to celebrate with your mother this year, remember that it's a day to honor all mothers—new, old, and in-between—who deserve a bit of extra attention from the people around them. In my group, some of my friends will not be spending this day with their children, so inviting them to my house for this special meal will be my way of joining together and celebrating motherhood.
Here is to all mothers: Wishing you a very happy day surrounded by those you love.
RECIPE: Pan-Seared Salmon With Faux Hollandaise
RECIPE: Oven-Baked Herbed Potato Pancakes
RECIPE: Fried Sandwich Cookies
Victoria de la Maza is an award-winning cookbook author, columnist, and international TV host. Passionate about great food, she combines American traditions with her European heritage to create classic-with-a-twist recipes and ideas for stylish entertaining at home.