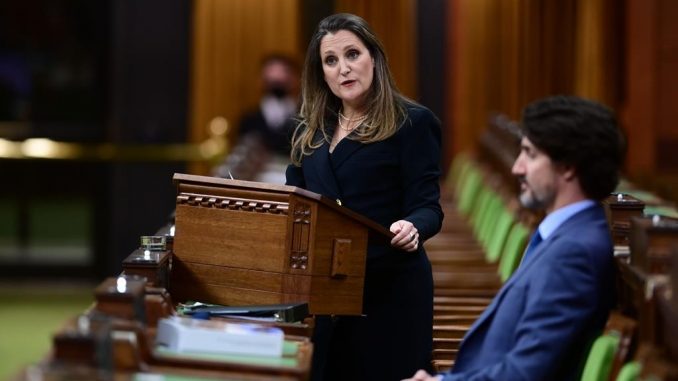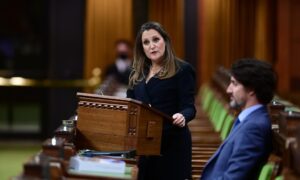 As the federal government plans to expand taxpayer-funded daycare, some critics are taking issue with the plan's exclusion of non-licensed care and lack of esteem for stay-at-home moms.
In the recent federal budget, Finance Minister Chrystia Freeland announced $30 billion over the next five years for early learning and child-care services, with $8.3 billion becoming a permanent part of annual spending. The goal is to provide public child care that would cost a parent $10 per child per day.
"The evidence from Quebec–which began building a universal early learning and child-care system more than two decades ago–is incontrovertible," Freeland said. "Quebec has among the highest labour force participation of women with children under 3, in the world."
Andrea Mrozek, a senior fellow with research organization Cardus Family, doubts the sizeable spending will bring about a quality system for children. She says the Quebec model is a failure that should not be adopted.
"It's so cheap that people are enticed into it because it's so highly subsidized. I also believe the realities of how children fare in the [Quebec] system has effectively been concealed for parents there and outside," she said in an interview.
"I have been asked so many countless times, as I work on the child-care file, why don't we emulate Quebec. And when I talk about the poor child outcomes people aren't aware of it."
Economists Michael Baker, Jonathan Gruber, and Kevin Milligan analyzed the Quebec example in 2005 based on the National Longitudinal Survey of Children and Youth, an ongoing data set that follows the progress of a large sample of Canadian children. They found "striking evidence that children are worse off in a variety of behavioural and health dimensions, ranging from aggression to motor-social skills to illness," following introduction of the universal, highly subsidized child-care program in the late 1990s.
Their follow-up study in 2015 found that "non-cognitive deficits persisted to school ages, and also that cohorts with increased child-care access subsequently had worse health, lower life satisfaction, and higher crime rates later in life."
Mrozek said an increase to the Canada Child Benefit (CCB) would be a preferable use of tax dollars because it would extend support directly to parents and other family members involved in child care.
"Increasing the CCB is effective child-care policy," Mrozek said. "Parents are also doing child care, family members are helping … [and] that isn't recognized by proponents of national daycare. So, if you were to give families money, then they would be able to pay for whatever they're using with greater ease."
Mrozek also suggests other options, such as making child-care expenses a refundable tax credit, as is the case in Ontario and Quebec. That would put more money in the pockets of lower-income parents.
"People who are proponents of daycare don't recognize anything other than the licensed sector. And in so doing, they pretend a whole array of care options that are available to parents are not there."
'Feminist' Public Policy Undervalues Motherhood: Caregiver Advocate
Freeland stated in her forward to the budget, released on April 19, that "COVID-19 has created a window of opportunity, which we can open to finally build a system of early learning and child care across our country. This is social infrastructure that will drive jobs and growth. This is feminist economic policy."
Beverley Smith, creator of the Equality and Caregiving website, which provides resources to help in the advocacy for unpaid caregiving, says the federal approach doesn't consider what is best for children.
"If you really want to value [children], you value them where they are—you value them with their attention spans, their interests and everything—and you are one-on-one watching that child to see what they need. And so the best people to do that are the parents. They know [their] kid very well, and they also have a vested interest in the kids thriving," Smith said in an interview.
The mother and retired teacher says second-wave feminists strove to find value for women by giving them paid work that contributed to GDP, but that feminists and policy-makers must now round out their perspectives.
"The way to get equality was to enter the world where men got the value already. … So the next third wave to value women's equality is to get them recognized even when they're home. That's the final equality," Smith said.
Smith said unpaid mothering should count for one-third of GDP, and ignoring this contribution leads to bad policy.
"What you got is a government that is still living off the avails of women's work in the home, but completely discrediting them, and also now mocking them and pushing them out of the home. And that's going to backfire because now all that free labour they got is going to have to be paid.
"So, care of children will have to be institutionalized, care of the elderly institutionalized, care of the handicapped institutionalized. They won't be able to send the sick home from hospital early because they can't assume anymore there's someone home to take care of them. So, hospital costs will go up."
The myopic focus on paid work ultimately lends itself to Joni Mitchell's lyrics "you don't know what you've got till it's gone," Smith said.
"The government is kicking itself in the foot really," she said.