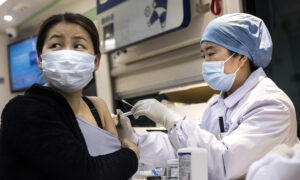 Despite numerous reports of deaths caused by Chinese vaccines in Hong Kong and the mainland, Chinese authorities have ordered all members of the military to be vaccinated.
The death of a Chinese soldier who received China's Sinovac vaccine, and other vaccine related death cases, are hotly discussed on Chinese social media.
On April 15, a Weibo user in Shenzhen, using the handle "Wild Foothill Flowers," said her brother, a soldier, died after receiving the Sinovac vaccine.
"My brother was a 28-year-old soldier with no medical history. The troop arranged for everyone to receive the Sinovac inactivated vaccine produced in Beijing. The first dose was given on Jan. 11. The second dose was given on Feb. 8, at Shenzhen Binhe Avenue Women's and Children's Social Health Center."
The woman said her brother developed fatigue, subcutaneous bleeding, and bleeding gums. On March 24, he had a headache and was hospitalized after a sudden cerebral hemorrhage. He died on April 15, and the doctor diagnosed the death as "cerebral hemorrhage caused by severe aplastic anemia."
"Why does vaccination cause aplastic anemia?" the woman asked.
According to the woman, she was "threatened" to delete her post. Later the same day, she said she had received calls from the head of her brother's office as well as the Futian Health Bureau, asking her "to be aware of the impact." Two days later, on April 17, all of her posts about the incident were deleted, but screenshots had already been shared on overseas social media.
In another case, a Korean citizen living in Shanghai died three days after getting the Sinovac vaccine. In an April 22 report, the Yonhap News Agency quoted information from the Korean expatriate community in Shanghai saying the female Korean expat suffered from nausea and other abnormal reactions after receiving the Sinovac vaccine in a Shanghai hospital on April 19. She was found dead in her home in Shanghai on the morning of April 22. The report said the woman was in her 40s and had no underlying medical conditions.
Chinese Authorities Suppress Chinese Vaccine Death Reports
As of April 20, 15 deaths from the Sinovac vaccine were reported in Hong Kong, a city of about 7 million people, according to an Epoch Times tally. However, mainland China, with a population of 1.4 billion, has not reported a single domestic vaccine related case resulting in severe symptoms or death.
A woman from Penglai City, Shandong Province, with the surname Tang, told NTD that there have been a number of vaccine injury cases in China. But related information has been suppressed by the authorities in such a timely manner that not even medical staff have had a chance to learn about them. Only family members know about them, she said.
According to Tang, The CCP handles the epidemic and vaccine-related matters in a "confidential" manner. If a person is brought to the hospital because of a vaccine injury, the hospital will immediately send special personnel to deal with it. These things are hidden from the common people, Tang said.
Still, there are some cases that have been spread through overseas social media or citizens media. For example, on March 27, a netizen posted on Twitter that a worker at a Beijing Sany Heavy Industry workshop was given the Sinovac vaccine on March 21 and died on March 23.
Another netizen said in the comment section of a self-media channel that a person from Tianjin No. 1 Hospital died suddenly two days after receiving the vaccine.
Sound of Hope Radio received a report on April 14 from a mainland Chinese saying that at the end of March, Wang Dajun, a 43-year-old villager from Dalian City, Liaoning Province, died the same day he had been vaccinated. Family members contacted the authorities, who promptly blocked the information.
As of April 18, 192 million doses of vaccine were administered in mainland China, according to China's National Health Commission. It's unclear how many people have developed abnormal symptoms because Chinese authorities have been clamping down on this type of information and cracking down on "leakers." For example, on April 20, the Weibo account "Nanjing Internet Police Patrol and Law Enforcement" revealed that Pan, a netizen in Nanjing City, had been detained for 7 days for posting comments on a short video platform about vaccines killing people.
Chinese Vaccine Given Multiple Negative Reviews
The CCP has used "vaccine diplomacy" and made it easier for foreigners to get visas in order to receive Chinese made vaccines. But in many countries, the rate of COVID-19 infections have increased rather than decreased after the use of Chinese vaccines.
In Chile, for example, 35 percent of the population was vaccinated with Sinovac, but the number of confirmed COVID-19 cases increased. As of April 22, more than 1.14 million people have been diagnosed in Chile, which has a population of 18 million.
A recent study by the University of Chile found that a single dose of Sinovac vaccine is only 3 percent effective in the 28 days between the first and second doses, meaning that the first dose has almost no effect, and people who received the first dose were just as vulnerable to infection as those who didn't receive any vaccine.
According to the study, within the first two weeks of getting the second Sinovac shot, the vaccine's efficacy was only 27.7 percent. Two or more weeks after the second dose, the efficacy rate rose to 56.5 percent.
In Brazil, the Instituto Butantan published results of a Sinovac phase 3 clinical study on April 11, showing an efficacy rate of only 50.4 percent, which is similar to the Chilean study.
And according to a Peruvian media, the efficacy of Sinovac's two vaccines were only 33 percent and 11.5 percent in a local phase 3 clinical trial.
Meanwhile, in Asia, Pakistan, which has close ties to the CCP, started administering Chinese vaccines beginning in February. But the country's recent infection rate jumped to 11 percent, the highest level since the outbreak began in 2020. Pakistan's President Arif Alvi and Prime Minister Imran Khan both tested positive for the CCP virus after receiving the Sinovac vaccine.
Top Chinese Health Official Admits Low Efficacy of Domestic Vaccines
On April 10, Gao Fu, director of the CCP's Center for Disease Control and Prevention (CDC) publicly admitted that "the protection efficiency of China's existing vaccines is not high" while attending a seminar in Chengdu. He said they are investigating two solutions. One is to increase the dose or adjust the inoculation time interval. The second is to consider mixing vaccines developed with different technologies.
The following day, in an interview with the CCP's mouthpiece Global Times, Gao tried to "correct" his statement, saying that the "hype" resulting over his admission that Chinese vaccine protection rate is low was a complete misunderstanding. However, Wang Huaqing, the chief expert of the CDC's immunization program, didn't deny Gao's initial statement when answering reporters' questions at a State Council press conference on the same day.
Officials Claim to 'Correct Compulsory Vaccination', But Entire Military Must Still Be Vaccinated
The efficacy and safety of Chinese vaccines are widely questioned, and Chinese people are reluctant to take them. However, the CCP has used a carrot-and-stick approach to push domestic vaccines. They promise people free eggs, flour, coupons, and even cash to entice them to get vaccinated. Those who refuse to take vaccines face various disguised punishments.
Faced with public pressure at home and abroad, Mi Feng, spokesperson for the CCP's National Health Commission, felt obliged to respond on April 11, saying, "Compulsory vaccination for all people must be resolutely corrected." It's an indirect acknowledgement of the CCP's efforts of making vaccination compulsory.
Back in June 2020, Chinese armed forces received approval from the CCP's military commission for emergency use of a special vaccine called Convidecia. This is an adenovirus vector vaccine developed by the Chinese Academy of Military Sciences and CanSino Biologics Inc. Only one dose is said to be required. On Feb. 25 of this year, Convidecia received official approval from the CCP for conditional use. After 14 days of one-dose injections, without providing any clinical data, officials claimed that the vaccine had an overall efficacy of 68.83 percent.
A few days after Mi Feng made his statement about compulsory vaccination for all people needing to be resolutely corrected, the Chinese military announced that all troops should be vaccinated. An article published on April 16 by the People's Liberation Army Daily quoted military prevention and control experts as saying that military personnel, as a group that needs to perform various tasks at any time, should "have all personnel vaccinated," except for certain contraindications.
In a recent interview with The Epoch Times, Li Yanming, a U.S.-based commentator and China expert said, "Even the CCP's top health officials have publicly acknowledged that Chinese vaccines are ineffective and their safety has been questioned, with deaths and forced injections reported at home and abroad. Now they are asking all the troops to be vaccinated. Chinese lives are indeed worthless."