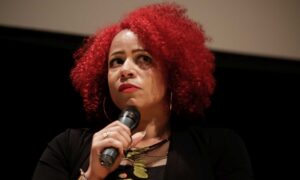 Nikole Hannah-Jones, the leading author of the New York Times' highly controversial 1619 Project, will be teaching journalism at the University of North Carolina (UNC) this summer.
While remaining at the New York Times, Hannah-Jones will join the faculty at the UNC-Chapel Hill's Hussman School of Journalism and Media in July as a Knight Chair in Race and Investigative Journalism, the school announced Monday.
"This is a full-circle moment for me as I return to the place that launched my career to help launch the careers of other aspiring journalists," Hannah-Jones, who earned her master's degree at UNC Hussman, wrote on Twitter. "I'm so excited to continue mentoring students from the classroom and for all I will learn from them."
In May 2020, Hannah-Jones was awarded a Pulitzer Prize for her work on the 1619 Project, which aims to "reframe American history" by presenting the United States as an inherently racist nation founded on slavery. The project consists of a collection of essays that argue, among many other controversial claims, that the real reason for the American Revolution was to preserve slavery, and that slavery was the primary driver of American capitalism during the 19th century.
The idea that racism remains deeply embedded in today's America, as Hannah-Jones claims in her essays, gained prominence during last year's nationwide unrest. After a New York Post op-ed, "Call Them the 1619 Riots," associated the widespread looting, statue-topping and flag-burning with the 1619 Project's flawed history narrative, Hannah-Jones said "it would be an honor" that the mobs carried out violence under the 1619 banner.
The integrity of the 1619 Project has been questioned by a variety of scholars, most notably the Trump administration's advisory 1776 Commission. In its its first and last report, the commission criticized the project for promoting a historically inaccurate account about the nation's founders, and called for a return to "patriotic education" focusing on how generations of Americans fought to live up to their founding ideals.
Hannah-Jones's return to UNC as a professor of journalism comes as the Biden administration seeks to prioritize funding education programs that incorporate the ideas of the 1619 Project. In a proposed new rule released April 19, the Education Department cited the project as a leading example for the kind of content it wants to use federal dollars for to promote history and civics classrooms throughout the country.
"There is growing acknowledgement of the importance of including, in the teaching and learning of our country's history, both the consequences of slavery, and the significant contributions of Black Americans to our society," the proposed rule reads. "This acknowledgement is reflected, for example, in the New York Times' landmark '1619 Project' and in the resources of the Smithsonian's National Museum of African American History."