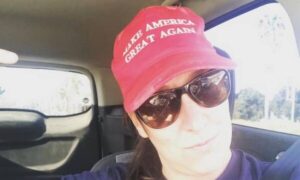 A lawyer for Ashli Babbitt's family said that they will file a lawsuit against the U.S. Capitol Police after a Capitol Police officer shot and killed her during the Jan. 6 Capitol breach.
No charges were filed against the officer, who has not yet been identified, who shot Babbitt. Babbitt, a U.S. Air Force veteran, was unarmed when she tried to climb through one of the Capitol doors before the officer shot her.
"The family and I were disappointed in the Department of Justice's decision on this, but my role is really to bring a civil action and in that way, vindicate her rights," Terry Roberts told Newsmax on Monday.
The Babbitt family, he said, disagrees with the Department of Justice's move to not pursue criminal charges against the officer, adding "clearly, the officer a required willfullness … he could clearly see that she was not armed" and didn't present an immediate threat. The officer also didn't give ample warning before the shooting, Roberts said.
"This is a situation in which the officer could have easily arrested her if he had grounds to arrest her without using deadly force," he said. "This was an egregious act of excessive force."
Because Babbitt was a supporter of former President Donald Trump, Roberts suggested that the officer involved in the shooting got off lightly.
The family has not yet filed the lawsuit but will do so soon, he added in the interview.
Roberts previously told The Epoch Times in March that the lawsuit could entail an excessive use of force complaint.
"That will be filed against the officer, the Capitol Police," he said at the time.
An investigator said that his firm has successfully identified multiple witnesses and spoken to them and a team has spent weeks collecting open-source videos and photographs as part of the effort to reconstruct what happened in the moments leading up to the shooting.
Roberts then added: "Witnesses confirm that the officer did not give Ashli a single verbal warning prior to firing. In fact, Ashli was not even aware that the officer was present, as he was located in the doorway of a room off to the side of her field of vision."
But Mark Schamel, an attorney for the officer, told RealClearInvestigations that the officer did issue several warnings.
"He was acting within his training," Schamel said. "Lethal force is appropriate if the situation puts you or others in fear of imminent bodily harm."
The Epoch Times has contacted the Metropolitan Police Department for comment.