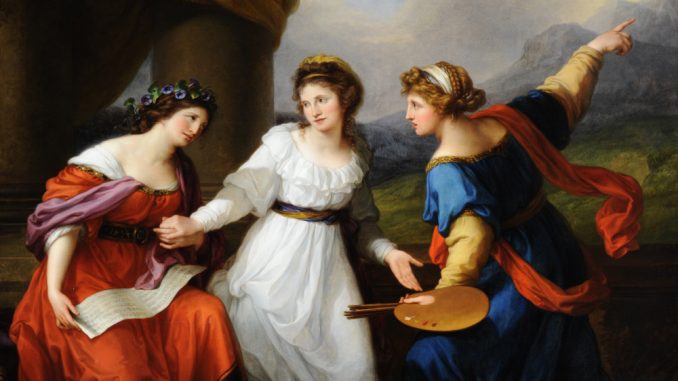 Since March was Women's History Month, we'll take the opportunity to acknowledge and celebrate some great female artists from the history of Western civilization.
Our three highlighted artists include Judith Leyster, Angelica Kauffman, and Elizabeth Jane Gardner Bouguereau. After brief introductions, we'll examine a work of art from each.
Judith Leyster (1609–1660)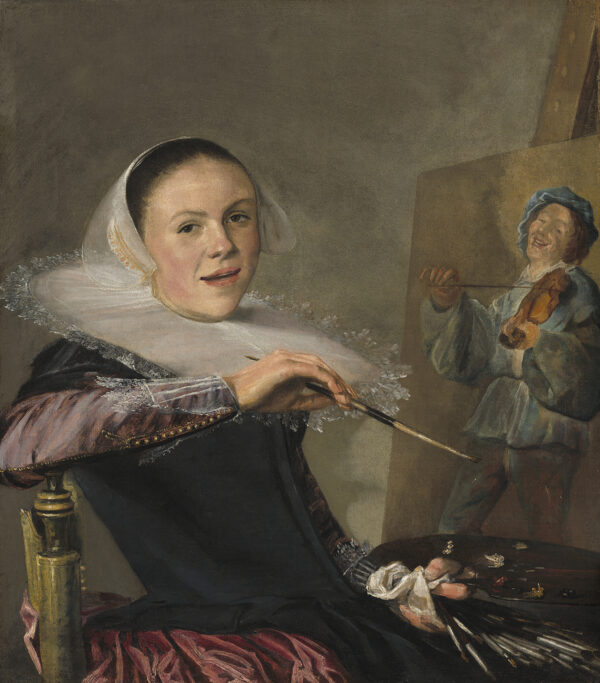 Judith Leyster was a Dutch pain in the 17th century. Her father changed his family's surname to Leyster, after a brewery he owned. By 1628, when she was 19 years old, Leyster had already been recognized as an active artist in Haarlem by Dutch minister and poet Samuel Ampzing.
In 1633, at the age of 24, Leyster was the first documented woman with a body of paintings admitted as a member of the Haarlem Guild of Saint Luke. At the time, she also had three students to whom she taught the craft of painting.
Most of her paintings are genre scenes and still lifes. "The Last Drop (The Gay Cavalier)," however, is a vanitas painting containing the typical memento mori. Vanitas paintings are symbolic works of art that serve to remind viewers of the ephemerality of life and pleasure, by way of memento mori (items, such as skulls, that cause the viewer to "remember that you must die").
"The Last Drop" depicts two young men drinking alcohol. The man on the right holds a smoking pipe in his right hand and an overturned tankard in his left, showing us that there is nothing left to drink. He drunkenly smiles while splaying his arms outward for balance.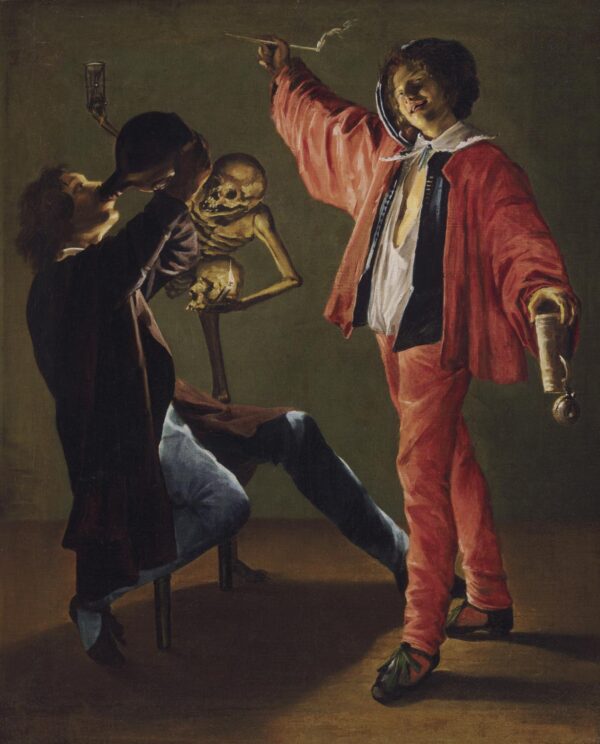 The man on the left is seated and has thrust the bottom of his flask upward while gulping its contents, hurrying to match his associate's inebriation. A skeleton stands behind them, holding a skull and candle in its left hand, and an hourglass in its right. It leans in closely to look at the young man on the left.
The skeleton serves to remind viewers that our time here is limited and shouldn't be wasted consuming the indulgences of life. Life is precious. At some point, the candle will extinguish and the hourglass will empty, but death will still be there.
Angelica Kauffman (1741–1807)
Angelica Kauffman had a rare opportunity as a young, female artist from Switzerland. Her father was a muralist, and she travelled with him as his assistant. Not only did she learn artistic principles from her father, she also benefited from viewing and copying classical and Renaissance works of art, and she was introduced to leaders of the Neoclassical movement during her travels.
As a teenager, Kauffman was already completing commissioned portraits. At the age of 23, she was elected as a member of the Accademia di San Luca, an association of artists in Rome who sought to elevate artistic work beyond that of simple craftsmanship.
Shortly thereafter, Kauffman moved to London where she met, and became close friends with, the artist Joshua Reynolds. When the Royal Academy of Arts was established in 1768, Reynolds, as its first president, invited two women to become founding members, one of whom was the 27-year-old Kauffman.
The Royal Academy of Arts later commissioned Kauffman to paint four works of art as visual representations of the theories Reynolds espoused in his instructive "Discourses on Art." The four paintings included "Invention," "Composition," "Design," and "Colour."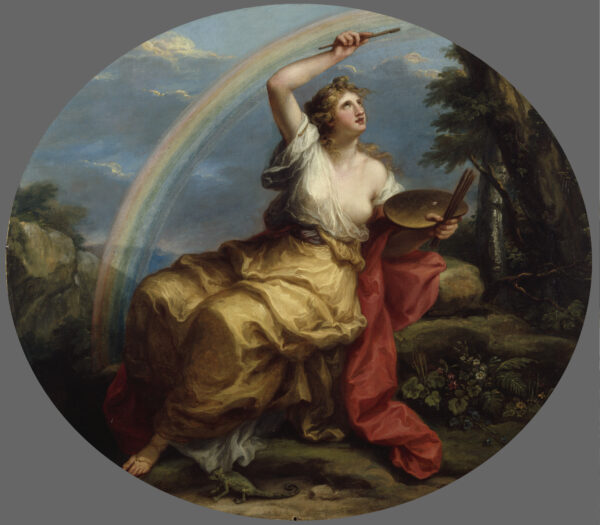 "Colour" depicts an idealized woman in classical dress with her left breast exposed. She sits on a rock in a natural landscape. The woman holds paint brushes and a palette in her left hand. She looks to the heavens and extends a paintbrush in her right hand to the rainbow above, collecting its color.
The fact that the woman reaches up—beyond the world—to collect color, suggests that what adds effervescence, emotion, and life to art is above nature, or supernatural (with the prefix super meaning above).
The exposure of her left breast is reminiscent of paintings depicting the allegory of charity: a woman represents a nurturer of life and a provider of sustenance by way of her breast—her heart. Thus a work of art, when inspired by that which is beyond nature, is an act of charity, of sustaining cultural life by way of one's heart.
Elizabeth Jane Gardner Bouguereau (1837–1922)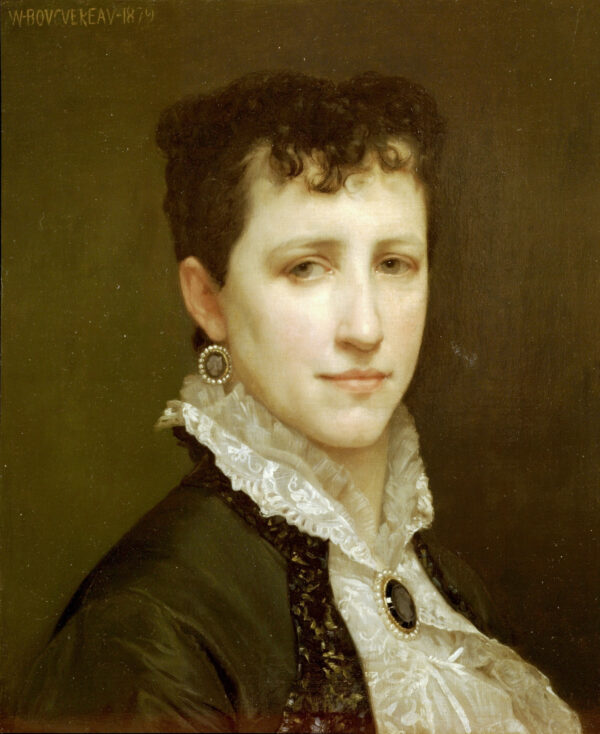 Elizabeth Jane Gardner Bouguereau (Gardner) was born in the United States, and later moved to France to study art in pursuit of the coveted Salon medal. She exhibited 36 paintings over a 45-year period—more than any other foreign female artist in France—and was the only American woman to receive a Salon medal in 1887.
In 1896, after a long engagement, Gardner married the successful French painter, William-Adolphe Bouguereau, who supported and encouraged her to paint figurative works rather than the more traditional subjects reserved for women.
Gardner was an avid lover of birds, keeping some in her studio and feeding those outside from her window. In "La Captive," Gardner depicts a dove with two women in classical dress, set in a natural environment.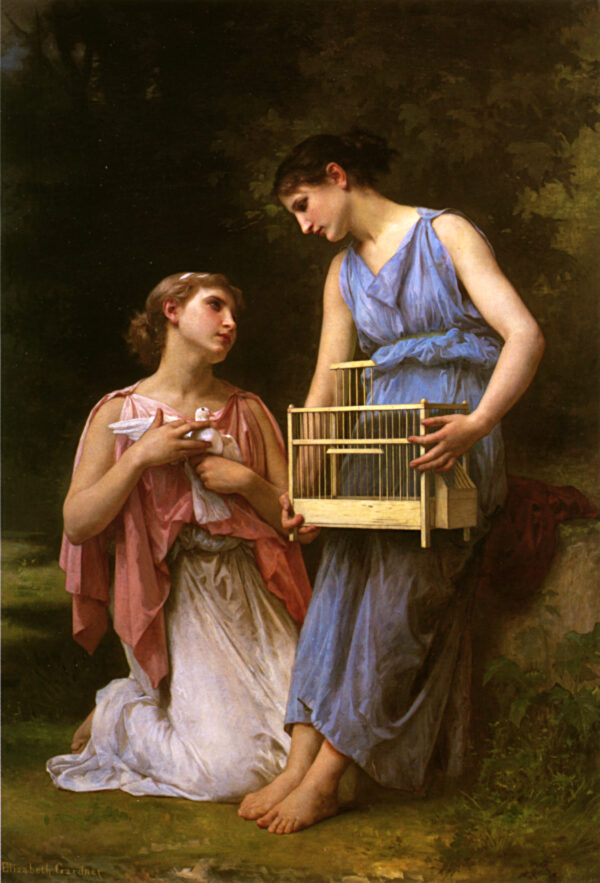 The woman on the right, dressed in blue, has opened the birdcage she now rests upon her thighs. She looks down at the dove held by a woman dressed in pink and white. The woman in pink and white kneels while holding the dove close to her heart and gazing at the woman in blue.
Of course the dove, the captive finally free, might symbolize the freedom that more and more women were finding in the arts and in life in general. But the dove also represents the traditional ideals of peace, love, and purity.
The two women work together to materialize the dove's traditional aspects: the woman in blue looks contemplatively at the dove, whereas the woman in pink looks adoringly at the woman in blue, suggesting that we must deeply search for these values within our own spirits in order to free them, and that those who do realize them by looking within, are worthy and deserving of adoration.
The arts are one way in which we hold a mirror up to ourselves. As a whole, the arts shape cultures and determine what people learn to value—the significance of this cannot be overstated. These women contributed works of art based on concepts and principles that continue to ask us to value the love, freedom, and preciousness of life.
Eric Bess is a practicing representational artist and is a doctoral candidate at the Institute for Doctoral Studies in the Visual Arts (IDSVA).