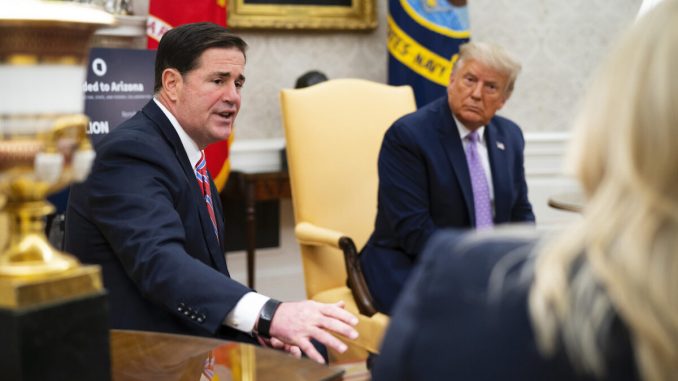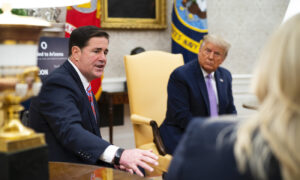 After the Democratic Party on Friday refused to pay a $1 million bond in a forensic audit of 2.1 million ballots cast in Arizona's largest election during the 2020 election, former President Donald Trump is asking Arizona Gov. Doug Ducey to provide security.
"The Republican Party is demanding that Gov. Ducey of Arizona immediately provide large-scale security for the brave American Patriots doing the Forensic Audit of the 2020 Presidential Election," Trump wrote in a statement on April 24.
"Gov. Ducey will be held fully responsible for the safety of those involved. State police or National Guard must be immediately sent out for protection. The Democrats do not want to have this information revealed, and they will do anything to stop it. Gov. Ducey must finally act!" Trump stated.
The state Senate said in March that they would be conducting a "broad and detailed" audit, adding that they'll test voting machines, scan ballots, look for IT breaches, and perform a hand count.
The state-issued subpoenas needed in order to execute the audit have been pending since mid-December and were ruled as valid (pdf) on Feb. 25.
During a hearing on Friday, Maricopa County Superior Court Judge Chris Coury said that he was going to temporarily pause the audit until Monday at least in order to hear more about the Democrat party member's concerns stated in a lawsuit.
A court document states that Coury "ordered a suspension of the audit until Monday upon posting of a bond, but, upon representation of the Plaintiffs that the bond will not be posted, the matter is moot."
A report is expected to be released in about two months, according to a statement from the state Senate.
Sen. Karen Fann, the president of the Arizona Senate, told Just the News that the audit process was going to commence this month.
Fann said the state's Republicans have faced "sabotage" by Maricopa County's Board of Supervisors (BOS) and that the process has been hindered.
"The Maricopa BOS has refused to allow us to perform the audit at their facilities," Fann said, "and has gone so far as to refusing to even answer simple questions such as 'how are the ballots sequestered?'
"It's taken the Senate two and a half months to win in court to uphold our right to issue subpoenas for election materials and another 6 weeks of researching to select the audit team to perform the full forensic audit."
She said previously that their intention was "never about overturning the election, it was about the integrity of the Arizona election system."
The independent audit will be conducted by four out-of-state companies—Wake Technology Services, CyFIR, Digital Discovery, and Cyber Ninjas. Florida-based cybersecurity company Cyber Ninjas will be leading the audit, the Senate said, adding that they focus on computer application security for financial services and government clients.
Maricopa County Board of Supervisors Chairman Jack Sellers told Fann in an email obtained by The Epoch Times that the upcoming audit "is not a joint effort between the County and the Senate Republican Caucus."
In a response to an April 2 email from Fann, Sellers wrote: "Maricopa County performed the audits of the election required and permitted by law. As required by law they were bipartisan and transparent. There has been no suggestion that those audits were in any way deficient. The County then properly authorized two further forensic examinations of its machines that it was permitted to perform as possessor of the machines."