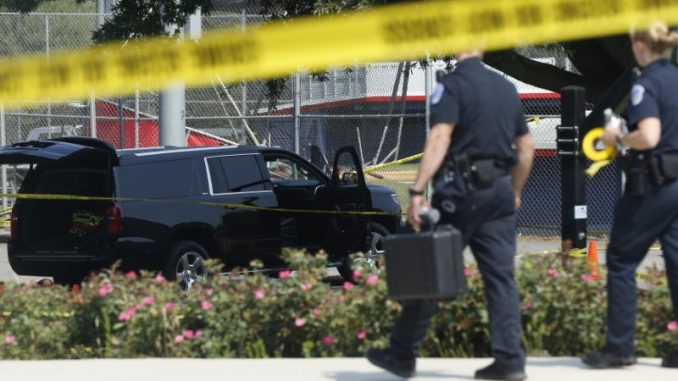 Rep. Brad Wenstrup (R-Ohio) is asking the FBI to reassess their decision to classify the June 14, 2017 baseball field shooting outside of Washington as "suicide by cop" rather than a domestic terrorism case.
Wenstrup was present when the Republican legislators were targeted by left-wing extremist James Hodgkinson, who fired over 100 rounds at them and other staff, severely injuring House Minority Whip Steve Scalise (R-La.), who was hit on the hip and recovered after many surgeries.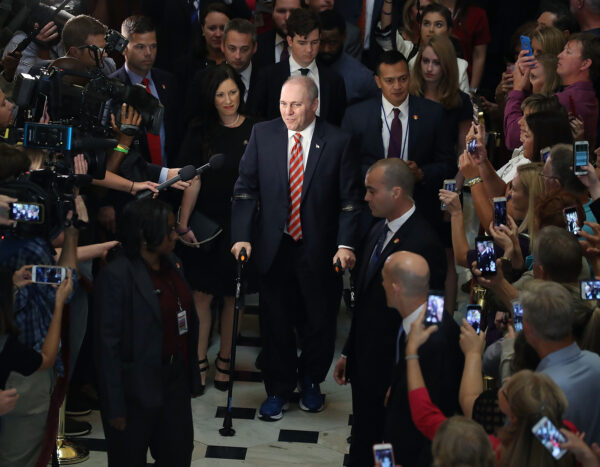 The letter, (pdf) which protests and asks for a reassessment, was addressed to FBI Director Christopher Wray last week and made available to reporters on Wednesday.
The shooter is known to have posted angry messages about then-president Donald Trump and other Republicans. He was wounded during gunfire exchange with Capitol Police and later died at the scene.
"According to FBI Special Agents, the attacker's motivation was 'suicide by cop,'" Wenstrup wrote.
"This conclusion defies logic and contradicts the publicly known facts about the perpetrator and the attack. The shooter had an extensive social media record highlighting his hatred of President Trump and Republicans. He had a list of names—including Republican Members of Congress—in his possession. Before carrying out his attack, he asked if the Members at the baseball field were Republicans or Democrats," Wenstrup wrote.
"He was heavily armed, sought cover during the shooting, well over 100 rounds were fired, and the attacker could not have known that then-Majority Whip Steve Scalise's security detail was present given that they were in an undercover vehicle and in plain clothes. All these facts are inconsistent with a designation of 'suicide by cop.'"
He then expresses his frustration, saying that the FBI didn't conduct thorough interviews at the outset of the investigation, claiming that neither he nor his colleagues were interviewed as witnesses.
"As a member who was present during the attack and the November 2017 briefing, and as a senior member of the House Permanent Select Committee on Intelligence, I request that the FBI Counterterrorism Division promptly review the investigative findings, interview all relevant witnesses, and update, as appropriate, the investigative conclusions—including an internal investigation of how the FBI reached its 'suicide by cop' conclusion," Wenstrup wrote in conclusion.
Wenstrup pointed out that the  Department of Homeland Security and the Office of the Director of National Intelligence recognized the incident as an act of domestic violent extremism, where the shooter was politically motivated and deliberately targeted GOP members.
The appeal to reassess also drew support from Democrats.
"I actually would like to associate my—your comments with my interest in wanting to pursue that as well, Dr. Wenstrup," Rep. Jackie Speier (D-Calif.), said, according to Politico.
"I'd like to second Dr. Wenstrup's questions on the near massacre of our colleagues in 2017," Rep. Jim Cooper (D-Tenn.) said. "So I, like my colleague, Jackie Speier, have a particular interest in that."
Scalise asserted strongly that the incident was evaluated wrongly by the FBI.
"I was shot by a deranged Leftist who came to the baseball field with a list of Congressional Republicans to kill," he wrote on Twitter.
"This was NOT 'suicide by cop.' End of story."
I was shot by a deranged Leftist who came to the baseball field with a list of Congressional Republicans to kill.

This was NOT "suicide by cop."

End of story. https://t.co/cSGYZeQO3I

— Steve Scalise (@SteveScalise) April 21, 2021
The Epoch Times reached out to the FBI for comment.