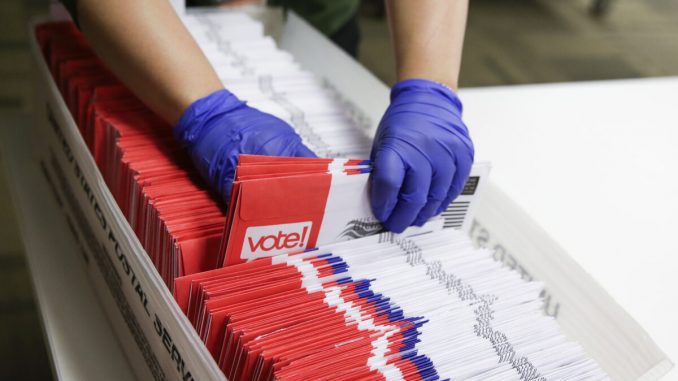 Vote-by-mail elections that require all registered voters to receive mail-in ballots may become permanent in California following the introduction of a new proposed bill in the State Assembly.
The California Assembly Committee on Elections recently voted 6-1 to refer Assembly Bill 37 (AB 37) to the Appropriations Committee, moving it forward in the legislative process. The bill would mandate that all state voters receive vote-by-mail ballots for all elections, a practice implemented in the 2020 general election in conjunction with the COVID-19 pandemic.
Advocates say sending out vote-by-mail ballots to all registered citizens encourages more people to vote, while opponents say the procedure has already opened the door to potential widespread voter fraud.
Ruth Weiss, the director of legislative oversight for Election Integrity Project, California (EIPCa), told The Epoch Times that the combination of "completely out-of-control, unmaintained voter rolls" and new emergency regulations "that basically make it impossible" to challenge the validity of signatures on vote-by-mail ballots opens the door to an even greater risk of fraud.
"Every ballot getting turned in is much more likely now to be accepted without question," Weiss said. "Those two things put together are really increasing the potential for fraud, and that disenfranchises the legitimate voters whose ballots are being watered down by a whole lot of votes that are getting through that should never get through."
Marc Berman (D-Menlo Park) authored the bill. He said at an April 15 committee hearing that the state's vote-by-mail mandate for last year's general election resulted in greater voter access and higher voter turnout. Berman said 86.5 percent of the 17.5 million Californians who participated in the November 2020 general election voted by mail-in ballots, according to the Secretary of State.
"Similar to provisions in my AB 860 last year, AB 37 makes a number of other important accommodations to help facilitate the expected surge in voting by mail in future elections," Berman said.
The proposed bill would allow counties to begin processing returned vote-by-mail ballots earlier, "so that they can better manage their workloads and get more ballots counted on election night," according to Berman. It would also extend the deadline for receipt of mail-in ballots, and make it easier for voters "who need replacement ballots or who want to receive a ballot in their preferred language."
Gov. Gavin Newsom used his emergency powers during the COVID-19 pandemic to issue an executive order last June, requiring all counties in the state to send vote-by-mail ballots to every registered voter for last November's general election.
When a California Superior Court judge granted a temporary restraining order against Newsom's mandate, the California Legislature passed Assembly Bill 860 (AB 860) to replace the executive order and require vote-by-mail ballots be sent to all registered voters. In January, Senate Bill 29 (SB 29) extended the vote-by-mail provision for all special elections held in 2021.
AB 37 would be a permanent extension of those laws.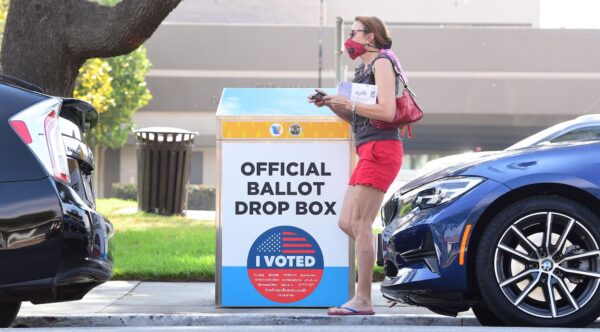 Questionable Integrity
EIPCa, a nonpartisan watchdog group, has opposed all vote-by-mail elections from the outset. Colleen Britton, a representative for the organization, said the proposed bill does not prohibit the state from sending vote-by-mail ballots to 4.5 million inactive registered voters.
"Besides the outrageous waste of taxpayer money associated with such an act, this invites voter impersonation on a grand scale," Britton said, adding that the group's main objection "lies in the continued disarray of VoteCal, the statewide voter database."
"This issue should be of prime importance to every legislature, and until it is resolved, no further laws that rely on VoteCal integrity should be passed. Until VoteCal can be shown to be considerably more reliable and voter roll maintenance levels can be shown to be legitimate, the mailing of ballots to all registrants is reckless and extreme," she said.
Last year, the state mailed ballots to over 400,000 registrants who had not voted or updated their registration in 12-plus years, Britton said, "contrary to the mantra that there is no evidence of problems." According to EIPCa, over 40,000 of those inactive voters had either died, moved, or failed to respond to notices sent to them, but "were sent a ballot anyway."
"Ballots were mailed to 3,342 individuals on the death index, and 68 of those voted," Britton said.
Recent amendments to AB 37 would "mandate acceptance of mail-in ballots up to seven days after the election deadline," she said. "This is clearly a gift to bad actors and a threat to election integrity."
Britton also questioned the accuracy of signature matching on ballots, and urged the state to be more cautious in its use of electronic voting machines to ensure legitimacy.
Supporters Speak Up
Dean Logan, Los Angeles County's Voter Registrar-Recorder/County Clerk, spoke on behalf of the L.A. Board of Supervisors, who supported the bill.
"It's beneficial for the state to continue to put in place provisions that ensure our elections are safe and accessible for all California voters," Logan said.
Two labor unions representing public employees—the California Faculty Association (CFA) and the American Federation of State, County and Municipal Employees (AFSCME)—also supported the bill.
Dozens of Californians called in to oppose the bill during the 10-minutes allotted for public comments.
Berman responded to the comments. "I believe that our election system here in California is remarkably secure. If anybody has evidence or proof of any election tampering at all, please let the Secretary of State's Office know. You can reach out to my office and let us know. You can let law enforcement know," Berman said.
"We want to prosecute anybody who is tampering with our elections. But the evidence of that hasn't been brought to anybody's attention yet."
He added, "I think that our system of electronic voting in California is remarkably secure, and voters should feel confident that their vote has been counted and that only people who can vote are voting."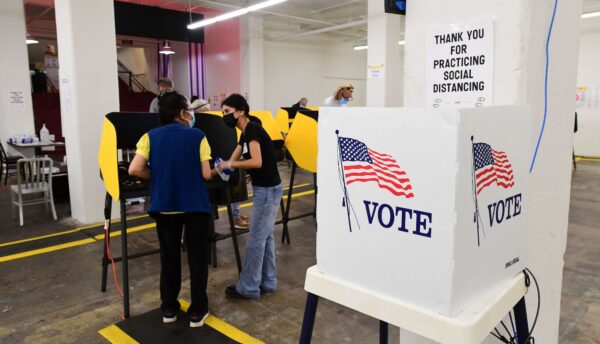 Voter Suppression
Assemblyman Kelly Seyarto (R-Murrieta) challenged Berman's dismissal of concerns over voter fraud in vote-by-mail ballots.
"We do want to eliminate voter suppression, but on the other side of that, there is a tremendous amount of people … that have concerns about the integrity part," Seyarto said.
"And that's why it pains me when people just dismiss the concerns of many people who want to be sure that when they go to the polls, their vote actually does count—because if they lose that confidence in the voting system, that's also voter suppression."
Berman said it was "lies told by the former president of the United States and other elected officials" that threatened to suppress voters in California.
"I think it's important that we directly address the why, and the why is that the president of the United States and elected officials have lied to the American people about the integrity of our election system," Berman said. "And it's a darn shame that they did that, and that they are creating uncertainty in the hearts and minds of millions of Americans about a remarkably safe election system."
Berman said it would be a travesty for democracy if "those lies and the uncertainty" resulted in laws that make it harder for people to vote. The state needs "to do more to express to people and explain to people that our election system in California is remarkably secure," he said.
Vote-By-Mail Problems
According to EIPCa's Weiss, voter rolls are not kept current because changes to state law more than 20 years ago allowed voters to remain permanently registered to receive vote-by-mail ballots rather than having to request a vote-by-mail ballot in writing for every election.
"We haven't had legitimate absentee ballots since 1998, when we switched to no-excuse vote-by-mail," she said. "At that point, we lost control … because you don't have to reapply for each election. You now apply once, and it's … ad infinitum," she said.
Weiss suggested a preferable course of action would be to wait until the voter rolls have been cleaned up before proceeding. "Until the legislature does something to hold the Secretary of State accountable for cleaning the voter rolls, we need to take a step backwards," she said.
Even if the Secretary of State orders a recall election for Newsom, SB 29 already covers vote-by-mail provisions for this year, Weiss said.
"So now they're trying to extend that forever, and we're saying there's no reason to make this decision right now. We've had one election where everybody was mailed a ballot. Let's take time to evaluate more thoroughly what that meant," she said.
Weiss also objects to a recent amendment to AB 37 that would allow mail-in ballots to be accepted a week after Election Day.
"The law was changed to accept them three days after Election Day, and then for 2020, they accepted them 17 days after Election Day, somehow alleging that COVID was going to slow the mail down. And now, instead of reverting back to the three days, they want to go to seven days after election—even though the law says they still have to be postmarked by Election Day," she said.
"The law also says if they're not postmarked—which most ballots aren't, because they're bulk mail—or if you can't read the postmark, then it will be considered to be timely mail if the date the voter puts on the inside is Election Day or before. Well, that allows for the voters to put any date they want and mail it one, or two, or three days late," Weiss added.
"To say that they're acceptable seven days after the deadline is just ridiculous."