Thirty-nine former subpostmasters who were wrongfully convicted of theft, fraud, and false accounting have had their names cleared on Friday by the Court of Appeal of England and Wales.
The convictions were quashed because the subpostmasters did not stand a fair trial and that the prosecutions have been "an affront to the conscience of the court."
Judges said the only evidence these convictions were based on was data on Horizon—a defective accounting system introduced in 1999, and that "if the Horizon data was not reliable, there was no basis for the prosecution."
Lord Justice Timothy Holroyde said that the Post Office Limited (POL) "knew there were serious issues about the reliability of Horizon" and had a "clear duty to investigate" the system's defects, but it "consistently asserted that Horizon was robust and reliable," and "effectively steamrolled over any subpostmaster who sought to challenge its accuracy."
POL's "failures of investigation and disclosure were so egregious as to make the prosecution of any of the 'Horizon cases' an affront to the conscience of the court," the judges added.
However, three of the former subpostmasters—Wendy Cousins, Stanley Fell, and Neelam Hussain—had their appeals dismissed by the court because "the reliability of Horizon data was not essential to the prosecution case and that the convictions are safe."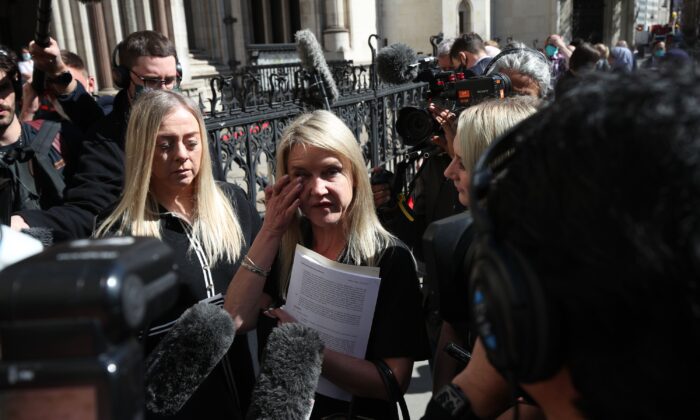 Wendy Buffrey, 61, said she was "ecstatic" after the ruling.
"I'm now no longer a criminal, I'm a victim of the Post Office," she said.
Buffrey was given 150 hours of community service and had to pay a £26,250 ($36,376) shortfall and £1,500 ($2.078) towards the cost of her prosecution for two counts of fraud.
"I think the Post Office hierarchy needs to realise that the Post Office is not a trusted brand," she said.
"It is the subpostmasters who run those community offices that are the trusted people within the Post Office. They look after their communities."
Harjinder Butoy, a former subpostmaster in Nottingham who was convicted of theft and jailed for three years and four months in 2008, said his conviction and imprisonment had destroyed his life for 14 years. "That's not going to be replaced," he said.
The vindicted former postmasters will begin discussing compensation soon, and they want to hold those responsible accountable.
"I would like my money back. I reckon I lost around £250,000 ($207,862)," Noel Thomas, who had been a county councillor as well as running the Post Office branch in Gaerwen in Anglesey, said.
"I lost my salary, my property, my pensions, and my good name," he said.
Thomas said he and the other victims felt "there was no way out" while in jail, despite knowing they were innocent.
In a statement after the ruling, Post Office chairman Tim Parker said the Post Office is "extremely sorry for the impact on the lives of these postmasters and their families that was caused by historical failures."
"We are contacting other postmasters and Post Office workers with criminal convictions from past private Post Office prosecutions that may be affected, to assist them to appeal should they wish," Parker said.
"Post Office continues to reform its operations and culture to ensure such events can never happen again."
Based on Horizon data, POL prosecuted 736 subpostmasters between 2000 and 2014. Some went to prison and/or went bankrupt, some have since died.
In a landmark rule in December 2019, the High Court said the Horizon system had "bugs, errors, and defects," and that there was a "material risk" that the shortfalls that led to the prosecutions were caused by the system.
Ahead of the ruling, POL had agreed to settle to pay £58 million ($80 million) in damages to 555 claimants.