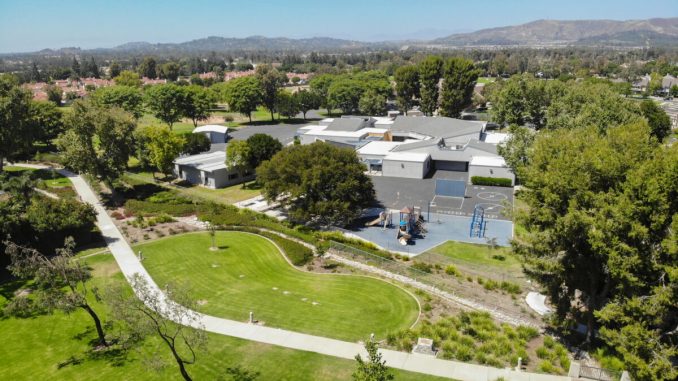 Commentary
Of the 27 school districts in Orange County, just one has restricted net assets.
The remaining districts have unrestricted net assets, meaning their liabilities exceed their assets.
To help understand the solvency of school districts, I provided a chart. It provides the unrestricted net position from the June 30, 2019 audited financial statements from each of Orange County's 27 school districts. (The June 30, 2020 audits are not yet online.)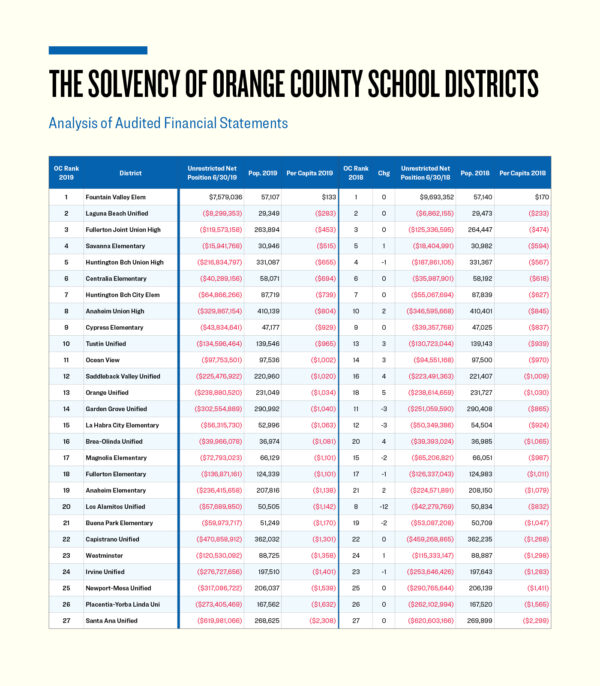 Each school district serves a population. Dividing that population into the unrestricted net position provides a per capita, which is ranked. I've also provided the same information for the year ending June 30, 2018.
Only one district, Fountain Valley Elementary, has unrestricted net assets. Fountain Valley's elected trustees put the sale proceeds of excess real estate in an escrow and have not used these funds for ordinary annual expenses. A wise move.
Two-thirds of the districts have pretty much maintained their positions year-over-year.
However, Los Alamitos Unified dropping 12 places is the year's surprise. It increased its unrestricted net deficit by $15.4 million in one year, or 36 percent. This district reports a negative investment in net capital assets on its balance sheet, which is highly unusual. It also notes that $14.3 million in new assets were acquired during the fiscal year.
The district's management needs to explain this unusual reporting when it releases its 2020 fiscal report.
Irvine Unified was founded in 1972, shortly before Prop. 13 was approved by voters in 1978. Being a new and conservatively run district at that time, its current state locked-in funding percentage level determined back then is lower than most districts. Fortunately, Irvine Unified has been blessed with a foundation that has been the beneficiary of The Irvine Company's generosity.
Both Laguna Beach Unified and Newport-Mesa Unified are basic aid districts. Because housing prices are so high in these coastal districts, they have elected to keep the excess property tax revenues instead of participating in the state's average daily attendance (ADA) funding methodology.
Laguna Beach has been able to keep itself at the top of the rankings with this extra revenue opportunity. However, Newport-Mesa is near the bottom of the rankings. The per capita based on enrollment for the 27 school districts finds Newport-Mesa in dead last.
If you decide to purchase real estate in Costa Mesa, you may find yourself being charged a property tax assessment or sales tax rate increase in the future if the city, the school district, or both don't improve their financial status. Full disclosure: I am a Costa Mesa homeowner.
Santa Ana Unified has been at the bottom of the rankings for some time. For a district serving some of Orange County's poorest residents, it needs to keep a keener eye on its fiscal situation.
The dirty little secret in Orange County is that the teacher unions in each school district participate heavily in selecting the elected trustees with whom they will be negotiating with for raises. It is your responsibility to elect trustees that are there to represent you and not the bargaining units.
The union campaign mail pieces will identify they are the source of the funding for their chosen candidate(s). Yes, we should pay our teachers a fair wage, but not at the risk of having the district go into default.
Districts facing insolvency are bailed out with loans from California's fiscal crisis and management assistance team (FCMAT). It usually comes in and takes over the day-to-day management of the district. It sets the elected board to the side and runs the district until a sufficient cash reserve level is achieved. The chief executive officer of FCMAT is a former chief business officer of the Newport-Mesa Unified School District. How ironic it would be if FCMAT had to pay a visit on Newport-Mesa.
Every school district has a different story.
But how yours performs financially may impact your personal and financial wellbeing. With a new home, your property tax bill will be high enough.
And there's more to home ownership than just mowing the yard and making minor repairs. You don't need to be blindsided by additional tax increases.
Please become acquainted with your district's trustees and those candidates running in the next school board election. Your checkbook may be dependent on it.
John Moorlach is a former Orange County Supervisor who most recently served as a state senator. He previously spent 12 years as Orange County's Treasurer-Tax Collector, and led the county out of bankruptcy.
Views expressed in this article are the opinions of the author and do not necessarily reflect the views of The Epoch Times.