Ten states are suing President Joe Biden for his executive order directing all federal agencies to commence work on what he describes as "the climate crisis."
Biden on his first day in office signed the order, which says the federal government "must advance environmental justice" and, among other efforts, "reduce greenhouse gas emissions" and "bolster resilience to the impacts of climate change."
The Democrat on Thursday unveiled a new phase of his climate agenda, vowing that the United States will cut greenhouse gas emissions in half by 2030.
Biden's order could destroy a range of industries if left unchallenged, Louisiana Attorney General Jeff Landry warned as he led the filing of the multistate lawsuit in federal court in his state.
"Joe Biden's executive order should alarm every American. If left unchecked, the President could use this destructive cost structure to justify almost anything," he said in a statement. "Louisiana produces crucial natural and manmade resources for our nation and enjoys a rich, storied way of life. From timber and food stocks to oil and natural gas, chemical and industrial products to recreational sportsmanship and outdoor activities—nearly every aspect of our economy and culture is at risk under this unconscionable policy."
Biden's order also forces federal agencies to estimate the emissions of three greenhouse gases, known as SC-GHG Estimates, the 57-page suit states.
Because the gases are ubiquitous, the estimates could be relevant to the cost/benefit analysis for every federal rule and a host of other actions, covering topics from dishwaters to vending machines.
"In other words, federal agencies must now use the SC-GHG Estimates to calculate regulatory costs and benefits for virtually everything that States and their citizens encounter every day. That means federal agencies will use the SC-GHG Estimates to assign massive— even existential—costs to every regulatory action and 'other relevant action,' thereby fundamentally transforming the way States conduct business and Americans live. It's no exaggeration to say the SC-GHG Estimates are the most expansive, and potentially most expensive, federal regulatory initiative in history," the attorneys general warned in the lawsuit.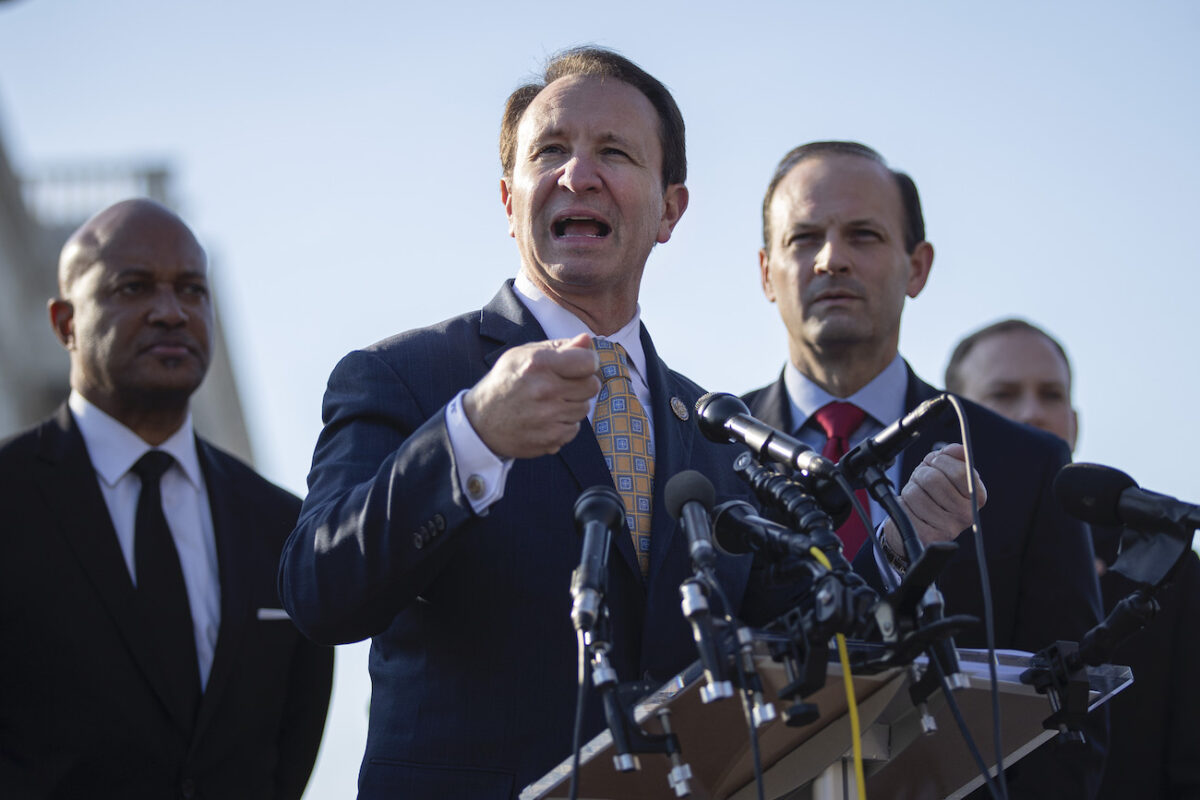 Use of the estimates during the Obama administration did not follow procedures required by federal law and neither does the Biden administration's use of them, they added.
The Biden administration did not respond to a request for comment.
Plaintiffs are asking the court to order federal agencies not to use the estimates and declare that the estimates are contrary to law and "arbitrary and capricious."
Attorneys general of Alabama, Florida, George, Kentucky, Mississippi, Texas, West Virginia, and Wyoming joined the suit, along with South Dakota Gov. Kristi Noem. All are Republicans.
In a separate action in Congress, Reps. Chip Roy (R-Texas) and Lauren Boebert (R-Colo.) said they would attempt to force a vote on legislation that would reverse Biden's Jan. 20 executive order and other similar mandates.
"The Biden Administration is willing to sacrifice millions of oil and gas jobs, hike up energy costs, and destroy our energy independence all to appease Green-New-Deal-loving radicals," Roy said in a statement. "It's time that Congress put a stop to his unilateral economic destruction and put the American people first. After all House Republicans have signed on to this effort, I look forward to seeing how many of my Democratic colleagues are willing to protect American jobs and energy security."