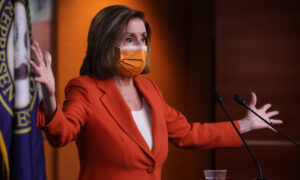 House Speaker Nancy Pelosi (D-Calif.) said she has agreed to allow Republicans in a potential 9/11 style commission to have equal subpoena power and an equal number of members on the panel that would investigate the Jan. 6 breach on the U.S. Capitol, but the scope of what the panel would investigate is still being challenged.
When Pelosi first proposed the commission, the Democrats' plan was to have a majority of members on the panel have sole subpoena power, to which Republicans objected and talks stalled.
Sen. Minority Leader Mitch McConnell (R-Ky.) said to gain the public's confidence in the findings of the commission, it needs the same authority and representation as to the two party's members on the panel.
"This time however Speaker Pelosi started by proposing a commission that would be partisan by design—seven appointments for Democrats, just four for Republicans. The 9/11 Commission also built consensus by requiring bipartisan support for subpoenas. The speaker's bill would vest subpoena power in one appointee chosen by the Democrats," McConnell continued.
Pelosi said now that the two previous objections by the Republicans have been addressed, the last thing to decide is the scope of the commission's investigation. "We still don't know where they will be on scope," Pelosi told reporters on Thursday during her weekly press briefing.
"It's not about investigating one thing or another that they may want to draw into this," Pelosi continued. "And again, if the price of the confidence that the public would have in this is to make it a little harder to get some things done, so be it, but we have to agree on the scope."
Pelosi said she has been listening to the advice of her members like Rep. Bennie Thompson (D-Miss.), chairman of the House Homeland Security Committee. "So, I take some of my lead from him and other members about what the weighing of equities will get us in seeking the truth," said Pelosi.
Meanwhile, members of the GOP have been critical of what they say is a double standard by Democrats in downplaying the riots that have occurred since the spring of 2020 as "peaceful protests" while playing up the Jan. 6 event as a "domestic terrorist attack" and an "insurrection."
Some Republicans have voiced their concerns about the scope of the commission's investigation and believe that besides the Jan. 6 breach, it should probe who is behind the violence that has been erupting in major cities over the last year.
"Number one, the commission needs to be balanced," McConnell told reporters Tuesday. "And number two, the scope of it needs to deal with a little bit broader than just January the sixth. We've also had a number of violent disturbances around the country last year, and I think we ought to look at this broader scope, and with a totally balanced, 9/11-style commission. If she were willing to put that forward, I think it would enjoy broad bipartisan support."