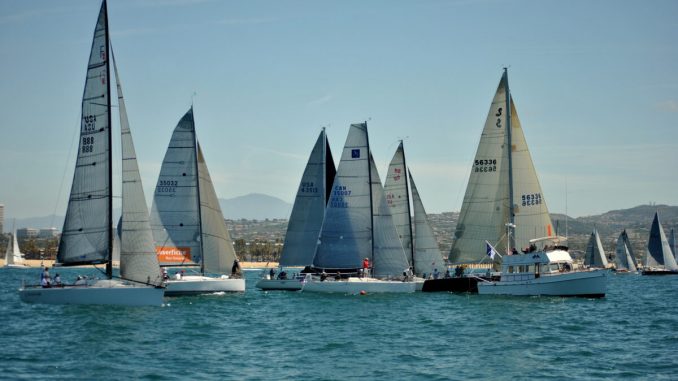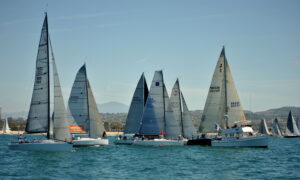 NEWPORT BEACH, Calif.—The Newport to Ensenada International Yacht Race (N2E) hosted by the Newport Ocean Sailing Association, returns April 23 after a year-long COVID-19 pandemic postponement of the tradition.
It marks the 73rd year for the sailing competition, with nearly 170 vessels registered to cross the start line off the coast of Newport Beach.
N2E has morphed throughout the years to include three races in one event, each race with its own merits but starting at the same time and point. About 120 boats will make the 125-nautical mile trek to Ensenada, 20 will take the sprint course to Dana Point Harbor, and another 45 will head around the Coronado Islands on the extended San Diego course.
More than 200 sailors and skippers will gather at Bahia Corinthian Yacht Club (BCYC) on the evening of April 22 for the event's traditional send-off dinner.
"Over the years, BCYC has had the great honor of hosting numerous N2E events, bringing together hundreds of boaters from all over the world," Rhonda Tolar, 2021 BCYC commodore told The Epoch Times. "It's good to be back after last year's cancellation, and especially to see such a great turnout of enthusiastic race attendees and sponsors."
A reduction in COVID-19 restrictions allows the event to resume both in the U.S. and Mexico. Organizers said the Mexican Navy will be offering landing assistance when racers arrive at the Hotel Coral and Marina where the sailors and boats will stay once they've arrived in Ensenada.
First raced in 1958 with participants including Hollywood stars Humphrey Bogart, Spencer Tracy, and Errol Flynn, N2E has become unique among international distance sailing races due to a format that accepts a large and diverse group of sailors and boat types.
While many of the boats participating will be hoping to improve their Performance Handicap Racing Fleet (PHRF) standing, many of the participants are in it for the fun and camaraderie of the sailing community. PHRF is a handicapping system used for yacht racing in North America that allows dissimilar classes of sailboats to be raced against each other.
Returning racer Steve Dunlap, skipper of Some Tuesday, said that despite the challenges of their 2018 N2E race experience, which included the boat's boom detaching at 3 a.m. and a torn spinnaker, he and his crew will defend their previous two-year winning streak with an adjusted handicap and a lot more experience.
"We're not hard-core racers, I bought Some Tuesday to have fun, but we take the race seriously, and we hope to make fewer mistakes this year and still enjoy the experience," Dunlap said.
"There's a misconception about yacht racing, boat racing, in that some think it's stuffy, blue blazer boring. Sailing is an exciting, passion-based hobby in which everyone has a story about overcoming adversity and solving problems as they arise."
But more than that, Dunlap said, "sailing is about sitting at the helm with a fellow crew member in the middle of the night, 30 miles offshore, talking about life, watching the stars and the moon, man and machine taking on nature—the whole thing is magical."
The N2E race will commence with boats arriving at the start line off the Balboa Pier at 10:30 a.m. with the first race warning signal to sound at 10:55 a.m.