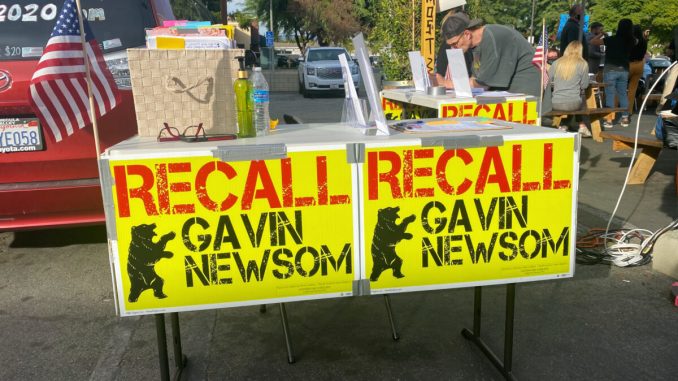 Proposed legislation that would have allowed California politicians facing the threat of recall to identify and contact petition signers has been shelved.
Sen. Josh Newman (D-Fullerton), who authored Senate Bill 663 (SB 663), pulled it from consideration on April 20. The proposed legislation would have given politicians access to the personal information of petition signers so they could be contacted to see if they wanted to change their minds.
Though Newman made it clear the proposed changes would not have applied to the current petition to recall Gov. Gavin Newsom, the bill sparked a lengthy debate in California's Senate Committee on Elections and Constitutional Amendments on April 12, when opponents suggested that giving politicians access to the personal information of petition signers was an invasion of privacy rights and could lead to retaliation.
"It's a small victory, but we'll take it in stride," Orrin Heatlie, founder of the Recall Gavin 2020 campaign, told The Epoch Times.
"I think the public needs to become more aware of what these people are trying to put through. And this is proof that when we take notice of what they're doing and we raise opposition to it, they back down—because they know that we're watching, and that we're aware of the agenda they're pushing forward and we're not going to tolerate it."
Newman's spokesperson Alina Evans told The Epoch Times that after introducing the bill the senator realized "it's just not the right time" for the bill.
"The environment is just so hard right now … because with the kind of excitement around this current recall, the proponents of the recall were conflating this bill with their effort," Evans said.
Newman has realized confusion over the intent of the proposed legislation and how it might affect Newsom's recall have "made it very hard to have a thoughtful discussion about this bill," she said.
When asked if Newman was pressured by Gov. Newsom to kill the bill, Evans replied "categorically, no."
Evans said the bill isn't dead, but "is just kind of on pause" in the Senate Judiciary Committee, and Newman is now working on new legislation that he plans to re-introduce in 2022.
"He certainly heard concerns about privacy and took those to heart," she said.
"We have turned it into a two-year bill, so the idea is that we will continue to work on it … looking into other ways to be able to let people who have signed a petition know that they've signed it—but maybe there's a way to do so that would not violate anyone's privacy."
Though Newman put forth several amendments to SB 663, part of the reason he is delaying it is to alleviate people's worries about privacy, Evans said. "He's going to look at what else he can do, so that those concerns are completely assuaged."
Evans said the senator's idea "really is to let people know what they've signed."
"There are certainly other ways the bill could be drafted. We haven't talked through what that could look like. Given now that we have another year, we can do that in a way that is hopefully easier for everyone," she added.
Newman was recalled in 2018 and then re-elected in 2020. He has said that the recall campaign against him deliberately misled voters.
But Heatlie suggested Newman might have a "vendetta" against recall campaigns owing to his prior experience.
"Rather than keeping the interests of the people in mind, he's trying to erode their right to privacy and right to petition the government," said Heatlie. "He's making this his personal agenda to attack the recall process, because he considers himself a victim of that process."
Heatlie said he felt the legislation violated the state Constitution.
"This is an attack on the First Amendment right to petition the government. It's an attack on a right to privacy. It's a reckless and dangerous bill," he said.
If Newman re-introduces similar legislation, said Heatlie, "Our team will make it our mission to make sure that he's recalled again."
The Election Integrity Project, California (EIPCa), a watchdog organization, also opposed SB 663.
Ruth Weiss, EIPCa's director of legislative oversight, told The Epoch Times recently that SB 663 had the "very powerful potential of suppressing the willingness of people to hold their officials accountable" through recalls.
"EIPCa is grateful for the many California citizens who came forward to express their concern regarding SB 663, and pleased that it has been withdrawn for now," Weiss said in an April 21 email.
Weiss said that if Newman re-introduces the bill next year, it's doubtful the legislation would be met with any more favor then, calling its basic tenets "wrong and anti-democratic."
Dozens of opponents called in to the April 12 committee hearing to oppose SB 663, including representatives for the California Chamber of Commerce. Despite the opposition, the committee voted 4–1 to move the bill forward to the Judiciary Committee, where it remains.
Sen. Jim Nielsen (R-Tehama) voted against the bill, while Newman and Sens. Steve Glazer (D-Orinda), Connie Leyva (D-Chino), and Bob Hertzberg (D-Van Nuys) supported it.