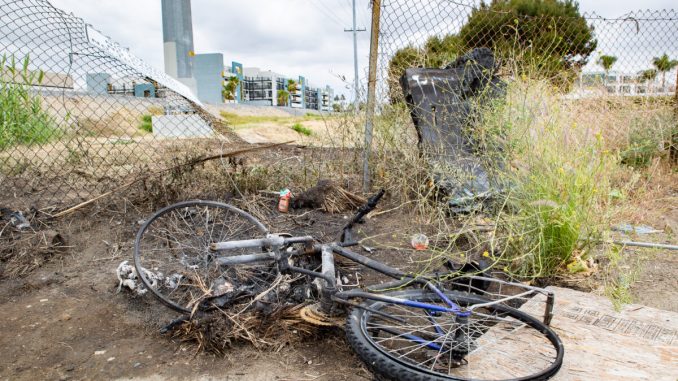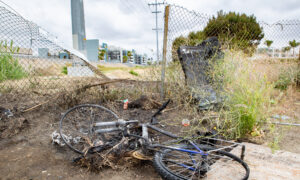 The homeless community is on edge after a man died during an April 20 fire at an Anaheim homeless encampment.
"The homeless community is shook up," Zach Southall, managing director of Charity on Wheels, told The Epoch Times. "We all immediately thought back to April of last year when a homeless man was intentionally set on fire."
Unlike last year's case—where a Santa Ana homeless man was intentionally set on fire—the most recent incident does not appear to be criminal, police said.
Anaheim firefighters were called to the scene just before 11 p.m after an officer observed a fire that started between the Extended Stay Inn and the 91 freeway, Anaheim Sgt. Shane Carringer told The Epoch Times.
After responding officers extinguished the flames, they discovered a man who appeared to have died in the blaze.
Police believe candles belonging to the man caused the fatal fire, Carringer said.
"As of right now, it does not appear that there was anything criminal," he said.
Southall said that while larger encampments tend to use candles for light, they're uncommon.
Illumination Foundation chief executive Paul Leon said encampments aren't a safe place for the homeless. The need to get people off the street begins with services such as bridge and affordable housing, he said.
Current homeless shelters create barriers for individuals as they forbid pets, don't allow in-and-out entry, and don't provide additional services to address the root of homelessness, Leon told The Epoch Times.
He highlighted other services, such as mental health and substance abuse care, to address trauma that are necessary to end the cycle of homelessness.
"You can't just build a shelter," he said. "You really have to support in multiple facets. Otherwise, it keeps coming back and people don't get off the streets."
The homeless community in Anaheim is restlessly checking with their friends and loved ones as the identity of the man remains unknown, Southall said.
Officials are working to identity the victim and confirm the cause of death.