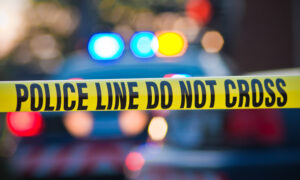 A young woman died on Tuesday after an officer-involved shooting in Columbus, Ohio, the city's mayor announced.
"This afternoon a young woman tragically lost her life. We do not know all of the details. There is body-worn camera footage of the incident. We are working to review it as soon as possible," Columbus Mayor Andrew Ginther announced on Twitter late Tuesday.
He added that the Ohio Bureau of Criminal Investigation (BCI) was on the scene to carry out an independent investigation, a common protocol with all Columbus Police Department-involved shootings.
"We will share information that we can as soon as it becomes available. I'm asking for residents to remain calm and allow BCI to gather the facts," he wrote.
Police were called to the scene on city's Southeast Side just after 4:30 p.m. following reports of an attempted stabbing, reported the Columbus Dispatch. The caller said that a female was trying to stab him or her.
After officers arrived at the scene, around 4:45 p.m., an officer-involved shooting was reported, according to the outlet. Columbus police dispatch said that no one else was injured, except for one person.
Local outlet 10TV reported that a family member, Hazel Bryant, confirmed that the person who was shot was her 16-year-old niece, Ma'Khia Bryant. Bryant was taken to a local hospital, Mount Carmel East, in critical condition, and was pronounced dead around 5:20 p.m. local time.
Hazel Bryant told the outlet that her niece lived in a foster home in the area and had gotten into a fight with someone else at the home.
The Ohio BCI has yet to identify the victim by name as of late Tuesday.
The specific area where police were called to was the 3100 block of Legion Lane, north of Chatterton Road.
People have gathered in the area in a crowd, including members of a group called "Mothers of Murdered Columbus Children." Reporter Lacey Crisp said that many people in the crowd were "screaming and crying."
This story is developing.