The Senate committee on human rights has unanimously endorsed proposed legislation to combat international human organ trafficking.
The Senate Bill S-204, sponsored by Sen. Salma Ataullahjan, makes it illegal for Canadians to get organs abroad without the consent of the donor, and makes people involved in forced organ harvesting inadmissible to Canada.
Ataullahjan had introduced a similar bill in the last session of Parliament, which received unanimous approval from both the Senate and the House of Commons. However, it didn't become law as Parliament was dissolved for the 2019 election before the latest round of amendments introduced by MPs could be approved by the Senate.
"We do know that Canadians continue to travel abroad for commercial organ transplant," Ataullahjan told the committee on April 19.
"Doctors at St. Michael's Hospital in Toronto have reported that three to five people a year still arrive having obtained an organ abroad. That is only one of the hospitals. A conservative number of patients per hospital multiplied by 1,200 hospitals in Canada amounts to 3,600 organ transplants performed abroad every year."
Ataullahjan said cases of organ trafficking are occurring in different places around the world, including Eastern Europe, Asia, Latin America, North Africa, and other regions.
Former MP David Kilgour, who has extensively investigated China's state-sanctioned organ harvesting of Falun Gong adherents, Uyghurs, and others, told the committee that China is the only country in the world where the government is involved in forcibly taking organs from persecuted groups, rather than criminals operating in the black market.
"They don't just take one kidney, they take the heart, liver, lungs—everything that they can take. And of course, the donor dies in the process," Kilgour said.
Kilgour said one way Canada is impacted by this is that brokers go to hospitals in Canada and other countries looking for patients who need an organ, and then arrange to take the patient to China for an organ transplant for a considerable sum of money.
Once in China, the patients "have blood testing, tissue testing done on them. Then the surgeon goes on a computer database and finds out who's a match for the patient, and then literally, … some poor man or woman who fits the formula, the tissue type match, is taken out of a dormitory and is killed while their organs are removed," he testified.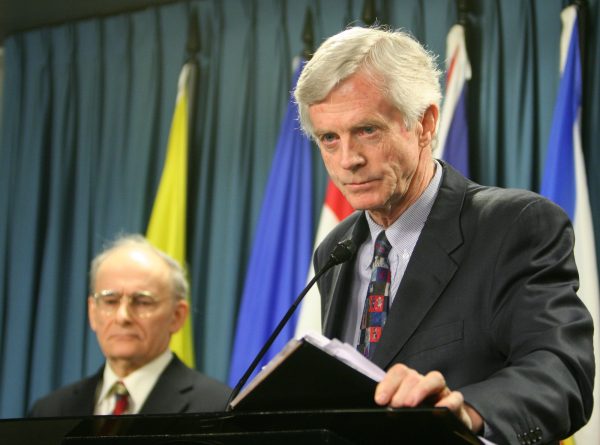 Kilgour and Winnipeg-based human rights lawyer David Matas were the first to systematically investigate the Chinese communist regime's organ harvesting from Falun Gong practitioners in 2006. The investigators say the practice has now expanded to claim Uyghurs as victims on a large scale as well.
Kilgour said he and Matas have travelled to many countries presenting the results of their investigations, and said it's "embarrassing" that their own country of Canada doesn't yet have legislation to address this issue, while around 10 other countries do.
"It's something that would be a very educative thing for us to do, and I think it would be very, very helpful to other countries [as well]," he said.
Similar pieces of legislation were introduced by other lawmakers in prior parliaments from both the Conservative and Liberal parties, but none of them became law before the parliamentary session was dissolved.
"This is legislation we should have had 10 years ago, so we're really lagging behind," Ataullahjan said.
"Without implementing legislation banning Canadians from taking part in organ harvesting, the practice of transplant tourism will continue to grow."
After senators on the committee all gave their approval for the bill, committee chair Sen. Wanda Thomas Bernard said it was the fastest clause-by-clause approval process she has experienced.
"We are all in agreement with this one. I think we have no objection at all," Sen. Thanh Hai Ngo added.
The bill will next be presented in the Senate to be moved to third reading.