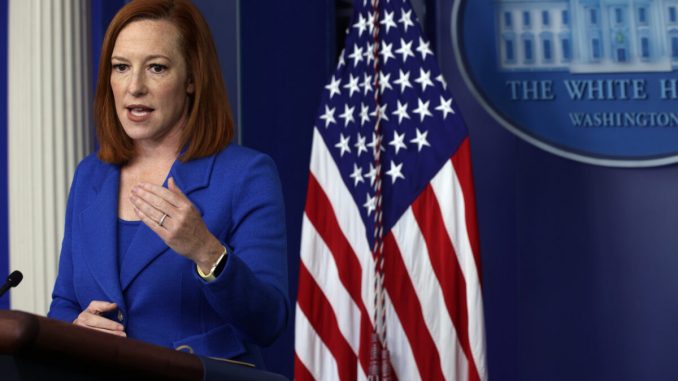 White House press secretary Jen Psaki said Monday that the number of unaccompanied minors arriving at the U.S.-Mexico border was higher than the Biden administration had anticipated.
Psaki made the remarks at a briefing at which she was asked to clarify the administration's position on maintaining a Trump-era refugee cap of 15,000 admissions until May 15, and then raising it to an as yet undetermined level.
"In the announcement we made on Friday, we were clear in the emergency presidential determination that if 15,000 is reached, a subsequent presidential determination would be issued to increase admissions as appropriate. And that is certainly our expectation," Psaki said.
President Joe Biden set a goal of raising the refugee admissions limit—set at 15,000 by former President Donald Trump—to 62,500 by the end of this fiscal year, which ends on Sept. 30. Then, in an April 16 directive, Biden opted to keep the Trump administration's cap, saying the move "is justified by grave humanitarian concerns and is otherwise in the national interest."
Biden explained the rationale for maintaining the lower cap by citing "an unforeseen emergency refugee situation … due to new or increasing political violence, repression, atrocities, or humanitarian crises" in a number of countries, as well as "changing conditions caused by the coronavirus disease 2019 pandemic."
Psaki noted that, by the end of the following fiscal year, which runs from Oct. 1, 2021, through Sept. 30, 2021, Biden set a refugee cap objective of 125,000, with the press secretary calling it "an aspirational increase of 10 times what was being let in by the Trump administration."
Explaining the administration's reasoning for announcing an extension, through May, of the Trump-era cap, Psaki said several things happened.
"One, as you alluded to, there was an increase of unaccompanied children at the border. Our policy was always going to be to welcome those children in, find a place where they can be sheltered and treated humanely and safely. That increase and that influx, as you all know, was higher than most people, including us, anticipated," she said.
Another factor, Psaki said, was that refugee processing systems at the State Department and the Office of Refugee Resettlement had been "hollowed out in terms of personnel, staffing, and financial and funding needs" under the Trump administration.
In March, almost 19,000 unaccompanied minors—a record number—were apprehended by Border Patrol, according to Customs and Border Protection (CBP). The number doubled from February, when 9,400 were apprehended, while the preceding three months hovered around 5,000 per month.
While Biden's April 16 directive remained silent on the influx of illegal immigrants, with total apprehensions in March surging to 172,000, Biden acknowledged the problem on April 17 when asked after golfing in Wilmington, Delaware.
"The problem was that the refugee part was working on the crisis that ended up on the border with young people. We couldn't do two things at once. But now we are going to increase the number," he said, referring to his intention to raise the cap in May.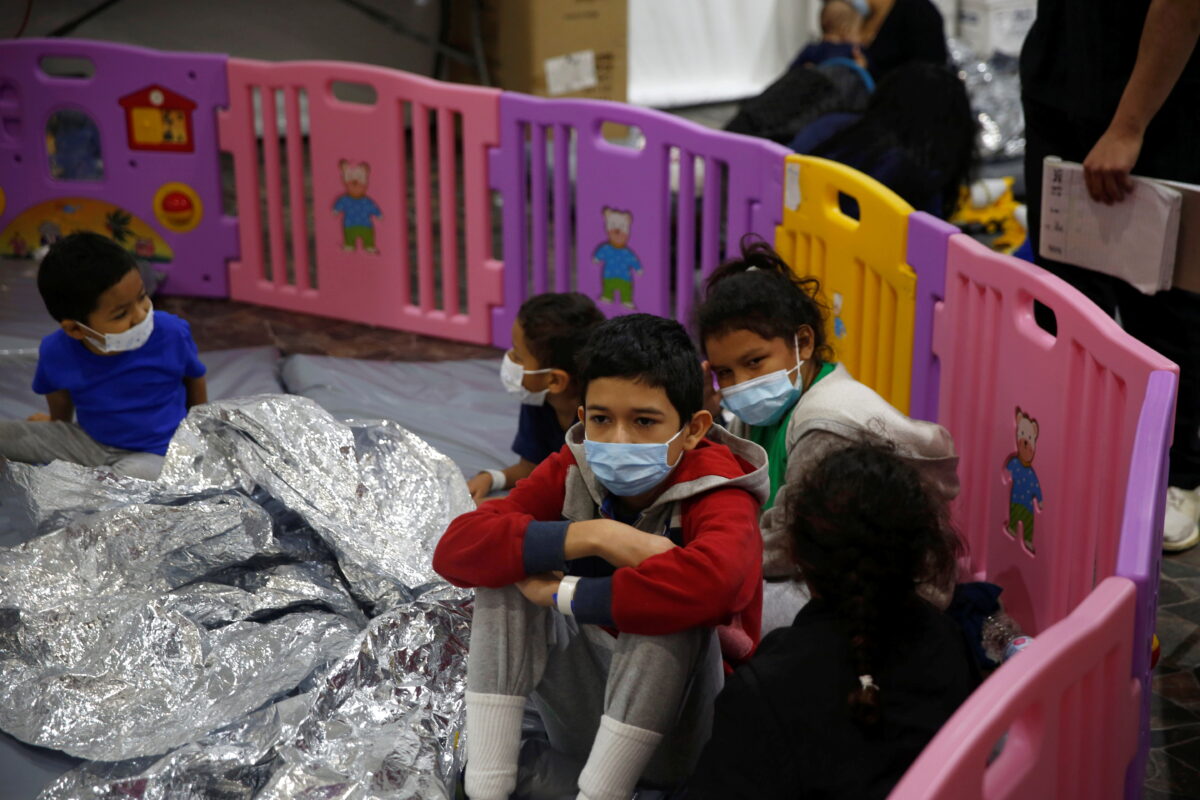 Biden's use of the word "crisis" was a rare admission of the severity of the border surge. Republicans have long insisted on calling the influx of illegal immigrants a crisis in their criticism of the Biden administration's decision to roll back some Trump-era border policies, a move they and some experts argue is fueling the border surge. The White House has avoided using the term in its communications, opting instead to call it a "challenge," while blaming former President Donald Trump's policies for leaving the refugee admissions program "decimated."
Psaki also sought to clarify the administration's position after Biden's use of the term "crisis," insisting the situation along the southern border was not a "crisis."
"There is no change in position," Psaki said at Monday's briefing. "The president does not feel that children coming to our border seeking refuge from violence, economic hardships, and other dire circumstances is not a crisis."
In another tone-setting move, the White House has ordered officials in Immigration and Customs Enforcement (ICE) and CBP to stop using several terms, including "illegal alien," "alien," and "assimilation," The Epoch Times confirmed.
Memos sent by Tae Johnson, acting director of ICE, and Troy Miller, acting head of CBP, were distributed to top leaders within the two agencies.
Terms that are to be changed include "alien," which is now "noncitizen" or "migrant"; "unaccompanied alien children" is now "noncitizen unaccompanied children"; "undocumented alien" is now "undocumented noncitizen," "undocumented individual," or simply "migrant"; and "illegal alien" is now "undocumented noncitizen," "undocumented individual," or simply "migrant," according to the memos obtained by The Epoch Times.
Jack Phillips contributed to this report.