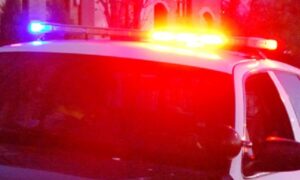 A seven-year-old girl was shot dead and her father seriously injured after at least one person opened fire on a car at a McDonald's in Chicago on Sunday afternoon.
Jontae Adams and his daughter, Jaslyn, were in a car in a McDonald's parking lot in the Homan Square neighborhood when they were shot at around 4:30 p.m. on Sunday, Chicago Police said.
The seven-year-old, who has three siblings, was rushed to Stroger Hospital, but was pronounced dead shortly after. She was identified by the Cook County Medical Examiner's Office as being of Oak Park.
Her father, 29, remains hospitalized in serious condition with multiple gunshot wounds to the torso. Police said he is expected to survive.
Police said more than 50 gunshots were fired in the incident. An employee of the McDonald's branch where the attack took place said two men jumped out of another vehicle, and fired shots repeatedly into the car, ABC 7 reported.
No arrests have been made in connection with the shooting incident, and the motive behind the attack isn't clear, however police said the shooting was believed to be gang-related, according to the Chicago Sun Times.
Jaslyn's aunt, Tawny McCullen, described her as a sweet, talkative child who was "real loving," saying that her daughter is nearly the same age.
"I'm really emotional now for my family," McCullen told WBBM. "She was just … sweet and outgoing. Really talkative, really lovable."
"My baby is taking it so hard right now, just a real sweet loving baby," McCullen told NBC Chicago.
"Y'all, please put the guns down," she added. "Our kids want to play. My kids can't even go out the door because of this violence. Please put the guns down."
The 29-year-old's grandmother, Lawanda McMullen, said Jontae rang her in a frantic state, unable to breathe, moments after being shot.
"I was frantic and he was frantic. He could not breathe on the phone. He just kept saying, 'mom, come get me, they just shot up my baby,'" she told ABC 7. "They said she came in with no pulse. [They] opened up her chest and did chest compressions but could not get her back."
According to records obtained by ABC7, Jontae is currently on parole from Statesville Penitentiary for a drug case.
Police haven't said whether they believe the father was the target of an attack.
The Chicago Teachers Union said that the seven-year-old victim was a first-grade student at Cameron Elementary School.
"Good morning, Chicago. There are children and staff at Cameron Elementary suffering from the devastating loss of a seven-year-old classmate today. It's pain that runs incredibly deep throughout the entire school community. Think of them, and pray for them," the union said on Twitter Monday.
Chicago Mayor Lori Lightfoot said she is "heartbroken and angered" over the shooting incident.
"This unthinkable act of violence has no place here. The epidemic of gun violence cutting our children's lives short cannot go on," Lightfoot said on Twitter.
Meanwhile, in an incident investigators believe is connected to the McDonald's shooting, a 19-year-old woman and a 33-year-old man were shot by a gunman while at a Popeyes drive-thru window at Chicago and Kedzie just three hours later.
The pair were rushed to Stroger Hospital. The woman was in critical condition, while the man was in serious condition.