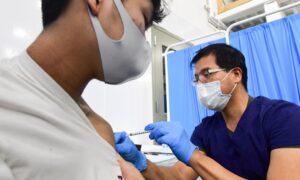 Alaska is set to allow family members of fully vaccinated inmates to visit them in correctional facilities starting Wednesday, according to a Department of Corrections press release.
Public visitations in Alaska's prisons were halted over a year ago, along with all nonessential access, due to concerns about COVID-19 outbreaks in correctional facilities.
"This has been a challenging year and we appreciate everyone's patience and flexibility as we gradually restore our facilities to their pre-COVID operations," Department of Corrections Commissioner Nancy Dahlstrom said in the release.
Visitation will be by appointment, physical contact will not be allowed, and masks will have to be worn, the release states. The resumption of family visits pertains to all correctional facilities statewide, except in Anchorage and Ketchikan, which are struggling with spikes in new infections.
Only inmates who have received two doses of the COVID-19 vaccine will qualify for family visits, and only after two weeks have lapsed following their second shot, according to Anchorage Daily News.
Three recent studies from the Centers for Disease Control and Prevention (CDC) highlight the dangers of COVID-19 in prisons, noting exacerbating factors like difficulty maintaining physical distancing, limited space for isolation or quarantine, poor ventilation, limited resources for testing and personal protective equipment, and vaccine hesitancy among inmates.
The authors of one of the studies, which looked at the dynamics of an outbreak in a prison in Wisconsin, called for correctional facilities to adopt more effective mitigation measures, including enhanced intake quarantine procedures and encouraging inmates to get vaccinated.
Sarah Gallagher, a spokeswoman for Alaska's Department of Corrections (DOC), told Anchorage Daily News that the decision to restrict family visits to vaccinated inmates is a risk-mitigation measure meant to reduce the likelihood of an outbreak.
"Every inmate who participates in visitation goes back into a housing unit with 30-100 other offenders, many with elevated risk factors. Our main concern is not just that one inmate, it is also the hundreds of others with whom they have regular close contact," Gallagher told the outlet.
Vaccine hesitancy among inmates and varying rates of COVID-19 spread in Alaska's prisons have been hindering efforts to lift restrictions at correctional facilities.
Dr. Robert Lawrence, chief medical officer with the Alaska Department of Corrections, told Alaska Public Media in late March that different parts of the state would likely reopen to visitors at different times.
"I would say the real marker, the metric to be following are those community transmission rates," he said at the time.
The department has undertaken efforts aimed at addressing the hesitancy some inmates feel about being vaccinated, including by showing videos, small group discussions, or having nurses visit cells to offer vaccines or offer to answer questions, the outlet reported.
One of the CDC studies showed that around 45 percent of inmates in prisons in California, Florida, Texas, and Washington state were willing to get the vaccine.
Trevor Stefano, an inmate staying at Pt. Mackenzie Correctional Farm, told Alaska Public Media that lack of confidence in the Department of Corrections, along with various rumors about the vaccine, were fueling hesitancy.
"That it might cause impotency, might be some sort of nano tracking device. Like I mean, I've heard the whole every little reason why," he said.