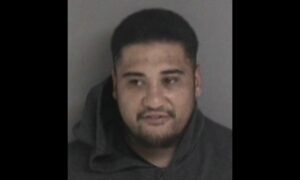 California authorities on Friday released body camera footage that shows the moment an attempted homicide and robbery suspect fired at a motorcycle traffic enforcement officer, moments before the officer fatally shot the suspect.
The seven-minute clip, released by the Fremont Police Department, shows Joshua James Gloria, 34, of Oakland opening fire on Fremont police officer Brian Burch following a brief police chase on March 24.
Police said Gloria was wanted in connection with an armed robbery in San Francisco.
Burch, a six-year veteran of the department, was alerted regarding a stolen SUV in the parking lot of a shopping mall while working traffic enforcement. The stolen vehicle activated a license plate reader.
The officer slowly followed Gloria on a police motorcycle as backup arrived before pursuing the suspect on eastbound Highway 84, west of the Newark Blvd./Ardenwood Blvd. exit on the border of Fremont and Newark.
The SUV had a flat rear tire, prompting Gloria to pull over on the shoulder of State Route 84. The suspect exited the stolen vehicle before firing at Burch, who jumped off his police motorcycle and crouched behind an embankment to avoid being hit.
"Oh, [expletive]!" Burch is heard shouting as he avoids the gunfire. "Shots fired! Shots fired! Shots fired!"
Burch fired his weapon as Gloria attempted to steal his police motorcycle. The suspect was struck as he ran back toward the stolen SUV.
"Suspect down," Burch says in the footage.
Burch wasn't hit by gunfire in the incident. Gloria was pronounced dead at the scene.
Fremont Police issued a statement after the shooting stating that they were notified by the San Jose Police Department that Gloria had been issued an arrest warrant in connection with an attempted murder case at an illegal gambling parlor.
The California Highway Patrol and the Alameda County District Attorney's Office are leading the investigation, which remains open and ongoing.
"The body-worn camera video provides a comprehensive overview of the events that led to the shooting and shows the dangerous nature of this incident," the Fremont Police Department said.