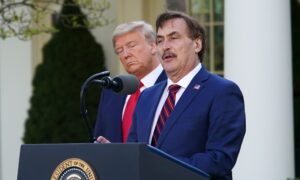 MyPillow CEO Mike Lindell launched a new social media platform named "Frank" on the morning of April 19, but users aren't yet able to set up profiles to interact on the platform.
"Frank was attacked, it's the biggest attack in history next to the election," Lindell said in the live stream.
Lindell said that his platform is being attacked "from all over the world."
Lindell is holding a 48-hour live stream as a "back-up plan." The live stream can be accessed through Frank's landing page.
He said that the live stream had between 11 to 12 to million concurrent viewers at about 11 a.m. and then about 15 million at around noon, increasing to about 20 million at almost 1 p.m., with the number constantly rising.
Frank, also known as Frank Speech, is described to be a mix of YouTube and Twitter.
Lindell said that he's received death threats and explained that he has his own servers so that when the page goes operational it won't be vulnerable to being shut down.
Lindell criticized Facebook and TikTok fact-checkers: "Facebook decides what to do after the fact," he said, adding that sometimes fact-checkers give the right information, but big tech platforms impose their own views.
Lindell expressed optimism by saying that this is akin to the "bad part of the movie" but it's also the "best part of the movie" because he thinks the best part is about to come, praising the constitutional principles and emphasizing the importance of divine laws.
Retired Lt. General Michael Flynn, conservative musician Ted Nugent, and Steve Bannon were on the show supporting Lindell's platform.
"[People] want to hear this call for freedom, we are having a reformation or a revival," said Flynn. "Americans people are starting to wake up, the world's people are beginning to wake up."
"We should be fearless about our beliefs," Flynn added.
"This is the turning point in history," Lindell said. "they are not taking out rights and free speech."
Last month, Lindell told The Epoch Times that the platform will be able to host up to a billion users.
"I believe it will handle upwards of a billion. If it doesn't, we will get to that capacity. I don't think that's exaggerated, by any means," Lindell said.
The core idea of the platform is to uphold free speech, based on the original founding principles of the Judeo-Christian worldview, according to Lindell. During the live stream, Lindell talked about the country's constitutional republic being in accord with the laws of the divine.
Very bad words and using God's name in vain will not be allowed on the platform. Death threats and pornography are banned as well.
Lindell also announced a counter lawsuit against Dominion voting machines on Monday, calling it "the most important case in history for your First Amendment rights."