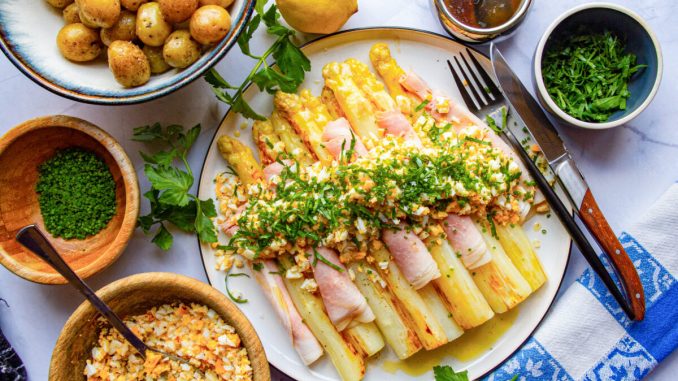 As the days get longer and the trees begin to blossom, we welcome spring with open arms. To celebrate this season of new beginnings, and all the fresh produce and bright, refreshing flavors it brings, we asked a few chefs for inspiration.
Here, they share the recipes that, for them, mark the arrival of the season. Among them you'll find a simple sauté of dandelion greens from the Mediterranean, a natural detoxifier since antiquity; zesty Southern-style pickled shrimp, easy to make in advance for al fresco gatherings; and a classic preparation of what the Dutch call "white gold," a true seasonal treasure.
Sautéed Dandelion Greens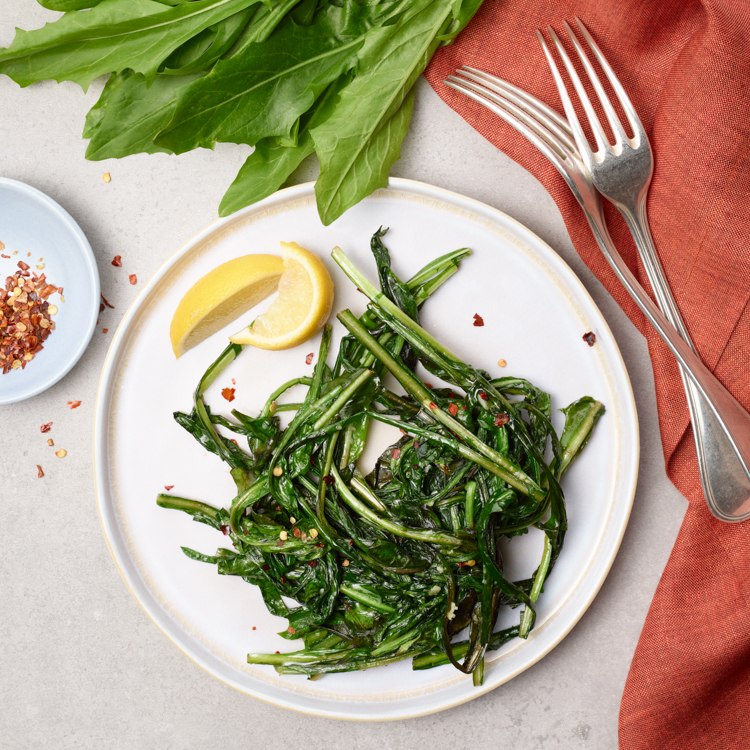 From Amy Riolo
Chef, author, TV host, and culinary educator
Washington, D.C.
Chef's Notes: Dandelion greens are my all-time favorite early spring vegetable. I grew up eating them a lot since my grandfather used to transform all parts of the dandelion into his recipes—he even used them to make a sweet wine!
Dandelion greens are so healthy for us that in antiquity, they were referred to as "official disease remedies" in Latin. They are perfect to eat in the springtime, as is a tisane made out of dandelion root, because it helps detoxify the body and get it ready for the warmer months. In the Mediterranean region, the plant is known to prevent gallstones and other illnesses, and also calm digestion. A serving of dandelion greens provides more than 500 percent of the RDA of Vitamin K, and 112 percent of the minimum daily requirement of Vitamin A; plus, they're full of fiber.
I love to eat the fresh greens raw in salad and sandwiches, or sauté them this way. This is one of the most nutritious, antioxidant-boasting combinations of foods possible. I often serve this on my culinary tours to Greece, where dandelion greens are available in copious amounts. I like to make a double batch of this recipe and purée the second half the following day to make a soup. In Southern Italy, it's served on top of pureed fava or cannellini beans and makes a great vegetarian meal.
Serves 4
2 tablespoons Amy Riolo Selections extra-virgin olive oil or other high-quality EVOO
2 1/4 pounds dandelion greens (or chicory, spinach, kale, or others), trimmed, well washed and dried
3 cloves garlic, minced
Pinch crushed red pepper
1/8 teaspoon kosher salt
1/4 teaspoon freshly ground black pepper
1 lemon, quartered
Heat olive oil over high heat in a very large skillet until very hot. Add the dandelion greens (you may need to work in batches) and cook, stirring, for about 1 to 2 minutes; the dandelions should turn bright green and wilt slightly.
Add the garlic and crushed red pepper and continue to cook, stirring constantly, until the garlic begins to release its aroma, approximately 30 seconds.
Remove the greens from the heat, and season with salt and pepper. Toss well to combine, and serve with lemon wedges on the side.
Lemon Ricotta Pancakes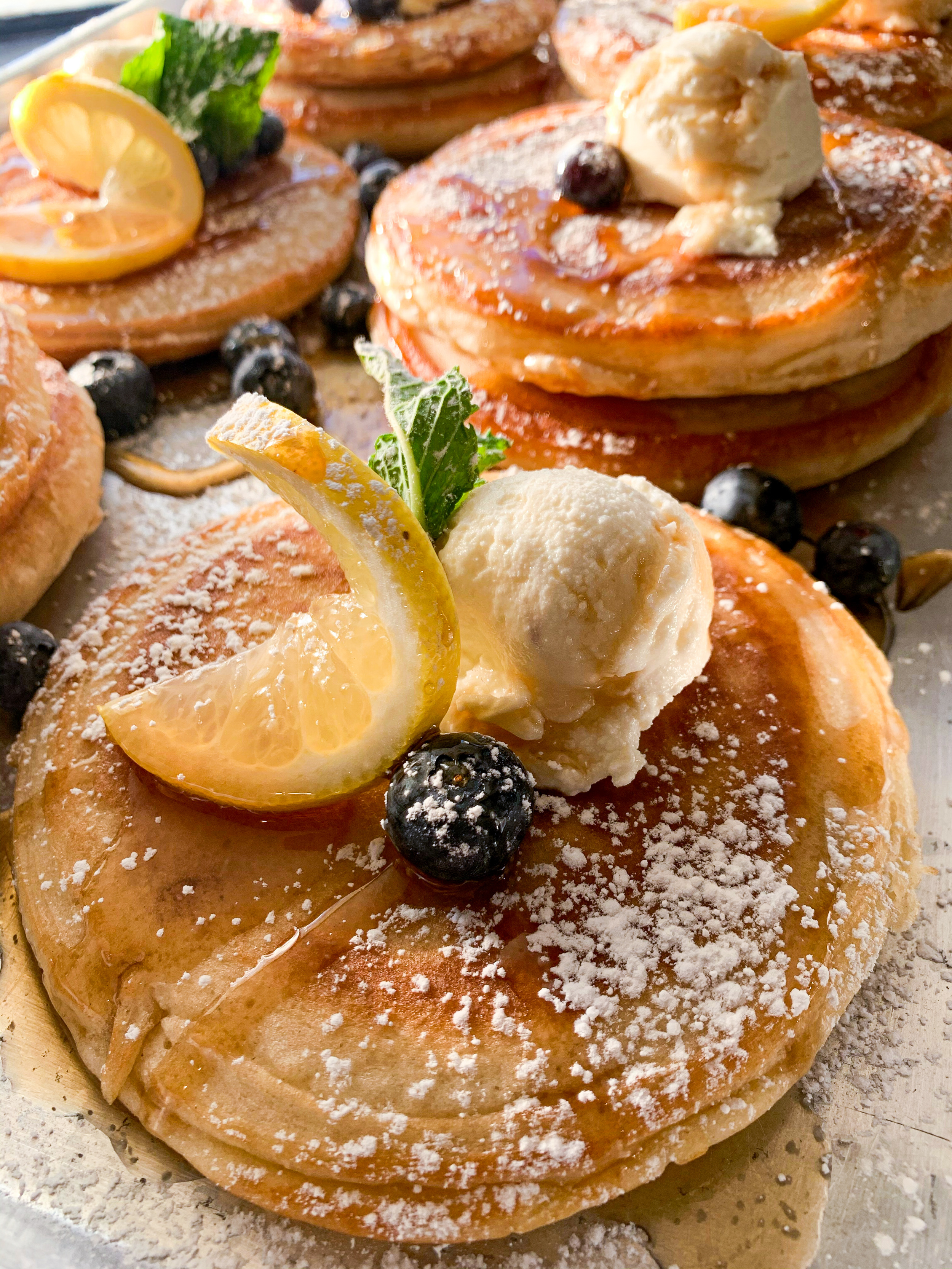 From Chris Valdes
Chef and YouTube host, Cooking With Chris
Miami, Florida
Chef's Notes: I'm team breakfast, which means I love making and eating breakfast anytime throughout the day, and I have no shame in it. My lemon ricotta pancakes are the perfect dish to make during springtime: fluffy, with the perfect amount of sweetness and a lemony punch. This dish is soon to be a favorite in your household as it is in mine.
Since quarantine began, I had to get creative with our household dishes, and everyone was tired of eating typical pancakes. I added some fresh ricotta and the zest and juice of a lemon to make them bright. The star ingredient is the lemon: It amazes me what the juice and zest of just one lemon can do to a dish.
Fresh ingredients will make any spring dish even better. Pass by your local farmers market and pick up a few vibrant lemons, maple syrup, and even some fresh ricotta cheese from the local farm.
Serves 4
2 cups all-purpose flour
1 tablespoon baking powder
2 tablespoons granulated sugar
1 teaspoon salt
3/4 cup whole milk
1/2 cup fresh ricotta
2 large eggs, room temperature
1 teaspoon pure vanilla extract
Juice and zest of 1 lemon (No seeds)
Butter, or cooking spray
Maple syrup, for topping
In a large bowl, whisk dry ingredients together: flour, baking powder, sugar, and salt.
In a separate bowl, whisk together milk, ricotta, and eggs. Stir in vanilla, lemon juice, and zest.
Combine the wet and dry ingredients and stir until fully combined.
Melt butter in a medium nonstick skillet over medium heat. Using a ladle, ladle pancake batter onto skillet. Cook until bubbles start to form, about 3 minutes. Flip and cook the other side until golden, another 3 minutes. Repeat with remaining batter.
Serve with maple syrup or syrup of choice.
Topping ideas: ricotta, milk chocolate, berries, whipped cream, or bananas.
Artichokes Barigoule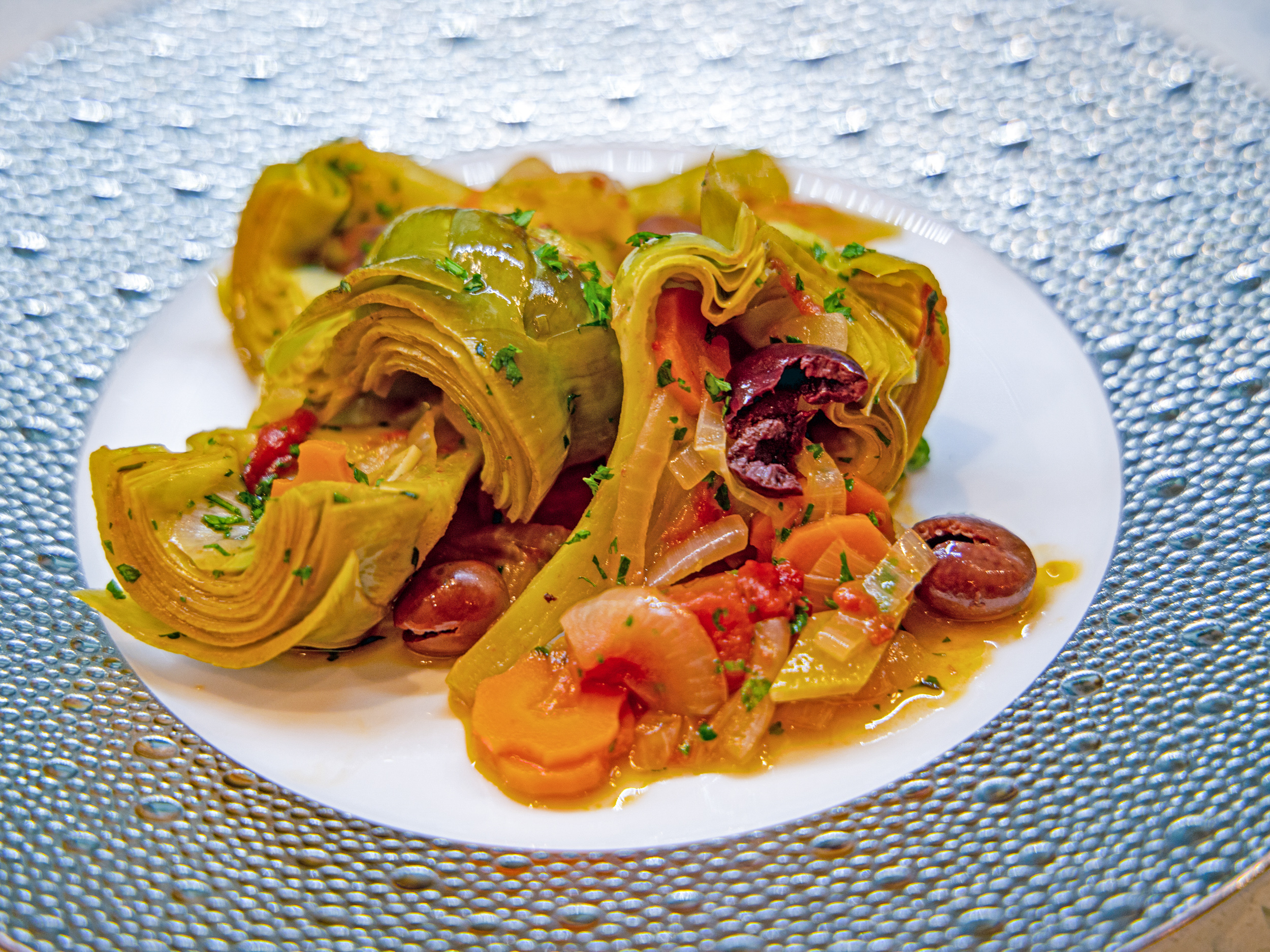 From Cameron Falls
Professional chef and YouTube host, Cambeau Kitchen
Monterey, California
Chef's Notes: Every spring, artichokes flood the Monterey peninsula. They come in all shapes and sizes. When the long hours of night begin to wane, I know it's time for the majestic artichoke to grace our dinner plates.
Below is my version of a classic French dish called artichokes barigoule. I grew up eating artichokes boiled for two hours, forgotten about for another two hours, and then eaten at room temperature late in the night with butter or mayonnaise. Only after finishing culinary school and spending hours in a high-end professional kitchen did I realize artichokes could actually be prepared a different way.
This recipe is very simple and makes for a gourmet yet simple addition to almost any meal. It's especially delicious with a piece of grilled fish on top, or roasted meat such as lamb leg or steak. An important trick is to use lemon juice while working with artichokes so they don't turn dark brown.
Serves 4
2 lemons
4 artichokes, medium to small in size
2 tablespoons extra virgin olive oil
1 small carrot
1 small onion
2 small garlic cloves
1 cup white wine
1 sprig of thyme
1 bay leaf
3 or 4 small pieces of canned crushed tomatoes
1 cup vegetable stock, chicken stock, or water
1/2 tablespoon chopped parsley
1/2 tablespoon chopped cilantro
4 or 5 Nicoise olives (or any olive you like), pitted
1/4 preserved lemon, rind only, rinsed and sliced into small squares
Salt and pepper to taste
Fill a large bowl with water. Cut lemons in half and squeeze juice into water.
Pull off most of the outer leaves of artichokes, leaving only the smaller, lighter colored ones. Using a peeler, peel away any dark green that is remaining on the stem and heart. Dip in lemon water to avoid discoloring. It should look mostly white or very light green except for the leaves. Using a serrated knife, cut about 1 inch above the heart straight through to remove the tops of the remaining leaves. Cut in half and using a small spoon, scoop out and discard the furry choke. Place in lemon water.
Slice carrot, onion, and garlic very thin. In a pot or a deep pan, cook over low heat in olive oil until translucent, about 5 minutes.
Add artichokes, white wine, thyme, and bay leaf. Add salt to taste. Bring to a simmer for a few minutes to cook the alcohol out of the wine.
Add the crushed tomato pieces and cooking liquid of your choice to the pot and bring to a simmer. Cover and simmer on the lowest heat for 15 minutes.
Poke the artichokes with a paring knife or cake tester to make sure they're soft. Add in chopped parsley and cilantro, olives, and preserved lemon. Enjoy!
Pickled Shrimp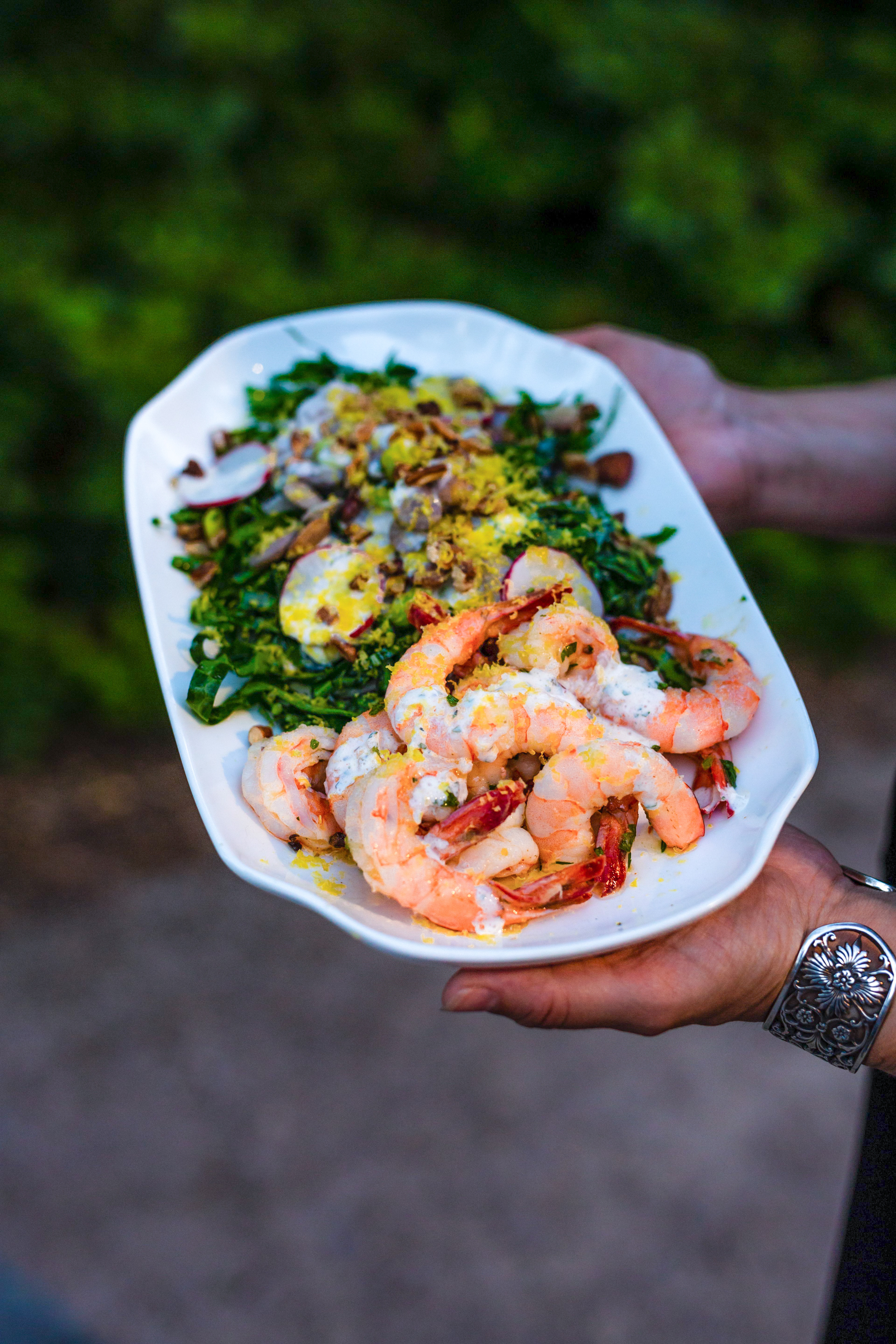 From Wesley Fulmer
Executive chef, Motor Supply Co. Bistro
Columbia, South Carolina
Chef's Notes: This recipe is one of my go-to's during warmer months because it takes little prep work and can be prepared in advance of a cocktail party or family gathering.
Remember that once you've poached the shrimp for a couple minutes, it's important to transfer them to the fridge immediately. When ready, you can add the pickled shrimp to your favorite salad or serve it as a stand-alone appetizer.
Serves 10 to 12
2 1/2 pounds 21/25 tail-on shrimp
2 1/2 tablespoons Old Bay seasoning
1 teaspoon celery seed
3/4 teaspoon red chile flakes
4 juniper berries
1 cup extra-virgin olive oil
1 tablespoon sea salt
6 tablespoons lemon juice
2 garlic cloves, thinly sliced
6 bay leaves
1/4 cup picked flat-leaf parsley
1/2 large Spanish onion, thinly sliced
Add Old Bay seasoning to a large pot of boiling water. Let the seasoning boil for approximately 5 minutes, and then turn down to medium heat, or just under a boil.
Add shrimp and let poach for about 2 minutes, or until the shrimp are just a little pink and just about undercooked through.
Take the shrimp out, place on a sheet tray, and place immediately in the refrigerator. Important: The shrimp need to be transferred to the refrigerator as quickly as possible.
Place the celery seed, chile flakes, and juniper in a sauté pan and toast on medium heat for approximately 5 minutes, moving the pan back and forth as you go.
Remove pan from heat when aroma begins to intensify and transfer spices to the refrigerator to cool. After the toasted spices have cooled, rough chop and place in a container with the extra-virgin olive oil, salt, lemon juice, garlic, bay leaves, parsley, and onion.
Add cold shrimp and toss until all are coated and submerged. Use saran wrap to wrap up tightly and let sit in the refrigerator for at least 24 hours before use.
White Asparagus With Ham, Egg, and Brown Butter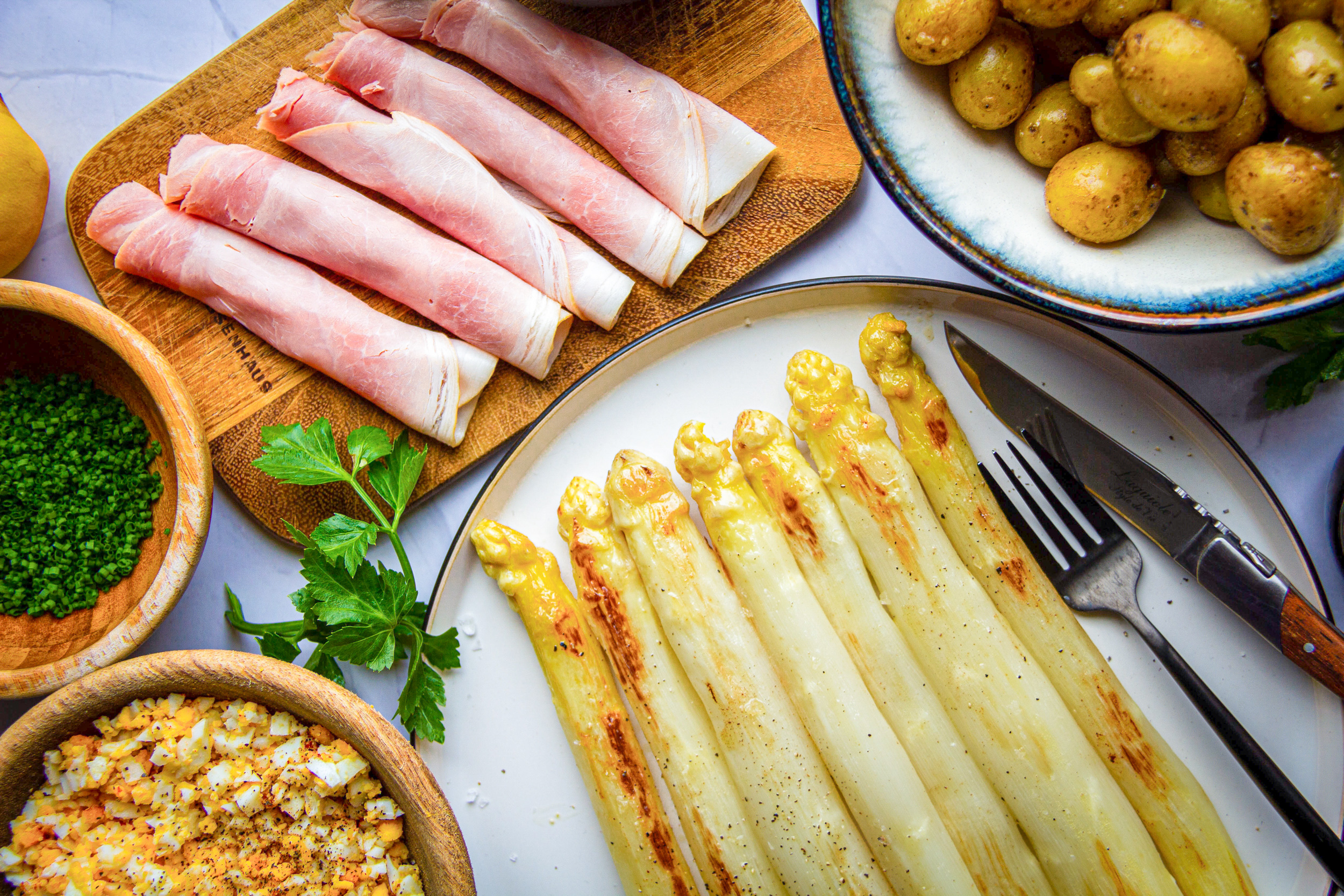 From Devan Cameron
Chef and blogger, Braised & Deglazed
Maastricht, the Netherlands
Chef's Notes: Spring is one of my favorite seasons for cooking because all the vegetables come back to life. For me, the real indication of spring is when the asparagus starts to roll in. This depends on where you live, but here in the Netherlands, it can start as early as late March.
Here in Maastricht, people go crazy for white asparagus. White asparagus is nicknamed "white gold" for good reason—the flavor. When fresh, white asparagus has a beautifully sweet and slightly nutty flavor that you can't find in green asparagus.
It's a real treasure of an ingredient because farming it is quite labor-intensive. The farmer must constantly cover the white asparagus with soil as it grows in order to prevent chlorophyll from developing. The chlorophyll is produced by the plant from the sun's light and is what makes the asparagus green. It's also very difficult to pull the white asparagus out of the soil without breaking the soft stems.
White asparagus shines when it's really new and fresh. Fat stems are seen as higher quality and usually the first to be snatched up. Look for fat stems that are bright white, stiff, and without blemishes. When you go to peel the asparagus, it should be juicy and not dry.
This is my favorite way to enjoy white asparagus. I love this recipe because it's a classic way many Dutch people enjoy white asparagus, and it's really simple: blanched and served with rolled ham, butter, hard-boiled eggs, and boiled potatoes. I've added a little brown butter to make things a little more interesting, but the star ingredient is the fresh, white asparagus.
It's really easy to make, but one important tip for success is to peel the asparagus in long, clean strokes from top to bottom. If you don't do this, the asparagus will become bitter.
Serves 2 to 4
For the Potatoes
2 to 3 medium potatoes, peeled
1 bay leaf
1 clove garlic, peeled
Sea salt and pepper to taste
For the White Asparagus
1 pound white asparagus
1 lemon, halved
1 tablespoon sugar
1 bay leaf
2 tablespoons butter, divided
Sea salt and pepper to taste
To Assemble
2 eggs
1/2 cup (1 stick) butter
4 to 6 slices ham
Peel the potatoes and cut into large pieces. Top with cold water, add the bay leaf and the peeled garlic, and season generously with salt. Bring to a boil. Simmer until nicely tender, about 10 to 15 minutes. Once cooked, strain, season with salt and pepper, and keep warm until the rest of the meal is ready.
Peel the white asparagus from top to bottom and remove about 1 to 1 1/2 inches off the bottoms with a knife.
Get a pan with high sides and fill with just enough water to cover the asparagus completely. Season the water well with salt, and add one lemon half (reserve the other half for the juice), sugar, bay leaf, and a knob of butter (roughly 1 tablespoon). Bring to a boil, and then add the white asparagus. Simmer just under a boil until soft when poked with a knife, about 8 to 15 minutes. When the asparagus is cooked, let it cool slightly in the cooking liquid. Once the asparagus is cooled slightly, set on a plate with paper towels to dry.
Bring a small pot of water to a boil for the eggs. Add the eggs to the boiling water and set the timer for 10 minutes.
While the eggs are boiling, start melting and browning the butter in a small pan, swirling constantly until you see little brown bits on the bottom and it smells amazing. Keep warm.
When the egg timer goes off, run the eggs under cold water to cool. Peel them and mash up with a fork. Season with salt and pepper.
Roll the ham into rolls and set aside on a plate.
Get a sauté pan hot, add a knob of butter (roughly 1 tablespoon), and sauté the asparagus until slightly golden brown. Hit it with a squeeze of fresh lemon juice and freshly ground black pepper at the end.
Serve the asparagus family-style, with all the options on the table. Put some asparagus on your plate, and then pile on eggs and drizzle generously with warm brown butter. Enjoy—smakelijk eten!