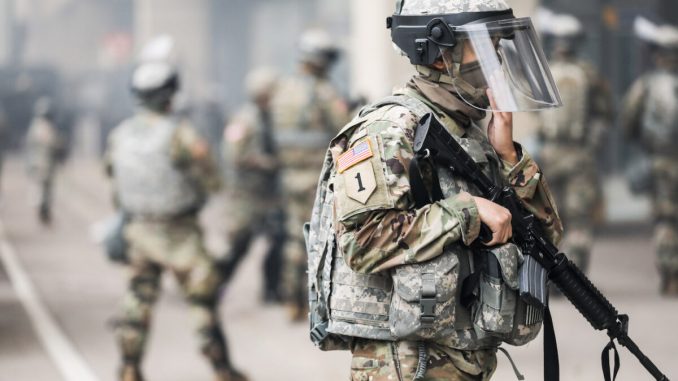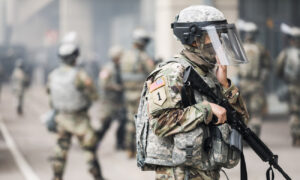 Some members of the Minnesota National Guard came under gunfire in Minneapolis on April 18 in the midst of the riots, looting, and protests that followed last week's shooting death of Daunte Wright, officials said. Two suffered minor injuries.
A National Guard and Minneapolis police "neighborhood security team was fired upon early Sunday morning in a drive-by shooting near Penn Avenue and Broadway in Minneapolis," the Guard wrote in a tweet.
In another tweet, the Guard said the shooting took place at around 4 a.m. local time, when a "light-colored SUV" approached and someone inside "fired several shots" at a "security team providing neighborhood security."
"No team members were seriously injured," the account wrote, adding in a separate post that two members received minor injuries.
"One Guardsman sustained an injury from shattered glass requiring additional care and was taken to a local hospital to receive treatment. The other Guardsman received only superficial injuries," the post states.
A @MNNationalGuard and @MinneapolisPD neighborhood security team was fired upon early Sunday morning in a drive-by shooting near Penn Avenue and Broadway in Minneapolis.

— MN National Guard (@MNNationalGuard) April 18, 2021
The National Guard was deployed by Gov. Tim Walz after rioters in Brooklyn Center, Minnesota, vandalized the city's police headquarters on April 11 following Wright's shooting.
Last week, the National Guard confirmed that it had more than 500 personnel activated after Walz's decision, noting that the troops were mobilized ahead of a jury decision in the trial of former officer Derek Chauvin in the death of George Floyd. Riots, arson incidents, vandalism, and looting erupted in Minneapolis last year following Floyd's death, leading to tens of millions of dollars in property damage.
The Guard "had plans in place to increase that number in the coming days as closing arguments approach in the trial of Derek Chauvin," the post stated.
The officer who shot Wright and has since resigned has been identified as Kim Potter; she is charged with second-degree manslaughter. The former Brooklyn Center police chief has said that Potter, a 26-year veteran and training officer, intended to use her Taser on Wright but fired her handgun instead.
Potter posted $100,000 bond on April 14 and was released from the Hennepin County jail, online records show. Her attorney didn't respond to messages from The Associated Press.
Potter, 48, and Police Chief Tim Gannon both resigned on April 13, a day after the City Council voted to fire the city manager, who controls the police force.
Court documents show that Wright had several criminal charges on his record when he was pulled over, having previously been charged with first-degree aggravated robbery, fleeing from police, and possession of a handgun without a permit. The 20-year-old had a warrant for his arrest after earlier failing to appear in court.
The Associated Press contributed to this report.