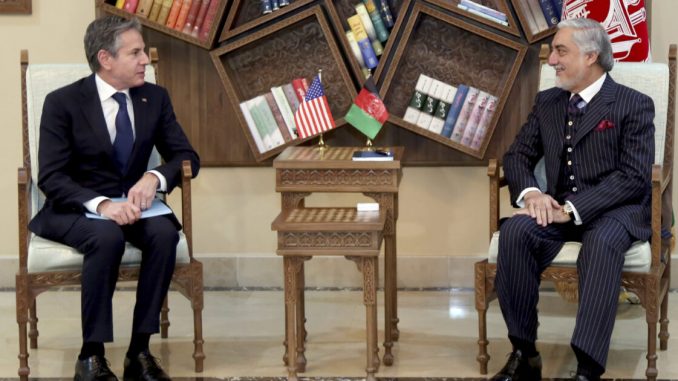 OAN Newsroom
UPDATED 11:38 AM PT – Thursday, April 15, 2021
Secretary of State Antony Blinken said the time has come for American troops to withdraw from Afghanistan.
"We've achieved the objective we set out nearly 20 years ago," he stated. "We never intended to have a permanent military presence here."
While speaking during a surprise visit to Kabul, Blinken said the threat from Al-Qaeda has significantly degraded and it's time for our troops to come home. The secretary added, the U.S. partnership with Afghanistan will continue and he issued a warning to the Taliban if the terror group attempts any attacks on American troops.
"If as our forces are withdrawing, the Taliban were to attack them, it would be met with a very forceful response," he warned.
Blinken's visit came less than 24-hours after Joe Biden announced the U.S. would withdraw the remaining 2,500 troops from Afghanistan by September 11. He noted, there is no military solution to the conflict that remains in the country.
"The only path forward to a durable, lasting and just end of the conflict," he stated. "Is through negotiation, is through a political agreement and, ultimately, is through through compromise."
US Secretary of State Antony Blinken said that he came to Afghanistan because it was important to him and President Biden to convey in person America's commitment to an enduring partnership with Afghanistan and the Afghan people. pic.twitter.com/ZVkmtfJUlq

— TOLOnews (@TOLOnews) April 15, 2021
Afghan President Ashraf Ghani said he respects Biden's decision, but other Afghan officials are pessimistic. Critics have said the move would strengthen threats from various terror groups in the country.
Blinken said the U.S. will "intensify" its diplomacy on Afghanistan and do "everything it can" to secure a peace agreement between Kabul and the insurgents.