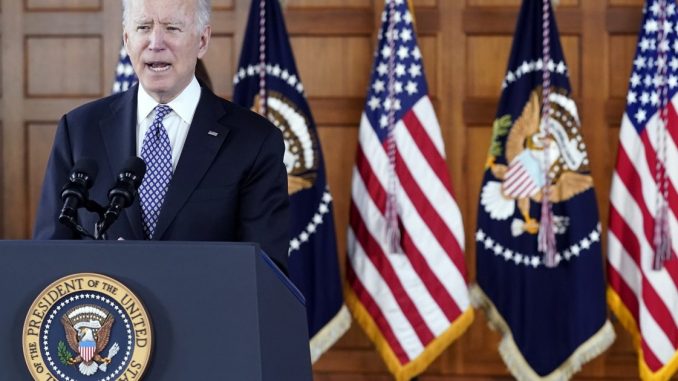 OAN Newsroom
UPDATED 7:04 AM PT – Wednesday, April 7, 2021
Joe Biden has encouraged large corporations to crack down on individual states while repeating falsehoods about Georgia election integrity laws. On Tuesday, he expressed support for Delta Airlines and the MLB to withdraw operations from Georgia over the state's new voter laws.
"It is reassuring to see that for-profit operations and businesses are speaking up about how these new Jim Crow laws are just antithetical to who we are," Biden stated.
Republicans are pushing back against these claims, however, with former Georgia Rep. Doug Collins even writing an op-ed listing a number of false claims made by Democrats regarding the law that have already been refuted by left-leaning networks.
Political commentator J.P. Sears expanded on Collins argument while pointing out that many of the companies like Delta, who are backing the push against Georgia, have business dealings with China that they would like to protect. He said, "the airline has ties with Communist China." Sears added that China's economic ties to the U.S. are a strong enough motive to lead them to attempt to meddle in U.S. affairs.
Biden, the MLB and Delta have all failed to condemn the Uighur genocide in China, where they all have commercial interests.
If needing to show an ID to vote is racist, perhaps NY Yankees tickets that average over $100 are discriminatory?  Will 'woke' @MLB mandate free tickets to to allow equal access?

— Senator Rand Paul (@RandPaul) April 5, 2021
Meanwhile, Sen. Rand Paul (R-Ky.) has called on Americans to boycott Major League Baseball for attacking Georgia's election laws while doing business in China. He said Tuesday that while MLB attacks Americans fighting for voter integrity, they are cozening up with the Chinese Communist Party. He pointed to the lavish new contract between MLB and the Chinese firm Tencent, which was signed last week.
Nevertheless, Paul believes that MLB will change their tune when they realize that "publicly traded businesses usually don't get involved in politics because it hurts their bottom line." To drive Paul's point home, Georgia lawmakers have already abolished the tax breaks for Delta in response to its far-left political activism while the MLB continues to face a nationwide boycott by patriotic Americans across the country.