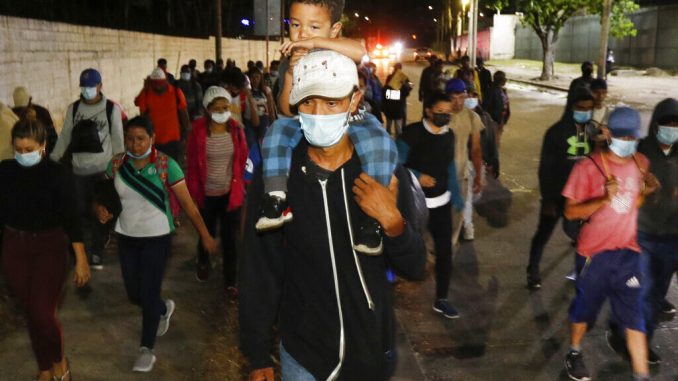 OAN Newsroom
UPDATED 6:35 PM PT – Wednesday, March 31, 2021
The current border crisis is coming to a tipping point after years of poor legislation which has created loopholes for migrants entering the U.S.
According to the Department of Homeland Security, before 2011 most illegal migrant apprehensions were of single adults from Mexico. However, last month less than 70 percent of migrants were single adults, and nearly 10 percent were unaccompanied minors.
The Biden administration has refused to denounce the surge as a "crisis," and they continue to roll back on Trump administration policies.
The National Border Patrol Council said they are seeing the situation grow out of hand in real-time, and believe Border Patrol officers are being overwhelmed.
"What we're seeing on the border is a true border crisis where we're seeing a lot of human misery and a lot of human suffering. We're seeing unaccompanied children coming across the border, that are coming without their parents," Hector Garza, president of the National Border Patrol Council said. "That means that they make the journey from their countries into the United States without a guardian, or someone to take care of them."
One loophole in policy dated back to 1997 under the Clinton administration, which created the Flores Settlement Agreement. This agreement encouraged border facilities to shelter migrants and eventually release them, which brought on a surge of families crossing the border, rather than single adults. This, in turn, added strain to facilities.
The Obama administration responded by detaining families in unlicensed facilities across the country. However, the judge overseeing the settlement ruled this was in violation of the Flores agreement. The Ninth Circuit Court of Appeals affirmed his order in July 2016, calling for children and their parents to be released within 20 days of detainment.
Another loophole was the Trafficking Victims Protection Reauthorization Act in 2008, which distinguished Canadian and Mexican immigrants from everyone else. Under the law, Canadian and Mexican immigrants can be turned away if they aren't seeking asylum, while those from other countries are sent directly to the Department of Health and Human Services.
The Trump administration sought to fix flaws in the immigration process by creating policies like the Migrant Protection Program and implementing Title 42 to return migrants to their home countries if their appeal was denied.
Joe Biden has diminished most of these policies, despite pushback from lawmakers and a group of GOP attorneys general.
"There's two major reasons why we're seeing this crisis, and that's because of the changes in the Biden policies in regards to immigration," Garza said.
"That's the changes to Migrant Protection Protocols or MPP, and the changes to Title 42."
In the meantime, Border Patrol facilities reported they are preparing to see an influx of migrants for the next several months, as the numbers rise to a 15-year high.