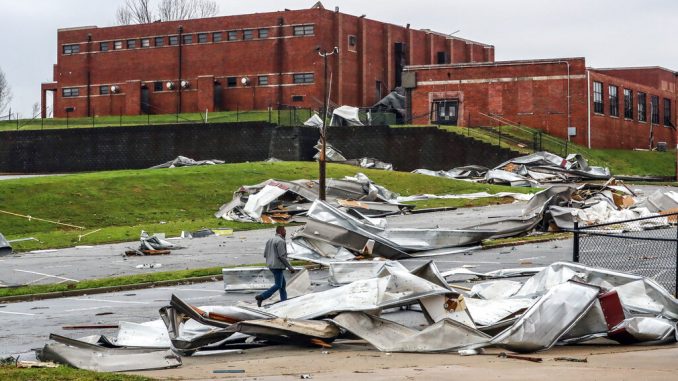 OAN Newsroom
UPDATED 10:55 AM PT – Sunday, March 28, 2021
Gov. Brian Kemp (R-Ga.) surveyed the damage left behind following a violent EF-4 tornado that ripped through Newnan, Georgia.
On Friday, Kemp visited a neighborhood near Newnan High School, the area most affected by the storm. He said "this is total destruction," adding the aftermath was different from anything he's ever seen.
My thoughts and prayers are with the families affected by yesterday's severe storms. Thank you to all the first responders who answered the call to help their fellow Georgians during a crisis. My office continues to monitor the situation so we can assist communities in need.

— Brian Kemp (@BrianKempGA) March 26, 2021
Six people died as a result of the South's tornado outbreak, including a Newnan resident who was trapped inside their home.
"But I have great hope and optimism from the people here today that they're not going to cry over spilled milk or knocked down trees or damaged homes," Kemp stated. "They're going to pull the bootstraps up, and we'll be there to help them to rebuild and to continue on."
In the meantime, storms are expected to continue throughout the South.