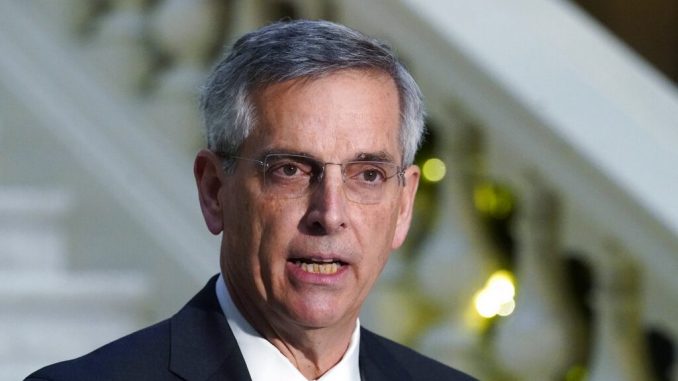 OAN Newsroom
UPDATED 9:35 AM PT – Saturday, March 27, 2021
Georgia's secretary of state is pushing back against the Democrats' so-called For the People Act.
In a USA Today opinion piece on Friday, Brad Raffensperger outlined how Georgia was learning from the mistakes made during the last election. He added that H.R. 1 would be a "disaster."
The bill is being criticized not only because it requires that states offer same day registration for federal elections, but also because it could lead to voters casting a ballot in more than one location.
Critics argued it would ultimately lead to a rise in voter fraud.
He went on the say that Republicans were against the legislation now, just as they were when it was introduced by Democrat Stacey Abrams in 2018 when she claimed her election had been stolen.
"So let me be clear, this is not a speech of concession, because concession means to acknowledge an action that is right, true or proper," Abrams previously stated. "As a woman of conscience and faith, I cannot concede that."
Raffensperger said he had to spend the first part of his term repairing the damage caused by Abrams' refusal to concede. During the 2018 election, Abrams claimed the election was not fairly won, despite the Peach State certifying the victory for now-Gov. Brian Kemp (R-Ga.).
Raffensperger explained if H.R. 1 was passed, it would "put Georgia's self-sacrificing poll workers through the wringer all over again."
In the meantime, Kemp fired back at Joe Biden after being accused of signing a series of voting rights bills reflective of the Jim Crow era. In a statement issued on Friday, Kemp said there's nothing Jim Crow about asking residents to have photo ID to vote by mail and in-person.
You obviously haven't read the bill.

SB 202 expands voting access, streamlines procedures, and ensures election integrity.

There is nothing 'Jim Crow' about requiring voter ID to submit an absentee ballot – every Georgia voter must already do so when voting in-person. https://t.co/1QiVVnUlXD

— Brian Kemp (@BrianKempGA) March 27, 2021
This came one day after Kemp signed a package of bills to address election integrity problems faced in the 2020 elections.
"After the November election last year I knew, like so many of you, that significant reforms to our state elections were needed," Kemp stated. "There's no doubt there were many alarming issues with how the election was handled, and those problems understandably led to the crisis of confidence in the ballot box here in Georgia."
Kemp went on to claim Biden and the far-left are trying to destroy the sanctity of the ballot box, and accused them of not actually reading the new laws.
In the meantime, Raffensperger issued a statement supporting Kemp, saying there is no rational argument to be made against requiring voters to show an ID for absentee ballots.
The left said that photo ID for in-person voting would suppress votes. It didn't. Registration and turnout soared, hitting new records with each election cycle.

— GA Secretary of State Brad Raffensperger (@GaSecofState) March 26, 2021