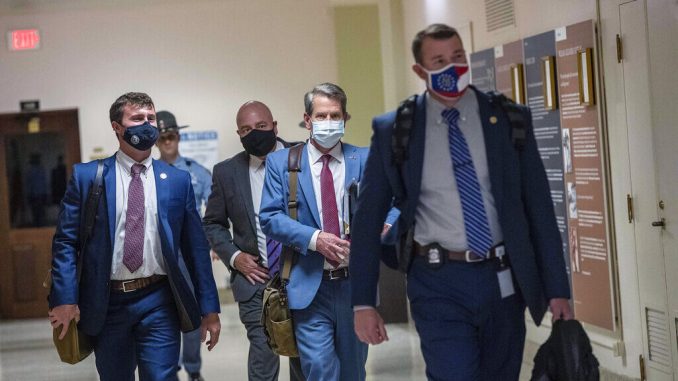 OAN Newsroom
UPDATED 10:39 AM PT – Friday, March 26, 2021
Lawmakers in Georgia moved to make big changes to the state's electoral process in an effort to secure integrity for future elections.
On Thursday, Gov. Brian Kemp (R) signed SB 202 into law, which is aimed at tackling a number of voting issues throughout the Peach State. He said the reforms will ensure secure, accessible and fair elections.
"After the November election last year, I knew like so many of you that significant reforms to our state elections were needed," he stated. "There's no doubt there were many alarming issues with how the election was handled and those problems, understandably, led to the crisis of confidence in the ballot box here in Georgia."
The bill requires absentee voters to provide additional information when casting their ballot, including their driver's license and social security number.
"First and foremost, SB 202 replaces the signature match process with a state issued I.D. requirement to request and submit an absentee ballot," the governor explained. "When voting in-person in the state of Georgia you must have a photo I.D., it only makes sense for the same standard to apply to absentee ballots as well."
In Georgia, we now have:
✅ Required voter I.D. on all absentee ballots
✅ Increased oversight of local election boards which fail to follow state election law
✅ Quicker, more accurate results
✅ Secured drop boxes around the clock https://t.co/4nfOzcaTLw

— Governor Brian P. Kemp (@GovKemp) March 26, 2021
Additionally, the legislation shortens the amount of time Georgians have to request an absentee ballot while limiting ballot drop boxes throughout the state. The bill also requires voters using an absentee ballot to provide a signature for additional verification.
"By moving to a state issued the requirement instead of a signature match, Georgia will dramatically streamline the verification process on absentee ballots," said Kemp.
Republicans said the voting reform bill will help increase voter confidence in the electoral process and expand voting access throughout the Peach State. This comes as the GOP prepares to take back the Senate in the 2022 midterms with Republicans eyeing Georgia as a key battleground state.