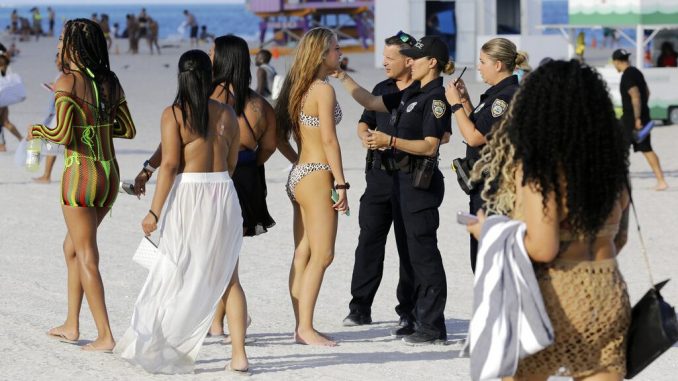 OAN Newsroom
UPDATED 4:20 PM PT – Friday, March 19, 2021
Police officers in Florida have increased patrols amid an uptick in violence during spring break celebrations. On Tuesday, the Miami Beach Police Department announced their goal is to flood the streets with armed officers.
Following Friday's unruly behavior and bottle-throwing attack on our police, last night I joined @MiamiBeachPD @RClementsMBPD as he engaged w/ representatives from the @MiamiBeachBiz, the Governor's regional rep, the Department of Justice, & Miami-Dade's Goodwill Ambassadors. 1/2 pic.twitter.com/BPmj6XAmgL

— Alex Fernandez (@alexjfernandez) March 14, 2021
This came after a shooting in the city left one man dead Monday night. According to reports, police also arrested several people following a huge fight at a Miami Beach restaurant Thursday evening.
UPDATE: The male with an apparent gunshot wound at 2365 Pine Tree Drive has died at the scene.

All information is preliminary. It has not yet been confirmed if the two incidents are connected.

— Miami Beach Police (@MiamiBeachPD) March 16, 2021
The city's police chief said they're doing all they can to keep people safe.
"The Miami Beach Police Department has gone ahead and done everything they can to not only keep the residents here safe," Chief Richard Clements stated. "But to also go ahead and ensure that those visiting our city are safe as well."
MBPD Chief @RClementsMBPD and Deputy Chief @WayneJonesMBPD out patrolling South Beach last night. 30 arrests made by #yourMBPD. pic.twitter.com/n4fTH2WY6t

— Miami Beach Police (@MiamiBeachPD) March 14, 2021
Large crowds are expected this weekend in Miami Beach. Officials have vowed to crack down on the violence with more officers and strict law enforcement.