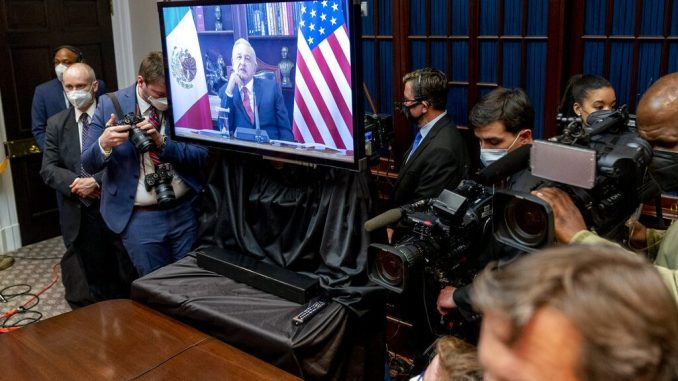 OAN Newsroom
UPDATED 7:00 PM PT – Tuesday, March 2, 2021
Mexico's president is remaining hopeful that the U.S. will share some of its COVID-19 vaccine supply. Andres Manuel Lopez Obrador confirmed on Tuesday the vaccine request was made during a virtual summit with Joe Biden.
I had a great meeting with Mexican President Andrés Manuel López Obrador this afternoon. From migration to climate change — we're committed to working closely together to make progress on the challenges we face. pic.twitter.com/M7T6CF8Fel

— President Biden (@POTUS) March 2, 2021
Lopez Obrador said the agreement was discussed, but officials did not strike a deal.
"They accepted our proposal, of the need we have to face the pandemic in the best way possible and the need to have vaccines available. Remember that the United States has a national vaccination plan. So the teams are going to discuss this issue," Lopez Obrador said. "I cannot say that the agreement has been reached, nor can I say that there was no agreement. It went well, that's what I can say."
Conversamos con el presidente Joe Biden y su equipo. Fue un encuentro amistoso y por el bien de nuestros pueblos. Les comparto el inicio de la reunión bilateral:https://t.co/fARIDY8akz pic.twitter.com/QHQLLx7exn

— Andrés Manuel (@lopezobrador_) March 2, 2021
However, the White House has said its top priority is vaccinating as many Americans as possible.