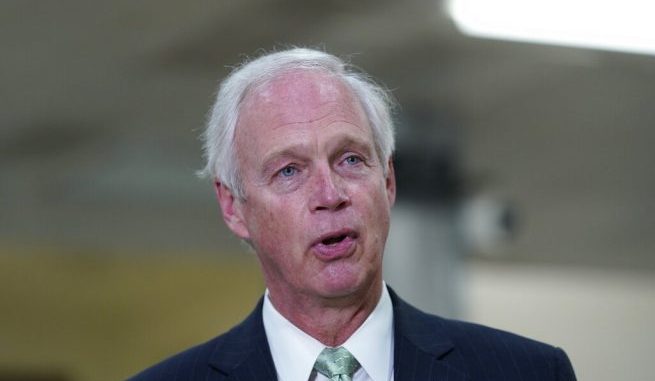 OAN Newsroom
UPDATED 10:15 AM PT – Tuesday, February 16, 2021
The senior senator from Wisconsin has come to the defense of the 45th president. In a recent interview, Sen. Ron Johnson (R-Wis.) said President Trump's legal team completely defeated all Democrat arguments for impeachment.
Johnson pointed out the Democrats were never able to fully prove that the events of January 6 amounted to an "insurrection," which was the entire focus of their argument.
"The fact of the matter is, this didn't seem like an armed insurrection to me," he stated. "How many firearms were confiscated?"
Meanwhile, on Twitter earlier this week, the senator highlighted comments made by Trump attorney Michael van der Veen who said Democrats are still unable to answer why their response to the events of a single day were so severe despite months of inaction as riots, all in the name of the liberal agenda, waged in major cities across the United States.
Michael van der Veen summed up what millions of Americans have been thinking for 4 years: It is hypocrites on the left who have been inciting violence and failing to denounce it: https://t.co/BmlXPZ15YD

— Senator Ron Johnson (@SenRonJohnson) February 14, 2021
The Democrats failed to secure a conviction despite the defection of seven Republicans, which included Richard Burr of North Carolina, Bill Cassidy of Louisiana, Susan Collins of Maine, Lisa Murkowski of Alaska, Ben Sasse of Nebraska, Pat Toomey of Pennsylvania and Mitt Romney of Utah.
Reports from the morning of the vote state that Johnson and Romney allegedly got into a heated discussion. One reporter on the Hill said, "voices were definitely raised."
Johnson, however, isn't worried about a split within the party. He said that those that remain faithful to the GOP far outnumber those that do not uphold its values. He added, anti-Trump Republicans have no future because freedom loving Americans support the 45th president.
Johnson went on to say the Republican Party is preparing to fight back and restore its control of Congress in the 2022 elections.