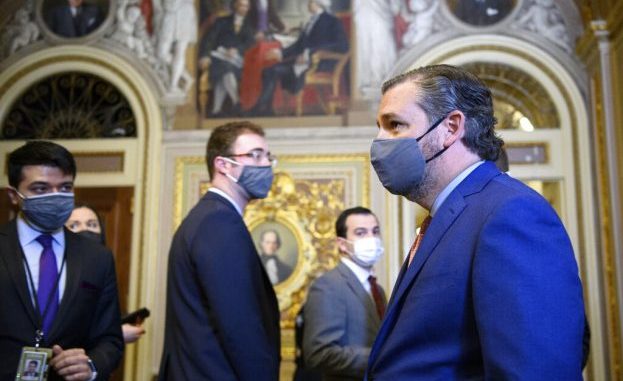 OAN Newsroom
UPDATED 8:35 AM PT – Friday, February 12, 2021
According to Sen. Ted Cruz (R-Texas), President Trump's impeachment defense will make it clear that House Democrats did not prove he incited violence on Capitol Hill.
Near the Senate chamber on Thursday, Cruz along with Sen. Mike Lee (R-Utah) and Sen. Lindsey Graham (R-S.C.) met with the Trump legal team to strategize opening arguments for Friday's impeachment proceedings.
The 'Not Guilty' vote is growing after today.

I think most Republicans found the presentation by the House Managers offensive and absurd.

— Lindsey Graham (@LindseyGrahamSC) February 11, 2021
After the meeting, Cruz pointed out that if words such as "fight" and "win" now satisfy the legal standard for incitement then every political candidate in the country could be prosecuted.
"Nancy Pelosi called police officers Nazis…Kamala Harris, our vice president, raised bail money for violent rioters who had committed acts of violence," stated the senator. "There's no coherent way the the conduct of Schumer and Pelosi and Kamala Harris doesn't meet that standard as well."
Cruz added, the impeachment trial is the result of Democrat hatred of President Trump and will end with an acquittal. The President's attorneys will present their case before the Senate Friday.