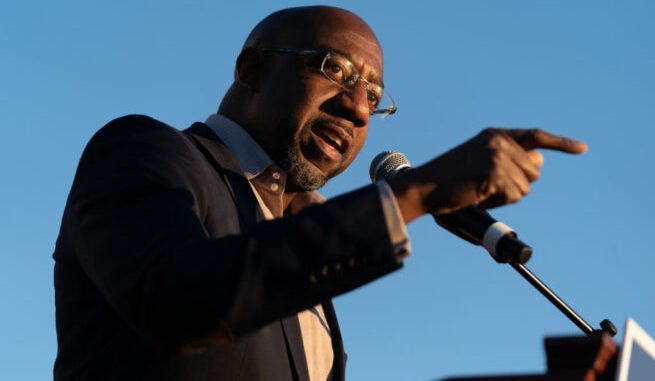 OAN Newsroom
UPDATED 3:30 PM PT – Thursday, February 11, 2021
Sen. Raphael Warnock (D-Ga.) is being investigated for alleged voter misconduct. Georgia's Secretary of State Brad Raffensberger announced on Thursday he is referring Warnock's prior organization, the New Georgia Project, for criminal prosecution.
Georgia SoS Brad Raffensperger (R) announces he is referring the New Georgia Project for criminal prosecution for submitting voter registrations late in connection with a March 2019 special election. NGP is one of several groups that has helped registered scores of new voters pic.twitter.com/OAEeQsPlyv

— Sam Levine (@srl) February 11, 2021
The New Georgia Project was founded by Democrat voting rights activist Stacey Abrams. The charges include delivering nearly 1,300 voter registration applications past the due date during the time Warnock served as a ranking member for the organization in 2019.
The New Georgia Project claimed they misidentified Warnock as the CEO on their filings with the state, saying he was actually a chairman on the board. This came as Georgia election officials voted Wednesday to refer Warnock and his group to the state's attorney general.
Warnock has yet to comment on the investigation.
In the meantime, Raffensperger is prosecuting several third party organizations over reports of voting irregularities. The Coalition for the People's Agenda, which allegedly submitted 70 false voter registration applications, has been accused. The former director of Fayette County's Board of Elections and Voter Registration has also been accused after reportedly mishandling four memory cards with nearly 3,000 votes for the 2020 elections.
Raffensperger claimed these groups received numerous warnings about their conduct, but his office has continued to receive evidence they are violating voting laws.